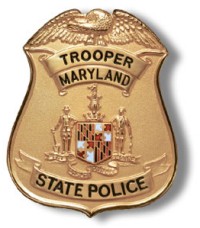 LEONARDTOWN, Md. (Aug. 15, 2014)—The Leonardtown Barrack of the Maryland State Police (MSP) today released the following incident and arrest reports.
DRUG ARREST: On Wednesday, August 13 at 9:46 pm, TFC S. Ditoto initiated a traffic stop on a blue truck at Route 5 and Lawrence Avenue for a minor traffic violation. Upon making contact with the driver, Ryan Christopher Miedzinski, 21, of Avenue, TFC Ditoto observed CDS in plain view. TFC Ditoto conducted a probable cause search, resulting in the recovery of more CDS and paraphernalia. Mr. Miedzinski was arrested and charged with CDS: Possess - Not Marijuana and CDS: Possess Paraphernalia. He was transported to the St. Mary's County Detention Center and held pending a bond review with the District Court Commissioner (14-MSP-025900)
Warrant Services
Dijon Matinique Matthews, 23, of Lusby, served on 8/12/2014 at 10:26 pm for Failure to Appear in Court (2014-00289357)
Joshua Alan Moore, 25, of Mechanicsville, served on 8/13/2014 at 1:57 pm for Failure to Appear for Sentencing Hearing (2014-00290696)
Jesse Marie Jameson, 23, of Lexington Park, served on 8/13/2014 at 2:45 pm for Failure to Appear in Court (2014-00290762)
DUI Arrests
Robert Stephen Dixon, Jr., 59, of Leonardtown on 8/4/2014 by Tpr. C. M. Ruth
Benjamin James Joyce, 19, of California on 8/5/2014 by S/Tpr. E. M. Evans
Daniel Corrie Roper, 41, of Lexington Park on 8/8/2014 by Tpr. D. A. Coppedge
Michael Byard Shaw, 74, of Crofton on 8/9/2014 by TFC D. G. Buckalew
Laura Anne Mangum, 47, of Leonardtown on 8/11/2014 by Tpr. D. A. Coppedge
Ronald Douglas Meador, 3rd, 37, of Mechanicsville on 8/11/2014 by TFC D. G. Buckalew
Todd Hanley Lewin, 48, of Georgia on 8/12/2014 by TFC E. R. Mersman
Robert Jesse Hayden, 45, of Leonardtown on 8/12/2014 by TFC S. M. Ditoto
Disclaimer: In the U.S.A., all persons accused of a crime by the State are presumed to be innocent until proven guilty in a court of law. See: http://somd.me/presumed-innocence. Additionally, all of the information provided above is solely from the perspective of the respective law enforcement agency and does not provide any direct input from the accused or persons otherwise mentioned. You can find additional information about the case by searching the Maryland Judiciary Case Search Database using the accused's name and date of birth. The database is online at http://somd.me/mdcasesearch . Persons named who have been found innocent or not guilty of all charges in the respective case, and/or have had the case ordered expunged by the court can have their name, age, and city redacted by following the process defined at http://somd.me/expungeme .