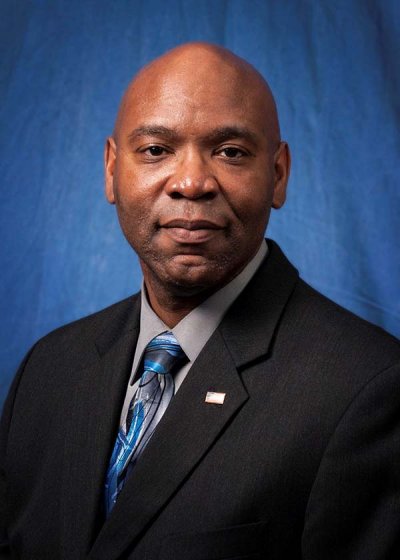 Willie G. McCallister is an engineer supporting NSWCDD's Electromagnetic and Sensor Systems Department. (Submitted photo)
DAHLGREN, Va. (July 30, 2014)—A Navy civilian Radar Data Collection expert at the Naval Surface Warfare Center, Dahlgren Division (NSWCDD) has been selected to receive the Blacks in Government Meritorious Service Award.
Willie G. McCallister, an engineer supporting NSWCDD's Electromagnetic and Sensor Systems Department, was cited for his excellence in leading responses to urgent technical support requests from deployed naval forces and for "his ability to develop and sustain productive team environments while mentoring and coaching personnel responsible for technical data collection."
McCallister serves as the lead systems engineer and program manager for several high visibility efforts designed to provide the warfighter with real time analysis of radar performance data. In addition to the technical aspects of Mr. McCallister's position, he also leads all programmatic efforts to include but not limited to contract requirements, managing a multi-million dollar budget portfolio, customer outreach, and all schedule and risk mitigation planning activities.
McCallister is also recognized as an outstanding mentor of young scientists and engineers as well as a leader in supporting NAVSEA recruiting events. An active participant of the National Society of Black Engineers (NSBE) Potomac River Professionals organization, he has promoted the "Lunch and Learn Series" and numerous technical seminars. Mr. McCallister is also a decorated United States Army Reservist.
"I am honored to receive the Blacks in Government Award," said McCallister. "During my tenure at the Naval Surface Warfare Center Dahlgren Division, my focus has been to help our nation refine its system engineering process to rapidly transition capability to the warfighters."
"This stems from the ability to motivate and promote teamwork across a broad spectrum of civilian and military personnel to achieve our strategic objectives to defend this great nation in the present and future," McCallister added.
McCallister was commended in his citation for his "exceptional character that distinguishes him as an outstanding leader, role model, and mentor." The citation went on to explain McCallister's active role in promoting the organization and science, technology, engineering and mathematics (STEM) outreach: "Mr. McCallister takes every opportunity to mentor our junior scientists and engineers. He promotes employee participation in science, technology, engineering, and mathematical educational programs. He routinely assists our junior employees with their technical studies, and provides additional training to ensure employees have the necessary background to complete their technical tasking. He is patient and kind, and his employees love to work with him."
In his nomination letter, CAPT Brian Durant, NSWCDD Commander praised McCallister for "his dedication to our work, our personnel, and the warfighter."
The NSBE Potomac River Professionals are one of 270 chapters of NSBE promoting professional development as well as outreach to university, high school and junior high students. Additional information about the organization is available at
http://nsbepotomacriver.org/
.
The Blacks in Government Meritorious Service Award honors individuals who have demonstrated support for the full integration and promotion of African Americans within the Armed Forces or Federal civilian workforce. Selection is based on exceptional support of the DoD mission, and representation of the qualities and core values of the DoD. Specific criteria include demonstrated support for expanding opportunities for of Historically Black Colleges and Universities (HBCUs) to participate in Federal programs and successful efforts in increasing African-American participation in DoD programs.
McCallister is a graduate of Morgan State University with a degree in Engineering Physics. He joined the Department of Navy (DoN) acquisition community in 2001 where he focused his efforts on refining the system engineering process to rapidly transition capability to warfighters in a combat environment.
Mr. McCallister continued his education by earning a Master's in Systems Engineering (SE) from Johns Hopkins University and acquiring DAU certifications in four common core areas to champion Navy's Technical Data Collection (TDC) software development effort in support of PEO-IWS.
Mr. McCallister has served over 28 years in the United States Army Reserve as a personnel manager, communications staff officer and Cyber Warrior. He continues to support the Pentagon staff as a program manager.
"We must remain diligent and steadfast in our efforts to break through the technology barriers that limits our nation's ability to project forward. Through continued education and sharing of knowledge, we can achieve the impossible and help protect our forces globally," McCallister said.
Source: NSWC Dahlgren Public Affairs Office