By Lieutenant Chad Murphy, Navy Office of Community Outreach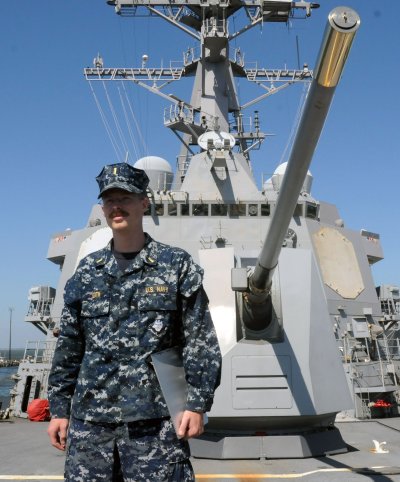 Ensign Garrett Smith is a gunnery officer aboard the Norfolk-based ship, an Arleigh Burke-class destroyer.
NORFOLK, Va. – A 2009 Great Mills High School graduate, 2013 University of Kanas graduate and Great Mills, Md., native is serving aboard USS Nitze (DDG 94), one of the world's most versatile multi-mission combat ships.
Ensign Garrett Smith is a gunnery officer aboard the Norfolk-based ship, an Arleigh Burke-class destroyer, that is longer than 1.5 football fields long at nearly 510 feet long. The ship is 66 feet wide and weighs more than 9,200 tons. Twin gas turbine engines can push the ship through the water at more than 30 mph. USS Nitze is the only ship of the United States Navy to be named for Paul Nitze, who served as Secretary of the Navy under President Lyndon B. Johnson and as chief arms control adviser in the administration of President Ronald Reagan.
As a 23 year-old with numerous responsibilities, Smith said he is learning about himself as a leader, sailor and a person. "We serve together as a diverse group of people with no two alike," said Smith. "We all have good days and bad days and learn from each other."
He also said he is proud of the work he is doing as part of the Nitze's 315-member crew, protecting America on the world's oceans. "I'm doing work that has an effect on the world," Smith said.
Sailors' jobs are highly varied aboard USS Nitze. Approximately 31 officers and 284 enlisted men and women make up the ship's company, which keeps all parts of the destroyer running smoothly — this includes everything from washing dishes and preparing meals to handling weaponry and maintaining the engines.
"I am proud and amazed by the knowledge they display and the work my Sailors do every day," said Cmdr. Michelle Nakamura, the ship's commanding officer. "Many very young people, some with only months of experience in the Navy, stood ready to sail and fight our ship in any situation. They performed exceptionally each and every day of our 7-plus month deployment and they continue to excel here at home. Their professionalism, motivation and commitment to the Navy are genuinely inspiring."
Fast, maneuverable, and technically advanced, destroyers provide the required warfighting capabilities and operational flexibility to execute multi-mission evolutions such as surface warfare, anti-submarine warfare and anti-air warfare. USS Nitze can operate independently or as part of carrier strike groups, surface action groups, amphibious ready groups, and underway replenishment groups.
As a member of one of the U.S. Navy's most versatile combat ships, Smith and other USS Nitze sailors know they are part of a legacy that will last beyond their lifetimes.