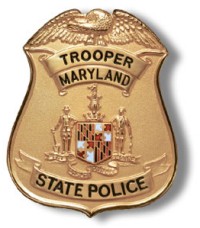 LEONARDTOWN, Md. (July 18, 2014)—The Leonardtown Barrack of the Maryland State Police (MSP) today released the following incident and arrest reports.
TRESPASSING: On Wednesday, July 16 at 5:10 pm, Tpr. M. Johnson responded to the Lexington Park Library for a trespassing complaint. Upon arrival, he made contact with the security guard, who advised that Dimitri Paul Brooks, 19, of Lexington Park, and a juvenile, 16, of Lexington Park, were on the property and in violation of active "Notice Not to Trespass" orders. Tpr. Johnson made contact with the suspects, and placed them under arrest for Trespass - Posted Property. The juvenile was charged and released a parent. Mr. Brooks was transported to the Maryland State Police Leonardtown Barrack for processing and later released. (14-MSP-022188)
Warrant Services
Cory Demarcus Pinson, 35, of Lexington Park, served on 7/12/14 at 4:18 pm for Failure to Appear in Court (2014-00243777)
DUI Arrests for June 26 - July 16
Eric Christopher Trossbach, 27, of St. Inigoes on 6/28/14 by TFC S. M. Ditoto
Gregory Bertrand Gagnon, 49, of Mechanicsville on 6/28/14 by Tpr. E. M. Krenik
Mitch Anthony Wathen, 28, of Mechanicsville on 7/2/14 by Tpr. M. T. Johnson
Stephanie Marie Theriot, 49, of Lexington Park on 7/3/14 by Tpr. E. M. Krenik
Robert Francis Miller, 50, of Forest Hill on 7/4/14 by Tpr. A. R. Oyler
Dwayne Mathew Dorsey, 29, of Leonardtown on 7/4/14 by Tpr. A. R. Oyler
Matthew Delbert Ennis, 30, of Leonardtown on 7/8/14 by Tpr. K. P. Morris
Michael Lewis Whited, 33, of Mechanicsville on 7/10/14 by Tpr. B. M. Weber
Richard George Lang, 50, of Lexington Park on 7/10/14 by TFC W. A. Couter
Kenneth Shawn Abell, 41, of La Plata on 7/10/14 by Tpr. C. A. Ditoto
Juan Gutierrez Buenida, 49, of Arlington, VA on 7/14/14 by TFC M. J. Pitcher
Disclaimer: In the U.S.A., all persons accused of a crime by the State are presumed to be innocent until proven guilty in a court of law. See: http://somd.me/presumed-innocence. Additionally, all of the information provided above is solely from the perspective of the respective law enforcement agency and does not provide any direct input from the accused or persons otherwise mentioned. You can find additional information about the case by searching the Maryland Judiciary Case Search Database using the accused's name and date of birth. The database is online at http://somd.me/mdcasesearch . Persons named who have been found innocent or not guilty of all charges in the respective case, and/or have had the case ordered expunged by the court can have their name, age, and city redacted by following the process defined at http://somd.me/expungeme .