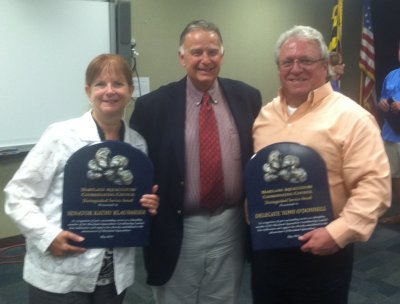 Senator Kathy Klausmeire (D-Baltimore County), Don Webster (University of Md.), and Delegate Anthony O'Donnell (29C-Calvert/St. Mary's) (Submitted photo)
LUSBY, Md. (July 14, 2014)—Delegate Tony O'Donnell (R-Calvert/St. Mary's) was honored last week for his many years of distinguished service by the Maryland Aquaculture Coordinating Council (MACC). The recognition was presented at the regularly scheduled meeting of the MACC at the Department of Natural Resources (DNR) offices in Annapolis. The presentation included an inscribed plaque, which displayed a cluster of oysters in base-relief at the top, to acknowledge O'Donnell's significant contribution to oyster restoration and the related environmental improvements in Chesapeake Bay.
On receiving the recognition Delegate O'Donnell said, "I am humbled and honored to receive this recognition from those who have worked the hardest to get a thriving oyster aquaculture industry up and running in Chesapeake Bay. This effort helps engage the private sector into producing a food product while gainfully employing people and helping to clean up the Bay."
O'Donnell went on to state that he thought the industry was about to take off in Maryland in a significant way and make our state the preeminent leader in the nation in high-quality farm raised oyster production. The Delegate was then quoted as saying, "This is really a common sense effort; growing animals that help clean the Bay. How cool and rare is that? We are especially pleased that this industry is thriving locally in Calvert and St. Mary's Counties."
The MACC is an inter-agency advisory council created in state law, after several years of study and development, to advise the Maryland General Assembly and the Governor of Maryland with recommendations on how to change laws and create policies which foster a thriving aquaculture industry in Maryland. The Council is administered through the Maryland DNR and is also composed of representatives from the Maryland Departments of Health, Agriculture, Environment and Economic Development as well as representation from the Maryland General Assembly, the University of Maryland and the various aquaculture industry sectors.
The MACC operates with an emphasis on shellfish industry development and its contribution to oyster and environmental restoration efforts in Chesapeake Bay. Delegate O'Donnell was a founding member of the MACC and was a lead sponsor on the legislation which created the council ten years ago. He has been the lead sponsor of many pieces of legislation over many years to use common sense principles and engage the private sector in helping to restore the environment and water quality of the Chesapeake Bay.
Senator Kathy Klausmeier (D-Baltimore County) was similarly recognized at the meeting for her many years of work in this arena.
Source: Office of Del. O'Donnell