CSM Diversity Office Hosts Fall Civil Rights Movement Tour
Route Covers Most Poignant Historical Landmarks to Commemorate 50th Anniversary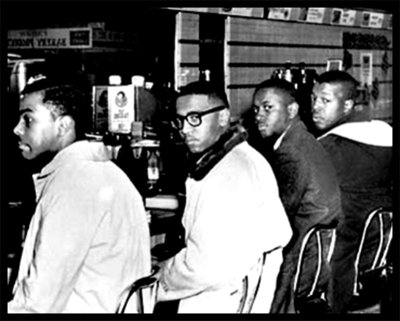 The College of Southern Maryland Diversity Institute's Civil Rights Tour, from Oct. 6 to 11, will visit the International Civil Rights Center and Museum in Greensboro, North Carolina, where the original F.W. Woolworth's lunch counter, depicted in photo, is on display. In 1960, when four African American college students were denied service, they remained in their seats as a form of passive resistance which ultimately led to the desegregation of the Woolworth lunch counter six months later.
The College of Southern Maryland will host a fall tour to commemorate the 50th anniversary of the Civil Rights Movement. Sponsored by CSM's Diversity Institute, the Oct. 6 to 11 tour will provide an opportunity to visit key locations of the movement, educate participants on Civil Rights history and meet people who were part of major events, according to Mari Canizales, program coordinator of Institutional Equity and Diversity.
"The Diversity Institute hopes the tour will provide participants a rare opportunity to share a piece of American history," explained Ava Morton, program coordinator, "as well as provide them a first-hand, once-in-a-lifetime experience that they will cherish."
The tour will visit multiple locations throughout the South, including the Edmund Pettus Bridge where civil rights demonstrators were attacked as they attempted to march to the state capital of Montgomery, Alabama. It will continue onto the Sixteenth Street Baptist Church in Birmingham as well as the Rosa Parks Museum and Library at Troy University.
In Georgia, the tour will visit the Martin Luther King Jr. Center for Nonviolent Social Change, also known as the King Center.
In North Carolina, the tour will visit the International Civil Rights Center & Museum, home of the former F.W. Woolworth's department store where four African-American college students were denied service at the store's lunch counter in Greensboro.
In Memphis, Tennessee, the tour will travel to the National Civil Rights Museum at the Lorraine Motel and will finish at the National Underground Railroad Freedom Center in Cincinnati, Ohio.
All-inclusive tour packages start at $485 per person with a deposit of $150 due with registration. The balance is due Sept. 15. The trip is open to a maximum of 40 participants.
For information, visit
www.csmd.edu/civilrightstour
or contact Ava Morton at Amorton [at] csmd.edu or 301-539-4742.
Watermelon Festival a Sweet Experience for CSM Student
Jeremy Hunter's 'Nature of Man' Brings Home Five Awards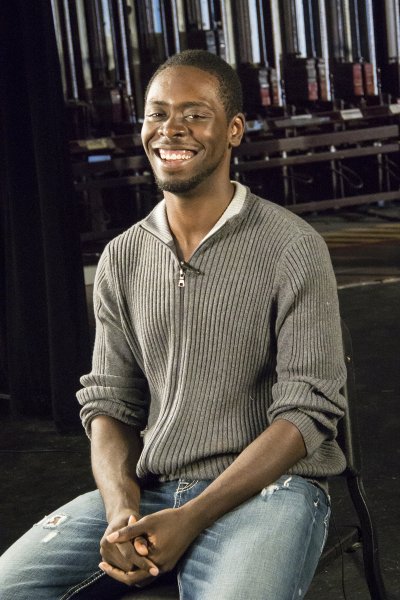 CSM theatre major Jeremy Hunter of La Plata, earned five Watermelon Festival Awards for his play "The Nature of Man."
The 2014 Watermelon One-Act Festival June 7-8 presented six awards to College of Southern Maryland theater students, five for a student-written play.
"The Nature of Man," written by Jeremy Keith Hunter of La Plata, earned Best Production/ Director, Audience Choice, Best Ensemble, Tech Wreck Award and an Outstanding Performance Award for Jonathan Johnson. Kaytlin Medley, a CSM theatre major from Waldorf, earned an Outstanding Performance Award for "Monteggia Fracture."
"The Nature of Man," Hunter's first play, is about the nature and mysteries of the heart. "The inner depths of the human heart overflow with darkness—but amidst these shadows, light can emerge…Today, we see, men are the homes they create for themselves and for each other," Hunter writes in describing his work.
Hunter has performed and directed in numerous theatrical productions on CSM stages and volunteered his time to perform a short play on end-of-life issues for the 2013 Southern Maryland Hospice and Palliative Care Conference. He was chosen to attend the Kennedy Center American College Theatre Festival and was invited to audition for professional productions at the Southeastern Theater Conference. He is working as a stage manager for the 2014 Capital Fringe Festival, July 10-27.
At the 2013 College of Southern Maryland Foundation Scholarship Reception, Hunter, who received the Jerome A. Zanelotti, Sr. Memorial Scholarship, thanked donors for their generosity, saying "This scholarship tells me that you have faith in me as a student and as an actor. The best way to thank you for this scholarship is to show you that I am indeed worthy of it—which is exactly what I plan to do."
The Watermelon Festival is the brainchild of Lisa Gregory the founder of Watermelon Inc., a nonprofit organization dedicated to the performing arts and to providing a nurturing and educational environment for original works. In the past four years, Gregory has focused on original works written by local artists and was the founder, artistic director and producer of Southern Maryland Originals, a production of the Performance Arts Club at CSM.
The festival was hosted by the Newtowne Players in Lexington Park. For information on the Newtowne Players, visit
www.newtowneplayers.org/joomla/
.
CSM Assists in State EARN Implementation Grants
College, MES, Tri-County Council Working on Water Quality, Wellness in Region
The Maryland Department of Labor, Licensing and Regulation (DLLR) has awarded two state EARN Implementation Grants naming the College of Southern Maryland as sub-recipients.
"CSM is Southern Maryland's first choice for high quality workforce training and development. We have experience meeting the region's needs working through industry-education partnerships including multiple stakeholders--employers, agencies and organizations. Drinking water quality, the health and safety of the Chesapeake Bay, and addressing current and future healthcare workforce needs are all areas of great concern to our college and our community," said CSM Continuing Education and Workforce Development Vice President Dr. Dan Mosser.
CSM's Maryland Center for Environmental Training (MCET) on the La Plata Campus will work with lead applicant Maryland Environmental Services and five Maryland utilities in the water/wastewater industry to provide industry specific training through a strategic approach of assessment and training. Through the Water and Wastewater Career Development Partnership for Central Maryland, MCET plans to evaluate the incumbent workers career readiness providing them with a 'snapshot' of their current skills, and then work with them to identify what they need to learn to close their individual skills gap for their profession, and pass the State certification examination.
The training plan is designed to make remedial training available as needed in areas identified as critical to the individual worker. MCET's goal is to provide assistance and guidance through this evaluation process, and then build on this with industry specific training, such Mathematics for the Water and Wastewater Operator in the first grant period, working towards State certification for the operator. CSM has received $85,470 of the $150,000 grant award.
"The most exciting part of this entire project, is that once developed MCET can take this program statewide and provide these evaluations to employees in the smaller utilities. We can focus on helping water and wastewater operators reach their professional goals and also pass the State certification exam" said MCET Executive Director Karen Brandt.
CSM's Continuing Education and Workforce Development (CWD) Division will work with lead applicant Tri-County Council for Southern Maryland to deliver technical training to identify underemployed, unemployed and veterans who want to start a healthcare career. Further, the grant will deliver soft skills training to the incumbent healthcare workforce to meet the new Center for Medicare services pay for performance incentive which focuses on customer service and patient outcomes. CSM has received $94,450 of the $150,000 grant award.
"CSM is delighted to work with the Southern Maryland Healthcare Alliance to train future and current workers," said Executive Director, Susan Ross.
EARN Maryland, managed by DLLR, is a first-of-its-kind State skills training and economic development initiative that is business-led, flexible and collaborative. EARN Maryland is designed to ensure that Maryland employers have the talent they need to compete and grow while providing targeted education and skills training to Maryland workers.
"There is no progress without a job. By awarding today's state-funded Implementation Grants to these selected strategic partnerships, we're moving our State forward and helping more Marylanders get the skills they need to qualify for Maryland's most in-demand jobs. Working together, we're ensuring that these EARN Implementation Grants will provide industry-specific, state-of-the-art training for high-demand occupations," said Governor O'Malley.
North Point 'Team Eagles' Soar, Earn CSM App Award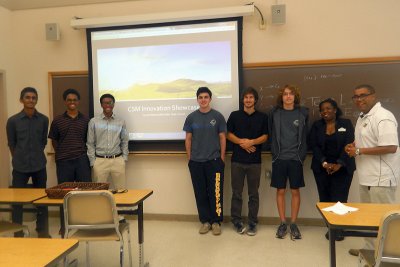 Innovators, from left, Sarosh Naeem of Westlake, Dennis Whitley and Joel Magee of North Point, Matthew Mussomele, Bradley Post and Kevin DiCola of Great Mills, are joined by Jones and CSM Educational Talent Search Director Tim Fenner. Team Eagles have been invited to create an Android App for CSM this summer. The event was funded by the CSM Foundation.
The College of Southern Maryland Innovation Showcase awarded first place to North Point High School's "Team Eagles" for their design of a mobile app that centralizes websites such as Edline and the Charles County Board of Education website to provide essential information on North Point's school calendar. The app can be easily integrated and synchronized to a student's calendar on their personal device to create notifications for tests or major projects, according to the team's presentation.
"One highlight of the event was that the winning team said they became interested in creating mobile apps by attending CSM's Showcase Kickoff back in the fall when they learned how to use [Massachusetts Institute of Technology's] app inventor," said CSM Pre-Engineering Program Coordinator Shadei Jones. Westlake High School earned second place and Great Mills' "Team Laser Bears" earned third place.
CSM Men's Cross-Country Program Debuts this Fall
The College of Southern Maryland welcomes the addition of men's cross-country as a new athletic program beginning this fall. The sport was added to include men in the cross-country program, which began fall 2013 for women.
"When we began women's cross-country, I had many inquiries from male students about starting a team," said Christopher Tuttle, head coach for women's and men's cross country.
"Cross-country is a great addition for us at CSM because it helps instill a high work ethic in our student athletes," explained Tuttle. "Having been a competitive runner myself, I know the discipline it takes to be a collegiate runner carries over into the classroom."
In addition to Coach Tuttle, Josh Trice will serve as the assistant coach. Along with regular meets, CSM's cross-country program also competes in Division I of the National Junior College Athletic Association (NJCAA).
The program is open to students of all interest levels enrolled in at least 12 credits. There is a study hall required throughout the season. Workouts officially begin on Aug. 1.
Tuttle believes in a philosophy to "train smarter, not harder." He feels that runners should have an individual program, "because everyone responds differently to training and the stresses on the body that come with it."
For more information on men's cross country, contact Tuttle at ctuttle [at] csmd.edu or Athletic Coordinator Nick Williams at NWilliams1 [at] csmd.edu. For information on the college's athletic programs, visit
www.csmd.edu/Athletics
.