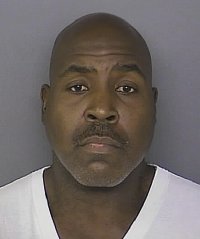 Furman D. Troy Jr., 43, of District Heights, and Darrell C. Lee, 46, of Temple Hills, Md. (Arrest photos)
LEONARDTOWN, Md.—Police made two arrests on Monday related to the armed robberies of T. C. Martin Jewelers and New Market Pharmacy, both located in Charlotte Hall. Furman D. Troy Jr., 43, of District Heights, and Darrell C. Lee, 46, of Temple Hills, were arrested after police executed search warrants in their individual homes.
On June 23, the St. Mary's County Sheriff's Office Criminal Investigation Division and the Maryland State Police Criminal Enforcement Division Central / South Region initiated a joint investigation into the robberies. During both incidents detectives determined the same two African American males entered the businesses, produce a handgun and removed U.S. currency, jewelry, prescription medications and personal property of the victims. The victims were bound with duct tape and suspects then fled on foot from the business.
During the joint investigation two suspects were identified and efforts were made to determine the whereabouts of both men. Search warrants were obtained for the residence of each suspect. On Monday, June 30, detectives, assisted by the Maryland State Police Special Tactical Assault Team Element, The Maryland State Police Apprehension Team-Greenbelt, Prince George's County Police, The Southern Maryland Information Center (SMIC) and Maryland State Police, Forestville Barrack executed Search and Seizure Warrants at the suspect's residences. Lee and Troy were both taken into custody without incident and transported to the St. Mary's County Detention Center.
Lee and Troy, Jr. were each charged with 3 counts of Armed Robbery, 3 counts of robbery, 3 counts of assault 2nd degree, 1st degree assault, possession of a handgun, 2 counts of use of firearm in commission of a violent crime, 3 counts of false imprisonment, theft of credit card, theft less than $1,000, theft scheme less than $1,000, theft $1,000 to $10,000. Both are being held in the St. Mary's County detention center under no bond.