PRINCE FREDERICK, Md. (June 30, 2014)—The Calvert County Sheriff's Office today released the following incident and arrest reports.
WEEKLY SUMMARY: During the week of June 23 through June 29, deputies responded to 1,413 calls for service throughout the community.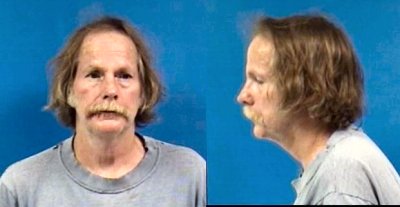 Kenneth Edward Gregory, 54, of St. Leonard.
CDS VIOLATION CASE #14-35281: On June 23 at 7:07 p.m., Dep. S. Moran stopped two individuals for questioning in an area known for trespassers and CDS activity on Calvert Avenue near the beach in St. Leonard. One of the subjects, later identified as Kenneth Edward Gregory, 54, of St. Leonard, kept putting his hands in his pockets. He consented to a search but while being searched he kept his left hand in his pocket. He took an item from his pocket and placed it in his mouth. Moran ordered Gregory to spit the item out but he would not. Moran had his hand near Gregory's mouth and at that time, Gregory bit down on the deputy's hand and would not release it. Moran took Gregory down and was able to get his hand out of Gregory's clenched teeth. A small wrapper containing three pills came out of Gregory's mouth. Gregory was arrested and charged with possession of Oxycodone, resisting arrest, second degree assault on a law enforcement officer and second degree assault. Charges of conspiracy to distribute narcotics are pending against the second individual and a third subject found in the vehicle all three had arrived in.
THEFT CASE 14-35472: A brown and white Mongoose bicycle was stolen from the bike rack at the North East Community Center in North Beach on June 24 between 5:00 p.m. and 9:00 p.m. DFC J. Hardesty is investigating.
THEFTS FROM VEHICLES CASES #14-35513 AND 35518: Someone stole a pair of Oakley sunglasses from an unlocked vehicle parked outside a home in the 7600 block of B Street in Chesapeake Beach. After taking that report, DFC A. Woodford was walking through the neighborhood to see if any other vehicles had been entered and found a bag lying in the street along with a wallet and identification cards. Woodford gathered all the items and made contact with the owner on 17th Street to return the items. The owner advised that it appeared a credit card had been stolen. Both victims were advised to lock their vehicles. Woodford is continuing the investigation of the thefts that occurred sometime overnight between June 24 and 25.
CDS VIOLATION CASE #14-35918: DFC C. Fox arrested Walter Durell Robinson, 33, of White Plains, at Abner's Crab House in Chesapeake Beach on June 26 at 6:03 p.m. after Dep. D. Naughton noticed the strong odor of marijuana emitting from Robinson while he played the slot machine.
THEFT CASE #14-36017: Overnight between June 26 and 27, someone stole over $1600 worth of angle iron from a business on Investment Court in Owings. Dep. W. Rector is investigating.
THEFT CASE #14-36070: Unknown suspect(s) stole a small, blue 4-wheeler, a yellow dirt bike, a metal chain and a Master lock, totaling over $4,000, from the yard of a residence in the 100 block of Calvert Towne Road in Prince Frederick. The theft occurred between June 25 and 27. Dep. N. Lenharr is investigating.

Stacy Lynn Clifton, 34, of Aquasco.
RESISTING ARREST CASE #14-36216: DFC P. Wood observed a vehicle driving in the oncoming traffic lane on Md. Rt. 231 near Benedict Bridge on June 28 at 1:33 a.m. He made a traffic stop and contacted the driver, identified as Stacy Lynn Clifton, 34, of Aquasco. Clifton stated that a rear seat passenger had been injured on a dirt bike and she was driving him to the hospital. Wood called for emergency medical services but the injured male declined medical attention. Clifton was found to be under the influence after a series of field sobriety tests. While attempting to handcuff her, Clifton pulled away and ran across the roadway into some bushes. She was apprehended, arrested, and charged with resisting arrest and hindering law enforcement.
BURGLARY CASE #14-36315: A home in the 2000 block of Day Lily Drive in Port Republic was burglarized sometime between June 7 and 27. A Sears weed whacker and Kenmore white, front-loading clothes dryer were stolen. Dep. N. Lenharr is continuing the investigation.
DESTRUCTION OF PROPERTY CASE #14-36496: Unknown suspect(s) threw eggs at a home and two vehicles in the 8000 block of Cardinal Circle in Lusby overnight between June 29 and 30. Dep. S. Moran is investigating.
Citizens with information on any of the reported crimes above, or any criminal activity in Calvert County, who wish to report it anonymously can now access the Calvert County Crime Solvers website via http://somd.me/calvertcrimesolvers. Information leading to the arrest and conviction of a suspect could result in a $1,000 reward.
Disclaimer: In the U.S.A., all persons accused of a crime by the State are presumed to be innocent until proven guilty in a court of law. See: http://somd.me/presumed-innocence. Additionally, all of the information provided above is solely from the perspective of the respective law enforcement agency and does not provide any direct input from the accused or persons otherwise mentioned. You can find additional information about the case by searching the Maryland Judiciary Case Search Database using the accused's name and date of birth. The database is online at http://somd.me/mdcasesearch . Persons named who have been found innocent or not guilty of all charges in the respective case, and/or have had the case ordered expunged by the court can have their name, age, and city redacted by following the process defined at http://somd.me/expungeme .