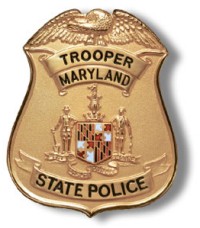 PRINCE FREDERICK, Md. (June 23, 2014)—The Prince Frederick Barrack of the Maryland State Police (MSP) today released the following incident and arrest reports.
THEFT: On 6/16/2014 at 2:20 pm, Trooper Rucker received a report of a theft/embezzlement from a company located in the 300 block of Steeple Chase Dr. in Prince Frederick. Investigation revealed that an employee had been writing checks for services that had not been provided to clients. An Application for Charges is pending for Pamela J. Newton, 40 of Lusby.
UNAUTHORIZED USE OF MOTOR VEHICLE: On 6/16/2014 at 5:57 pm, Trooper Rowe received a report of the removal and unauthorized use of motor vehicle from a location on Skipjack Rd. in Prince Frederick. The victim reported that Daniel L. Dumonde, 62, unknown address, had removed a Ford Edge without permission and had failed to return the vehicle. Investigation continues.
THEFT: On 6/17/2014 at 4:27 pm, Trooper First Class Saucerman responded to the 8000 block of Nursery Rd. in Lusby for a reported theft. Investigation continues.
THEFT FROM VEHICLE: On 6/20/2014 at 9:21 am, Sergeant Chirichella received a report of a registration plate being stolen from a vehicle. The victim reported that the front license plate had been removed from the vehicle. The Maryland registration plate 6AW8108 has been entered into NCIC/MILES.
BURGLARY: On 6/20/2014 at 10:08 am, Trooper First Class Follin responded to the 9300 block of Boyds Turn Rd. in Owings for a reported burglary from a shed at the residence. Unknown suspect(s) broke the locks off the victim's sheds and removed two small air compressors, A Dewalt Miter Saw, A Homelite Left Blower, two Dewalt impact drills, a two cycle gas yard trimmer, and two plastic tool boxes containing numerous hand tools. Investigation continues.
ATTEMPTED BURGLARY, DESTRUCTION OF PROPERTY: On 6/21/2014 at 11:32 am, Trooper Riddle responded to the 11600 block of Cowpoke Circle in Lusby for a reported attempted burglary and destruction of property. The victims reported that upon awaking, they found several items out of place on the lower level of their residence. The TV had been removed from the stand and was set on the floor. All of the closet doors were open and numerous items were moved from their original locations. A laptop computer, a knife and a belt buckle with a picture of a bulldozer on it were missing. Investigation continues.
POSSESSION OF PRESCRIPTION MEDICATION: On 6/21/2014 at 10:42 pm, Trooper First Class Smith responded to the Super 8 Motel in Prince Frederick for a reported controlled dangerous substance complaint. The manager reported having smelled marijuana emitting from one of the rooms. The occupants were asked about the marijuana odor and they stated that they had smoked it earlier. They gave consent to enter the room and search. No marijuana was located, however, narcotics were found. David R. Speakman, 20 of St. Leonard, was arrested for possession of prescription drugs for which he did not have a prescription. He was incarcerated at the Calvert County Detention Center.
THEFT: On 6/22/2014 at 11:33 pm, Trooper First Class Matthews and Trooper Rowe responded to the 800 block of Calvert Towne Dr. in Prince Frederick in an attempt to locate a cell phone previously reported missing from a basketball camp in Pittsburg. The complainant tracked it to this location with the "Track my Iphone" application. A fourteen year old juvenile, who had attended the camp, was found to be in possession of the missing Iphone. He was arrested and released to his parent.
DUI Arrests
Justin M. Reynolds, 22, of Huntingtown, arrested on 06/18/2014 @ 01:58 am by TFC S. Lewis
Jared J. Baranowski, 20, of Port Republic, arrested on 6/21/2014 @ 12:24 am by TFC D. Saucerman
William O. Jenkins, 42, of District Heights, arrested on 06/21/2014 @ 05:27 pm by TPR. J. Warrick
Disclaimer: In the U.S.A., all persons accused of a crime by the State are presumed to be innocent until proven guilty in a court of law. See: http://somd.me/presumed-innocence. Additionally, all of the information provided above is solely from the perspective of the respective law enforcement agency and does not provide any direct input from the accused or persons otherwise mentioned. You can find additional information about the case by searching the Maryland Judiciary Case Search Database using the accused's name and date of birth. The database is online at http://somd.me/mdcasesearch . Persons named who have been found innocent or not guilty of all charges in the respective case, and/or have had the case ordered expunged by the court can have their name, age, and city redacted by following the process defined at http://somd.me/expungeme .