This story is part of a series on the lottery and casinos in Maryland called "All In: Maryland's Big Bet on Gambling."
By JOE D. MARSHALL and SAM SCHMIEDER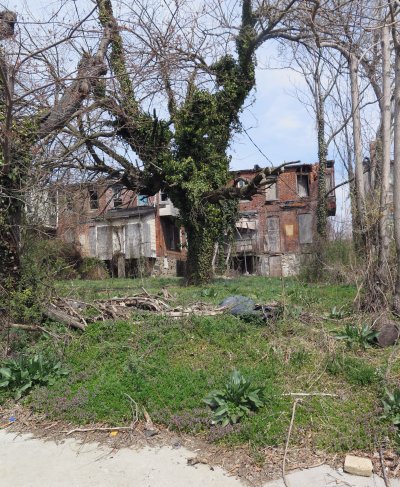 A crumbling rowhouse sits next door to the Park Heights Renaissance offices. (Photo: Sam Schmieder)
BALTIMORE—If gambling helped revitalize neighborhoods, Park Heights should be among Baltimore's finest.
The neighborhood grew up just south of Pimlico Race Course—though most racing fans pay no attention to Park Heights and its decaying blocks.
Then there's the Maryland lottery. Park Heights and other low-income communities in the 21215 zip code spend more on lottery tickets than any other zip code in the state—$34 million in 2012, according to a Capital News Service analysis.
Now, with the expansion of casinos in Maryland, Park Heights and its neighbors will receive about $4.5 million a year—a share of casino revenues—until 2032 to help redevelop the community by building new housing, creating new jobs and attracting new retailers.
The list of projects—some already completed—is ambitious. And yet, residents of Park Heights say they don't believe gambling money will bring the neighborhood back to middle-class stability.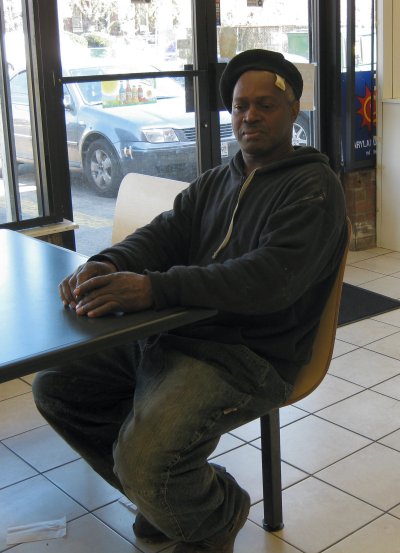 George Dennis sits patiently waiting for his food in a carry-out/convenience store in Park Heights. (Photo: Sam Schmieder)
"Everyone keeps playing the lotto," said George Dennis, 54, as he waited to pick up lunch in a restaurant connected to a convenience store that sells lottery tickets. "And everyone just keeps getting poorer and poorer."
"We don't get that money back"
A few decades ago, Park Heights was a tidy neighborhood of porch-fronted rowhouses. Today, its blocks are marked by boarded-up homes and trash-filled vacant lots.
"Crime, drugs and poverty have all gone through the roof," said Lenwood Cole, 72, who has lived in the area for 52 years.
Park Heights residents "are a big source of revenue for lottery," Cole said. "But we don't get that money back."
According to 2012 data collected by the Baltimore Neighborhood Indicators Alliance, the neighborhood designated Southern Park Heights has a median household income of about $26,950, which is $13,000 below the citywide median household income of $40,800. Thirty-four percent of households and 48 percent of children live below the poverty line—higher than the city average.
In 1977, Park Heights and neighboring communities began receiving special grants from the state, called "local impact funds," to help cover costs of the extra trash and traffic that the racetrack creates, according to a 2003 state report on "Special Racing Revenues." That year, the money amounted to $54,000. The grants topped out at about $550,000 in 2012.
Before the lottery and long before Horseshoe Casino, Pimlico Race Course was the main gambling attraction in Baltimore. The racetrack, founded in 1870, is home to the Preakness Stakes, the second leg of American racing's Triple Crown.
But attendance there has dwindled over the decades—except for Preakness days, when the track is mobbed. More than 123,000 people attended this year's Preakness May 17.
Even when visitors do come to watch the horses run, residents say, Park Heights and other neighboring communities—such as Arlington-Pimlico—don't benefit. Racing doesn't bring business to the area's shops or restaurants.
Larry E. Jennings Jr., chairman of Park Heights Renaissance, sees Pimlico Race Course as nothing more than a big open space, a border between Park Heights and more affluent neighborhoods to the east.
"I wish Pimlico would be gone," said Jennings, who grew up near the track. "It's literally a zero 360 days of the year, except for Preakness."
The local impact grants connected to the racetrack did not stop the area's decline and were discontinued in 2012 as casinos began opening in the state.
Park Heights Master Plan
In 2012, as it debated whether to expand casino gambling, the Maryland legislature directed a share of slots revenues go to neighborhoods near Baltimore's casino. As part of the deal, Pimlico, though it is nowhere near the downtown casino, was included for 20 years.
Over the past two years, the Park Heights-Pimlico area has budgeted about $8 million in impact grants.
Seventy-five percent of those funds go to the Park Heights Master Plan, a 10-to-15-year road map for redevelopment that extends through Park Heights and across neighboring communities.
The remaining 25 percent goes to other neighborhoods within a one-mile radius of Park Heights and Pimlico Race Course, including the Northwest Community Planning Forum, Liberty-Wabash and Coldspring Newtown.
Jennings, who grew up near Park Heights, today is senior managing director of ValStone Partners, an investment firm that he cofounded.
He said he is no fan of gambling. He calls the lottery "a tax on poor people." He contributed thousands of dollars to the campaign to stop casino expansion.
But now, as chairman of Park Heights Renaissance, he oversees the spending of the millions of dollars that the casinos will spin off for the community.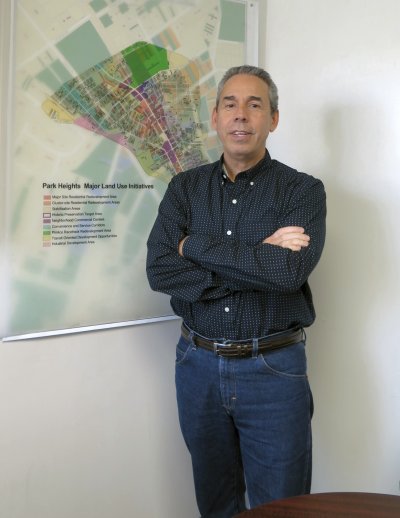 Julius Colon stands in front of a map of Park Heights in his office at Park Heights Renaissance. (Photo: Sam Schmieder)
Park Heights Renaissance has ambitious plans. Julius Colon, president and CEO of Park Heights Renaissance, came to Baltimore in 2009 from New York to manage the redevelopment.
'"Our goal was to bring in a level of stability and prepare this community for revitalization, and that's what we've done," Colon said.
Some changes in the community are visible. Park Heights Renaissance has renovated the Hilltop Shopping Center and added a Department of Motor Vehicles branch. It recently opened Renaissance Gardens, a residential community for senior citizens. And Park Heights Renaissance has persuaded the Roland Park Country School to start a new charter school in Park Heights next year.
With the Mayor's Office of Employment Development, Park Heights Renaissance created the Park Heights Partnership for Jobs. The program provides job-training and placement for residents of Park Heights, where unemployment is higher than the the citywide rate.
A 20-year program
When it comes to gambling, Colon believes poor people spend more on lottery tickets because they are more prone to "chase the dream" of finding a quick fix to their financial situations, which Colon calls a myth.
And though he is wary of gambling, Colon is more concerned about the negative effects that drugs and alcohol have on the lives of people in poor communities—effects he refers to as "systematic genocide."
Colon says it will take about 10 years for dramatic changes in Park Heights, and 20 years for a complete turnaround. He wants the neighborhood to be an area that attracts home-buyers and families.
But some residents feel that the community redevelopment process is moving far too slowly and the number of improvements don't seem to match the amount of money coming into the neighborhood from gambling.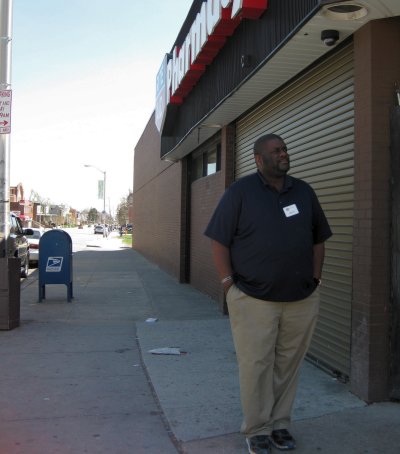 Rite Aid employee Jason Carter stands outside of the store in Park Heights. (Photo: Sam Schmieder)
Jason Carter, who works at a local Rite Aid in Park Heights, said he sees "little improvement" in the area. And he said he doesn't gamble because he he believes it preys on the desperation of poor people.
"They play the lottery instead of taking that money and sitting it in the bank, letting the bank do what it's supposed to do," Carter said.
Clara Virginia Lee, a Park Heights resident of 57 years, wants to see more done with the impact funds as well. Previous development plans, she said, did not deliver.
"There were upgrades they promised to build 17 years ago, but I still don't see it," Lee said. "We may not be the most well-off community, but we deserve services too."
Lee plays the lottery from time to time, but she said she often wonders if the revenue is actually going to education and community clean-up, as she says politicians claim.
"I think a lot of the money is going somewhere else, and that's the unjust part about it all." she said.
Nevertheless, Lee still cannot resist the urge to try her luck every once in a while, hoping to win big.
"Actually, now that you mention it," she said, "I'm going to go buy a lottery ticket right now."
Park Heights Renaissance projects:
-- Renaissance Gardens -$6,951,200 according to
http://www.southwaybuilders.com/renaissance-gardens-ribbon-cutting-ceremony
-- Park Heights Piazza & Kidscape - $150,000
Park Heights Master Plan area FY15 Fund Allocation:
-- Northwest Community Planning Forum - $787,500
-- Liberty/ Wabash Area - $281,250
-- Coldspring Newton - $56,250