Howell Named Finalist for National History Day Teacher Award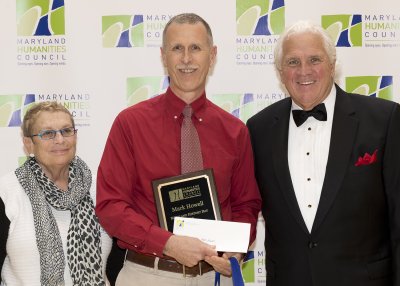 Westlake High School history teacher Mark Howell, pictured center, received the Maryland History Day Patricia Behring Teacher of the Year Award last month and was congratulated by Joyce Leviton, left, of Sen. Ben Cardin's office, and Maryland Senate President Mike Miller, right. (submitted photo)
Mark Howell, a longtime history teacher at Westlake High School, was recently named one of two Maryland finalists for the National History Day Patricia Behring Teacher of the Year Award. Participating states can select one middle- and high-school teacher for consideration of the national award and state finalists are chosen for excellence in the classroom. Howell is representing Maryland at the high-school level, and state finalists must demonstrate the use of creative teaching methods and a commitment to get students interested in learning about history.
Howell's selection to represent Maryland was announced during the Maryland History Day event held last month. Two national winners will be announced on June 19 during the National History Day event at the University of Maryland College Park. Howell said he was honored to be chosen for the state-level award. "This honor motivates me to teach my students and teachers to research deeper, write clearer, and create better projects. This honor pushes me to continue to offer the best instructional practices and opportunities for my students to learn history," he said.
Howell's career in education spans more than 30 years. He currently teaches a range of social studies classes at Westlake, including local, state and national (LSN) government and U.S. History, as well as several Advanced Placement (AP) classes. He is the longtime History Day coordinator at Westlake and helped to expand the program both at Westlake and the county level. Howell was also honored by Charles County Public Schools with the 2010 Teacher of the Year Award, and was one of seven finalists in 2010 for the Maryland Teacher of the Year honor.
History Day is a history-based learning experience for students in grades 6 through 12. As part of the experience, students learn about issues, ideas, people, and events in history and apply what they learn through creative and original presentations. Students first compete in the program at the county level and first-and second-place winners advance to the state level.
For more information on the National History Day program and the Patricia Behring Teacher of the Year award, visit
http://www.nhd.org/Contest.htm
.
Brenda Tillotson Named 2014 Vice Principal of the Year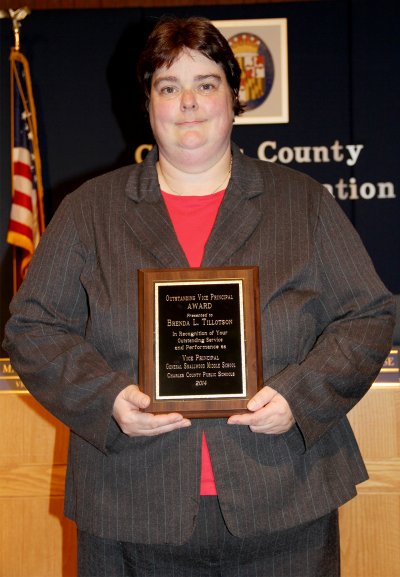 Brenda Tillotson. (submitted photo)
Brenda Tillotson, a vice principal at General Smallwood Middle School, is the 2014 Charles County Public Schools Vice Principal of the Year. She was recently selected for the annual honor and was recognized for her dedication to student success. Tillotson, who has served as a vice principal at Smallwood since 2010, has a longtime career in education that spans a period of more than 20 years. Upon learning of her selection as this year's award recipient, Tillotson was humbled by her selection and proud that her accomplishments earned her special recognition.
"I am fortunate to work at General Smallwood Middle School, where I receive the support of the administration, staff, students and parents. It is very humbling to be recognized for the hard work that I put into my job to support our students and staff. I hope this honor symbolizes the type of work ethic and commitment that I have to our students and staff," Tillotson said.
Criteria for the Vice Principal of the Year award include a strong work ethic, commitment to the success of students and staff, and the ability to help maintain a positive learning environment. In letters written on behalf of Tillotson's nomination, her peers, parents and students say that not only does Tillotson embody this criteria, she emulates the characteristics of a strong leader.
Marjorie Powers, whose son attends Smallwood, wrote a letter in support of Tillotson's nomination. She said because of Tillotson's guidance and support, her son has had a positive middle school experience. "She is always willing to go above and beyond to help students. I have heard her numerous times telling students to do their best and make the right decisions. She acknowledges our son daily and he looks forward to going to school each day to see Ms. Tillotson. She is a prime example of what a vice principal should be," Powers wrote.
Tillotson serves as the seventh-grade vice principal and is also responsible for overseeing several school programs, such as the Advancement Via Individual Determination (AVID), extended-learning opportunity (ELO) and Saturday School programs, the mathematics, social studies, science and related arts departments, the counseling department, after-school activities, non-certificated staff and the master school schedule. She also conducts staff observations and evaluations, oversees after-school conferences, open house events, fifth-grade transition meetings and maintains the schedule for all substitute employees.
Additionally, Tillotson serves as the principal's designee and is responsible for the facility when Smallwood Principal Kathy Perriello is out of the building. In her nomination letter, Perriello said Tillotson's dedication to students and work ethic is un-parallel to any. "Ms. Tillotson has demonstrated above and beyond her capabilities to be an outstanding school leader. She possesses many admirable qualities such as a strong work ethic, loyalty, dedication and a proactive mindset. Her attitude of 'How we can – not why we can't' sets her apart from the rest," Perriello wrote.
Her positive rapport and ability to establish relationships with students has earned Tillotson respect and admiration, and her work ethic is apparent in all that she does. From monitoring lunch shifts in the school cafeteria to helping struggling students access additional assistance, Tillotson is well known among the Smallwood student population for her ability to connect with kids. Smallwood seventh grader Ian Diable wrote a nomination letter in support of Tillotson and said she is a fantastic leader.
"She is a great coach, mentor, trusted administrator and an amazing person. Ms. Tillotson has a great sense of humor. She is witty, which makes her fast at making a joke. I trust her judgment and believe that she deserves to be acknowledged formally as the Vice Principal of the Year. She is still number one in my book," Diable wrote.
In addition to her ability to support positive relationships among students, Tillotson is also well known for her professional demeanor among staff. Her belief that all children have the potential to succeed is something that Tillotson strives to instill in each Smallwood staff member, and she models consistency in all of her job duties and responsibilities. She also serves as a mentor to teachers interested in pursuing administrative opportunities and is respectful, firm and fair in all staff interactions.
Anthony Carroll is an instructional resource teacher at Smallwood and said Tillotson is a "bright light" among school staff. "Ms. Tillotson is more than an outstanding vice principal. She is a tremendous figure here at General Smallwood Middle School. She is a model of consistency, a bright light, and is always willing to give positive words of encouragement when the need is there," Carroll wrote in a nomination letter.
Tillotson began her career in education as a mathematics teacher in Prince George's County, where she taught at the high-school level for four years. She began teaching with Charles County Public Schools as a mathematics teacher at Maurice J. McDonough High School in 1997. She became a vice principal at Smallwood in 2010.
She has a bachelor's degree in mathematics from Millersville University and a master's degree in curriculum and instruction from McDaniel College. Tillotson was honored by the Board of Education on June 10. The Board honors one outstanding vice principal each year.
Board Honors Exemplary Employees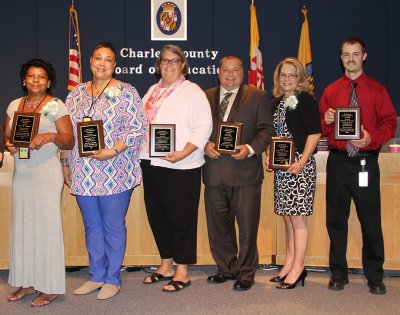 The Charles County Board of Education honored six staff members with 2014 Outstanding Classified Personnel Awards at the June 10 Board meeting. Pictured, from left, are Doris Hawkins, Darlette Smith, Kristen Sackman, Roy Kline, Suzanne Alpert and Richard Day. (submitted photo)
The Board of Education honored six Charles County Public Schools (CCPS) employees with Outstanding Classified Personnel Awards on June 10. Honored were
-- Doris Hawkins, building service worker, Milton M. Somers Middle School;
-- Darlette Smith, food service manager, Somers;
-- Kristen Sackman, special education instructional assistant, La Plata High School;
-- Roy Kline, electrician, Charles County Public Schools Maintenance Shop/Radio Station Road Annex;
-- Suzanne Alpert, secretary, Piccowaxen Middle School and Somers; and
-- Richard Day, computer analyst, North Point High School.
Hawkins is the 2014 Outstanding Building Service Employee. She has worked as a building service worker for the school system since 2006 and has been at Somers for the past four years. Hawkins was nominated for recognition by Somers staff including Principal Stephanie Wesolowski and Stephanie Walent, a language arts teacher. In Hawkins' nomination letters, she is consistently described as dedicated, flexible and dependable. "Ms. Hawkins is one of the hardest working people in this building. She is constantly on the go, never stopping, always accomplishing one task after another. She is not only performing her own tasks and responsibilities for the day, but she can be found helping teachers, students and other support staff in a myriad of ways," Walent wrote in a nomination letter. Hawkins is well known for her positive and cheerful demeanor and for being the first one to volunteer to assist with any task. From preparing a room for a staff meeting to rearranging furniture to set up a school assembly, Hawkins completes tasks with a smile. She strives to ensure that the school building is clean, the grounds are kept up and the school is safe each day. Wesolowski said Hawkins is the epitome of an exemplary employee. "Maintaining a large facility is no easy task, but you wouldn't know it from the consistent positive attitude and work ethic that Ms. Hawkins demonstrates on a daily basis. She is always available no matter how large or small the request," Wesolowski wrote in a nomination letter.
Smith is the 2014 Outstanding Food Service Employee. She began her career with CCPS more than 15 years ago and has worked at Somers since 1999. Smith was nominated by school staff for her exemplary work ethic. She is well known among staff for her ability to foster a positive work environment and maintain positive relationships among her co-workers. Smith participates in several school-related activities including job shadow day, transition dinners, open houses and also partners with the school Parent-Teacher Organization (PTO). Somers Vice Principal Belinda Shatley said that Smith is a vital asset to the school. "All students, parents and staff are treated with professionalism and personal courtesy as she meets the demands of providing breakfast and lunch to 900 students spanning three lunch shifts a day. This serves as a testament to Ms. Smith's dedication and high standards she sets for herself and those under her supervision," Shatley wrote in a nomination letter. In addition to her daily duties as food service manager at Somers, Smith helps coordinate catering needs for special events and programs held at the school. She also has a positive rapport among students and is flexible, dependable and professional.
Sackman is the 2014 Outstanding Instructional Support Employee and has worked for the school system since 2004. John Holmes is a science teacher at La Plata and wrote a letter on behalf of Sackman's nomination. He said Sackman is truly dedicated to the education and enrichment of students. "I have seen firsthand that Kristen goes above and beyond what is typically expected from an instructional assistant. She willingly takes on responsibilities, especially ones of an organizational nature, which helps relieve some of the extra work," Holmes wrote in his letter. Sackman conducts instructional activities, helps to implement Individualized Education Plan (IEPs) components for students and serves as a testing proctor, or assistant, for school exams. She consistently models a calm and caring demeanor and maintains a positive attitude while working with students and her peers. La Plata Principal Evelyn Arnold said Sackman does whatever is necessary to make sure students are successful. "Kris goes the extra mile for students and has developed a mentoring relationship with the numerous students that she works with each day. Her calm demeanor and ability to quickly assess situations has contributed to her success in the classroom, not only with our students but especially with first-year teachers she has worked with," Arnold wrote in a nomination letter.
Kline is the 2014 Outstanding Maintenance Employee. He has worked for the school system since 2008 and has more than 30 years of experience as an electrician. Kline was nominated for his work ethic and professional demeanor among staff. He is well known for completing his job duties in an efficient and effective manner, and is thorough in all of his responsibilities. He has a thorough comprehension of job duties and understands the importance of completing assigned tasks while demonstrating a sense of ownership to each job. Lora Bennett, information technology manager for CCPS, wrote a nomination letter about Kline and said he is a great example of a true professional. "A role model is defined as a person looked to by others as an example to be imitated. Roy fits this definition as he works hard, is concerned about safety, is cooperative and concerned providing a high level of service to the students, staff and stakeholders of the school system," Bennett wrote in her letter. Kline's nomination was also supported with a letter of recommendation from Steve Vance, the supervisor of maintenance for CCPS. According to Vance's letter, Kline is well deserving of recognition. "He has demonstrated dedication and commitment to Charles County Public Schools that contributes to the successful operation of our facilities," Vance wrote.
Alpert is the 2014 Outstanding Secretary and has worked in the school system for more than 25 years. She is a full-time employee and splits her work week between Piccowaxen and Somers middle schools. Both schools submitted nomination materials in support of Alpert's selection for the award. She is described as proactive, a quick thinker and an employee who shows great initiative. She is proficient with several computer programs and with all data processing responsibilities. Aparna Joshi, a gifted education resource teacher at Somers, said that Alpert is highly motivated and works extremely hard. "I can unequivocally state that she is one of the most efficient and organized people I have come across. She splits her time between two schools and still manages to facilitate and produce any data I happen to ask for. No request is too small for Ms. Alpert," Joshi wrote in a nomination letter. Alpert also serves as a resource for parents and students and is well known for the pleasant rapport she maintains with staff in both school communities. According to Piccowaxen Principal Kenneth Schroeck, Alpert is compassionate and dedicated. "Working with individuals like Ms. Alpert is a true pleasure. Her love for the children, the faculty, the community and her profession are reflected in her actions. I am absolutely impressed by her willingness to help faculty, students and parents with anything they need," Schroeck wrote in a nomination letter.
Day is the 2014 Outstanding Information Technology Employee. He has worked for the school system since 2010 and was nominated for recognition for his knowledge and efficiency. He is known for learning new skills quickly and for his ability to problem solve. Jill Warring, a systems analyst at the Jesse L. Starkey Administration Building, said that Day is truly an asset to Charles County Public Schools. "As the first point of contact for all technology issues at North Point High School, Rick efficiently maintains and manages the technology to meet all instructional needs. The teachers and staff know they can always count on Rick to quickly and efficiently resolve any problems they experience, as well as be proactive in preventing problems to keep their technology running smoothly," Warring wrote in a nomination letter. Day demonstrates an excellent work ethic and is professional in all interactions with staff and students. He is extremely knowledgeable with technology and is willing to take on difficult tasks to support technology needs at North Point. North Point Principal Michael Simms wrote a letter in support of Day's award nomination and said he is an example of an outstanding employee. "Rick is more than willing to help anyone who has a question or technology need; no matter how big or small. He is also very knowledgeable as to what type of equipment or technology would be best for our school. Rick is always pleasant and courteous to everyone he works with at North Point and I cannot say enough positive things about him," Simms wrote in a nomination letter.
The Board each year honors exemplary support staff in six different job categories. The goals of the awards are to recognize exemplary employees in the areas of building services, food services, maintenance, secretarial services, instructional support, and information technology to encourage employees to provide creative and quality services that support the effective and efficient operations of the school system.