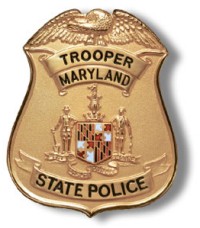 PRINCE FREDERICK, Md. (June 16, 2014)—The Prince Frederick Barrack of the Maryland State Police (MSP) today released the following incident and arrest reports.
BURGLARY: On 6/10/2014 at 2:01 pm, Trooper Warrick responded to the 6400 block of 3rd St. in Chesapeake Beach for a reported burglary. The real estate agent for the sale of the property reported that although no signs of forced entry were visible there were appliances missing from inside the home. Various agencies that do work to maintain and secure the property have been contacted. Investigation continues.
WARRANT SERVICE, POSSESSION OF SUBOXONE: On 6/10/2014 at 7:04 pm, Trooper Palumbo responded to the Parole and Probation Office on Duke St. to serve a warrant. During the arrest, Matthew Wayne Wiegand, of Lusby, was found to be in possession of Suboxone. He was arrested and incarcerated at the Calvert County Detention Center.
BURGLARY: On 6/12/2014 at 4:09 pm, Trooper First Class Smith responded to the 1900 block of 4th St. in Owings for a reported burglary. Unknown suspect(s) entered the victim's home and removed a Briggs and Stratton Generator and two tool boxes. Investigation continues.
THEFT: On 6/13/2014 at 6:20 pm, Sergeant Bevard received a report that a front registration plate had been stolen from the victim's vehicle. The victim reported the vehicle was normally parked in the driveway and was unaware how long the plate had been missing. MD 1BA0798 has been entered into MILES/NCIC as stolen.
POSSESSION OF SYNTHETIC MARIJUANA: On 6/16/2014 at 12:20 am, Trooper First Class Lewis stopped a vehicle on Rt. 4 near German Chapel Rd. in Prince Frederick for traffic violations. The driver, a juvenile, was observed with a clear baggie of K2/Spice in his hands. He was arrest and transported to the MSP Barrack in Prince Frederick for processing.
DUI Arrests
Ronald L. Hutchens, 42, of Lexington Park, arrested on 06/13/2014 @ 11:48 pm by MD TPR. B. Riddle
Tessa B. Echols, 50, of Port Tobacco, arrested on 06/13/2014 @ 09:35 pm by MD TFC S. Matthews
Keith D. Ludka, 56, of Huntingtown, arrested on 06/14/2014 @ 11:47 pm by MD TFC K. Follin
Matthew S. Hartman, 21, of St. Leonard, arrested on 06/14/2014 @ 02:24 am by MD TFC J. Oles
Jason R. Riggleman, 34, of Prince Frederick, arrested on 06/16/2014 @ 01:37 am by MD TPR. J. Palumbo
Disclaimer: In the U.S.A., all persons accused of a crime by the State are presumed to be innocent until proven guilty in a court of law. See: http://somd.me/presumed-innocence. Additionally, all of the information provided above is solely from the perspective of the respective law enforcement agency and does not provide any direct input from the accused or persons otherwise mentioned. You can find additional information about the case by searching the Maryland Judiciary Case Search Database using the accused's name and date of birth. The database is online at http://somd.me/mdcasesearch . Persons named who have been found innocent or not guilty of all charges in the respective case, and/or have had the case ordered expunged by the court can have their name, age, and city redacted by following the process defined at http://somd.me/expungeme .