St. Mary's College Graduates 24 Students with the Master of Arts in Teaching Degree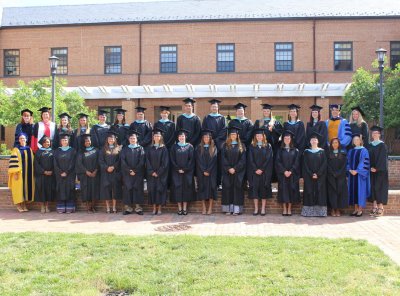 St. Mary's College Graduates 24 Students with the Master of Arts in Teaching Degree. [ Click on photo for larger rendition. ]
St. Mary's College of Maryland graduated 24 students with the degree of Master of Arts in Teaching (MAT) on Saturday, June 7. The Commencement address was delivered by Jack Smith, chief academic officer at the Maryland Department of Education.
Smith spoke to the graduates on the value of educators in his life. Smith told the students "the central purpose [of teaching] is learning." Smith also told the graduates, "You could do any job, but you chose teaching and I would be eager to hire any one of you."
Caroline Sellers, MAT graduate, gave the student address. Sellers remarked on the 11-month journey the students took together and gave gratitude to friends, family and faculty. Sellers said, "Every day is an opportunity to make something happen in the classroom."
Katy Arnett, chair of the St. Mary's College Educational Studies Department, charged the graduates to "see the strength and value in every student you meet." Angela Johnson, director of teacher education at St. Mary's College, cited a quote from Dr. Martin Luther King, Jr.: "I'm going to work and do everything that I can do to see that you get a good education. I don't ever want you to forget that there are millions of God's children who will not and cannot get a good education, and I don't want you feeling that you are better than they are. For you will never be what you ought to be until they are what they ought to be."
Concluding the ceremony, graduates Meagan Ragland and Matthew Pearson performed a rendition of "Blackbird" by John Lennon and Paul McCartney.
The Master of Arts in Teaching degree at St. Mary's College is a full-time, year-long program. Certification programs exist for elementary certification in grades one through six, and secondary English math, social studies, biology, chemistry, physics, and theater for grades seven through twelve. Art, music, and foreign language majors may also certify in their disciplines for grades preK-12. To learn more about the program, visit
www.smcm.edu/academics/edustudy
or email mat [at] smcm.edu.
"Across the Ages" Art Exhibition Bound to Captive Audiences
St. Mary's College of Maryland Boyden Gallery, June 13 – Aug. 5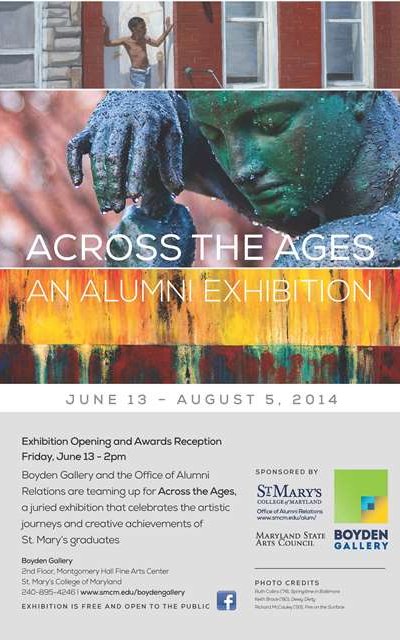 A juried exhibition entitled "Across the Ages" will be on display June 13 through Aug. 5 at St. Mary's College of Maryland's Boyden Gallery (second floor of the Montgomery Hall Fine Arts Center). An opening reception will be held June 13 starting at 2 p.m. in the gallery. The exhibition is sponsored by the St. Mary's College Boyden Gallery, Office of Alumni Relations and the Maryland State Arts Council. It is free and open to the public. For more information contact Cristin Cash, director of the Boyden Gallery, at clcash [at] smcm.edu. For gallery hours, visit
www.smcm.edu/boydengallery
.
Southern Maryland's Highly Anticipated River Concert Series Returns
Southern Maryland's highly anticipated River Concert Series returns starting June 20 at St. Mary's College of Maryland. Visit
www.smcm.edu/riverconcert
for details.
St. Mary's College of Maryland, along with the Chesapeake Orchestra and its Music Director Jeffrey Silberschlag, are proud to announce the program for the 16th Annual River Concert Series. The popular, family-friendly music festival will be held on the St. Mary's College Townhouse Green every Friday evening starting at 7 p.m. (grounds opening at 5 p.m.) beginning June 20 and continuing through July 25.
Acclaimed musicians and new artists will perform the sounds of classical composition, light classics, jazz, bluegrass and blues. St. Mary's College students performing as musicians in the Chesapeake Orchestra include recent graduates Glenna Wong and Kaitlin Rose, first-year Henry Boyles, second-year Maura Glascock, second-year Julia Maas and junior Amanda Durst.
Food and beverages, provided by local vendors, will be available for purchase on location. Attendees are also welcome to bring their own refreshments. Concerts are free and open to the public. For more information, visit the River Concert Series website at
www.smcm.edu/riverconcert
.
Full schedule:
June 20
: The first concert entitled "In the beginning…Bach!" features the music of Bach, Tartini and Bolling. The music will feature Jeffrey Silberschlag as trumpet soloist.
June 27
: This concert will explore the musical world during the American Revolution and feature the works of Haydn, Mozart and Schubert.
July 4
: The Independence Day celebration will feature the works of Harry James, Tommy Dorsey, Count Basie, Duke Ellington, Benny Goodman and more. The evening will also include fireworks.
July 11
: "A Night at La Scala di Milano" will feature guest conductor Larry Vote and the River Concert Series Chorus performing the works of Strauss, Verdi, Wagner, Verdi and Puccini.
July 18
: The concert entitled "Sweatin' to the Oldies" will feature a piano solo by Patrick Dheur and the works of Tchaikovsky and Franck.
July 25
: The final concert, entitled "The Story Tellers" will feature vocalist Maureen McGovern and a performance of Rimsky-Korsakov's "Scheherazade."