By Andrew Revelos, Naval Support Activity South Potomac Public Affairs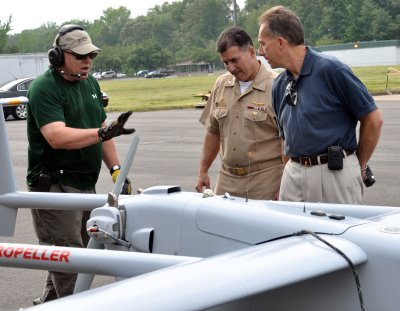 Donn Rushing, left, crew chief for the Unmanned Aerial Systems Test Directorate, briefs Capt. Pete Nette, center, commanding officer of Naval Support Activity South Potomac, and Nelson Mills, right, senior engineer at the Naval Surface Warfare Center Dahlgren Division, about the Aerostar UAS in the foreground during testing May 21. The planning phase of the test required extensive coordination with between Dahlgren-based commands, Naval Air Systems Command and the FAA. (U.S. Navy photo by Andrew Revelos/Released)
DAHLGREN, Va.—Navy engineers tested combat systems with an unmanned aerial vehicle (UAV) in the first fixed-wing flight from the Naval Support Facility (NSF) Dahlgren runway in more than a decade May 22.
The test - featuring the first flight of a large, Group 3 aircraft (over 50 pounds) here - was the first UAV flight over national airspace at the base.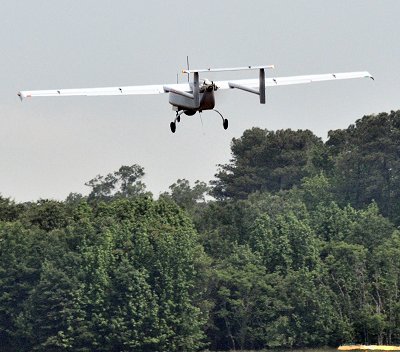 The Aerostar Unmanned Aerial System takes off during testing at Naval Support Facility Dahlgren during testing May 22. The test was the first fixed-wing flight from Dahlgren's runway in more than a decade and represented several months of preparation between the base, the Naval Surface Warfare Center Dahlgren Division, the Unmanned Aerial Systems Test Directorate, Naval Air Warfare Center Aircraft Division and the FAA. (U.S. Navy photo by Andrew Revelos/Released)
"This series of flight tests was critical to proving out combat systems integrated with the unmanned aerial vehicle," said Capt. Brian Durant, Naval Surface Warfare Center Dahlgren Division (NSWCDD) commander. "The Aerostar UAV was used to successfully verify system tracking capabilities. The coordination and teamwork required to successfully pull this off was no small feat. I applaud the team for their hard work and significant contribution to the success of our mission."
The test flight was the first Unmanned Aerial Systems (UAS) collaboration between NSWCDD and Naval Air Warfare Center Aircraft Division (NAWCAD) assets from Naval Air Station Patuxent River to meet a crucial requirement in the operating forces.
"It is our mission goal to continuously mature and contribute our manned and unmanned aircraft systems and expertise to develop weapon systems and tactics to ensure advantage to our warfighters," said Gary Kessler, NAWCAD executive director. "Through NAWCAD and NSWCDD collaboration and mutual cooperation, we are leveraging our combined intellectual capital, technological capabilities, and regional resources to foster multi-domain Naval integrated warfighting capability (IWC) advancements which guarantee those advantages are realized by our Sailors and Marines, and other services."
NAWCAD Unmanned Aerial Systems Test Directorate (UASTD) operators flew the Israeli-manufactured Aerostar - a 15 foot long aircraft with a 21 foot wing span - during the testing. It can cruise at speeds up to 62 knots and has an endurance of nine hours.
"The coordination and effort that led to this testing was outstanding," said Capt. Pete Nette, Naval Support Activity South Potomac commanding officer. "Dahlgren has a unique historical pedigree when it comes to aviation. It's great to see the main runway back in service as NSWCDD and UASTD work to give warfighters the technology they need to accomplish their missions."
After thunderstorms kept test operations grounded May 21, the Aerostar sped north down Dahlgren's runway the next morning and began a familiarization flight. Crews practiced touch-and-go maneuvers, communications checks, and process and procedure verifications before conducting additional tests in the restricted NSWCDD airspace.
"This overall test series is just one example of NSWCDD's local weapon system integration capability, providing the necessary crucial technical and programmatic risk mitigation prior to system deployment," said Nelson Mills, senior engineer at NSWCDD.
The colocation of research, development, test and evaluation (RDT&E) assets at Dahlgren provides an ideal setting for innovating next-generation combat systems and overcoming technological obstacles for the Fleet. Reopening the installation's main runway increases the efficacy of those activities.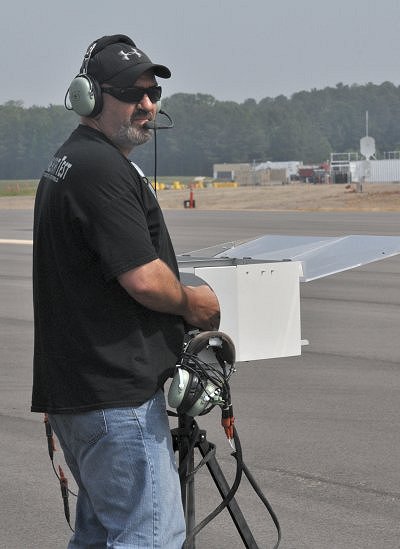 Frank Paules, a contractor assigned to the Unmanned Aerial Systems Test Directorate, pilots an Aerostar UAS during testing at Naval Support Facility Dahlgren on May 22. (U.S. Navy photo by Andrew Revelos/Released)
"The capability provided by the airfield being co-located with the test site and range facilities enabled UASTD to provide rapid and flexible test support and maximal on-station time that would not be possible operating at Dahlgren from other venues," said James Kushner, UASTD operations officer. "We look forward to future activities supporting NSWCDD and its customers as the opportunities arise."
Navy RDT&E professionals say that coordinated efforts like the UAS combat systems testing can yield superior results for warfighters.
"One of the key strategies to promote Naval Integrated Warfighting Capability (IWC) is to build on nationally-unique, integrated, and interoperable test capabilities that can be found both within the Naval Air, and Naval Surface communities and bring them together," said Peter Heasley, UASTD technical director. "This test effort exemplifies just that-the crossing of the air and surface domains and the amazing IWC results that can be achieved for the warfighter when you find a way to combine the skill sets and capabilities of an air system team and (incorporate them) with the skill sets and capabilities that NSWCDD provides the surface community."
NSWCDD extensively tested smaller Group 1 and 2 UAS (less than 50 pounds) within the restricted airspace above the Potomac River Test Range and Explosive Experimental Area in recent years, however, this was the first UAS flight in the national airspace over Dahlgren and its main runway, said Mills.
The Navy collaborated closely with the Federal Aviation Administration to achieve this milestone event.