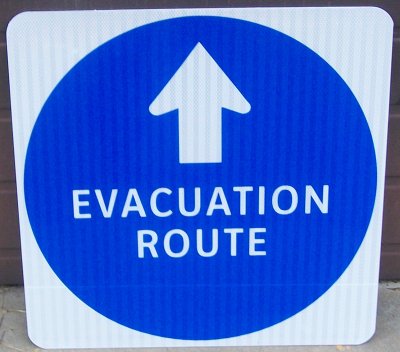 Signs like this will be placed on state routes within Charles County.
LA PLATA, Md.—The Maryland State Highway Administration's District 5 office is placing emergency evacuation route signage on state routes within Charles County, in response to a request made last year by the County Commissioners through the Department of Emergency Services. This action is being taken in accordance with the Coordinated Highways Action Response Team (CHART) Southern Maryland traffic emergency management plan. The evacuation signs will be used to guide and control highway traffic during an emergency.
Commissioner President Candice Quinn Kelly said, "Charles County knows what it is like to respond to an emergency. Emergency Evacuation Route signage is another step in protecting our citizens and those who might be traveling through our county. Emergency management is only as good as our preparation, and I am proud of our staff for taking these additional steps and grateful to Commissioner Robinson for leading this initiative."
Commissioner Vice President Reuben B. Collins, II (District 3) said, "With our history of a serious tornado destroying much of the Town of La Plata, and other threatening and damaging weather occurrences, this is a positive step for the protection of our citizens."
"The county's Department of Emergency Services and the State Highway Administration should be congratulated for this forward-thinking partnership. Our region never seems to lack for dramatic weather events, and this signage will help citizens become familiar with where they should head in advance of any evacuation order," said Commissioner Ken Robinson (District 1).
Commissioner Debra M. Davis, Esq. (District 2) said, "I've noticed the new signs and commend the State Highway Administration for promoting safe evacuation routes. The propane gas spill two weeks ago highlights the need for these directionals."
"The evacuation signs are an added safety feature for our highway system and everyone in our community, including those passing through, will find them helpful, "said Commissioner Bobby Rucci (District 4).
Evacuations signs display a blue 18-inch diameter circle with a directional arrow and the words "EVACUATION ROUTE." Signs along state routes will be placed within commonly accepted standard distances for routing traffic directionally. Route 301 (Crain Highway) will route all evacuation traffic northbound with north pointing signs. Additionally, signage will be placed along the following state routes north and south of Crain Highway: Routes 257, 6, 234, 236, 231, 5, 488, 225, 227, 228, 224, 425, and 344.
CHART is a joint effort of the Maryland Department of Transportation, Maryland Transportation Authority, and the Maryland State Police, in cooperation with other federal, state, and local agencies. CHART's mission is to improve "real-time" operations of Maryland's highway system through teamwork and technology. For more information on CHART, visit www.roads.maryland.gov and click on CHART.
For more information about evacuation signs and routes in Charles County, contact the Department of Emergency Services at 301-609-3400. Citizens with special needs may contact the Maryland Relay Service at 711, or Relay Service TDD: 800-735-2258.
Source: Charles Co. Government