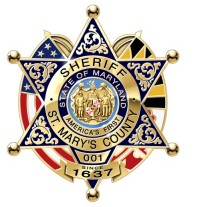 LEONARDTOWN, Md. (May 26, 2014)—The St. Mary's County Sheriff's Office released the following incident and arrest reports.
5/22/2014 ROBBERY: A male victim from Lexington Park was found sitting inside Jerry's carryout on Great Mills Road bleeding from the forehead. The victim alleged he was robbed of US currency by 2 unidentified black male suspects. He appeared to be severely intoxicated and had active warrants for his arrest. The victim was flown to an area hospital for treatment. The victim's injuries did not appear to be life threatening. Case remains open. Case #27718-14
5/22/2014 BURGLARY: A victim, who resides on Shoreview Drive in Mechanicsville, reported unknown suspect(s) entered her residence. Nothing appeared to have been stolen. Case #27713-14
5/22/2014 BURGLARY: A victim, who resides on Carmen Woods Drive in Lexington Park, reported unknown suspects entered her residence and spray painted graffiti on the inside while she was away. Case remains open. Case #27709-14
5/25/2014 FATAL ACCIDENT ON THE TRACK AT MIR: On May 25 at 12:21 pm, deputies responded to the Maryland International Raceway for an accident on the racetrack. Emergency medical personnel arrived and pronounced the driver of the vehicle dead at the scene. A preliminary investigation indicated Lamont Akins-Freeman, age 48, of Bethleham, Pennsylvania, was racing his 1971 Plymouth Duster. After crossing the finish line, Freeman lost control, struck a barrier, and was ejected from the vehicle. Anyone with video of the accident is asked to contact Deputy Beyer at 301.475.4040.
Disclaimer: In the U.S.A., all persons accused of a crime by the State are presumed to be innocent until proven guilty in a court of law. See: http://somd.me/presumed-innocence. Additionally, all of the information provided above is solely from the perspective of the respective law enforcement agency and does not provide any direct input from the accused or persons otherwise mentioned. You can find additional information about the case by searching the Maryland Judiciary Case Search Database using the accused's name and date of birth. The database is online at http://somd.me/mdcasesearch . Persons named who have been found innocent or not guilty of all charges in the respective case, and/or have had the case ordered expunged by the court can have their name, age, and city redacted by following the process defined at http://somd.me/expungeme .