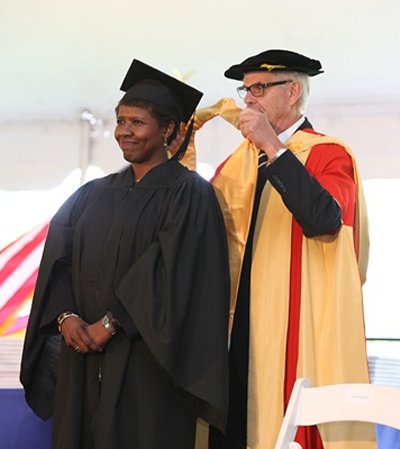 St. Mary's College of Maryland Interim President Ian Newbould confers honorary degree to Commencement speaker Gwen Ifill. (Submitted photo)
ST. MARY'S CITY, Md.—St. Mary's College of Maryland graduated 434 students with the degree of Bachelor of Arts on Saturday, May 17. The Commencement address was delivered by award-winning journalist and best-selling author Gwen Ifill.
Interim President Ian Newbould charged the Class of 2014 to "be humble and thankful, in addition to being proud of what you have achieved. … All of us are privileged to have been born where we were, to have had an upbringing that in one way or another led us to be here today."
Ifill encouraged the Class of 2014 by saying, "Your job is to be lifted by our expectations for you, but not to be smothered by them. … Be inspired to be the leader that St. Mary's has helped you to become." Ifill was also conferred an honorary doctoral degree during the ceremony.
Co-valedictorians of the graduating class were Nicholas Brown of Millersville, Md., and Andrew Gear of Westminster, Md. Brown, who double majored in English and philosophy, told his fellow graduates, "I came to St. Mary's to study and learn what I love. … The 'spirit of St. Mary's' is something we take with us long after we leave." In his remarks, Gear said, "Liberal arts colleges prepare students to be better citizens. … At St. Mary's, you are required to be present, mindful of the community around you, and of the world that awaits you. … Spread the word about where you come from—be proud that you're from St. Mary's." Gear triple majored in English, political science, and public policy studies.
St. Mary's College graduating seniors choose a "quintessential student" to represent the class and speak at graduation. This year's selection was Anuli Duru of Baltimore, Md., who majored in art and art history and doubled minored in French and political science. "Thank you to all the faculty and staff who make this place amazing," said Duru in her remarks. "Thank you, St. Mary's, for being my home away from home. … As a graduate of St. Mary's, I'm part of something great—a movement and a force to be reckoned with."
The school song was led by graduates Carrie Meeder and Maggie Schmidt. The song "St. Mary's College of Maryland" was composed by Professor of Music David Froom, with lyrics written by Professor of English Jennifer Cognard-Black.