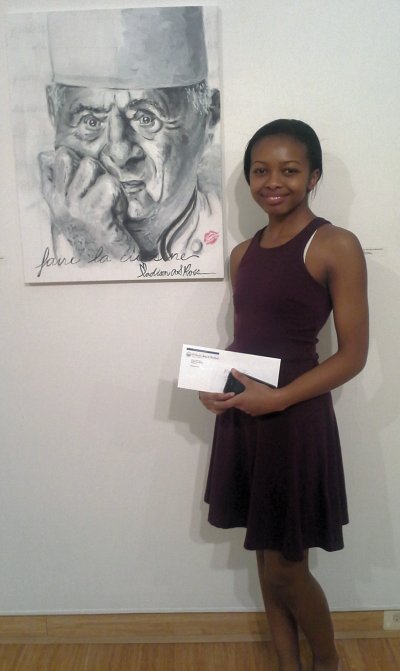 Madison Ross standing next to her award-winning work entitled "Chef: The French Kind." Ross' piece was described by juror Moriah Morgan as "not just a picture, but a story." (Submitted photo)
ST. MARY'S CITY, Md.—Talented young artists from St. Mary's County schools have a new, local outlet to exhibit their creative works. The "Young at Art" exhibition, established by the St. Mary's College of Maryland Boyden Gallery and Master of Arts in Teaching (MAT) program, represents an expansion in the partnership between arts programs at the college and St. Mary's County schools. Its purpose is to offer students valuable real-world experience, feedback and recognition from established arts professionals.
"It is not just an exhibition, but an educational opportunity to learn about the other side of the creative process, which is sharing the work created," said Cristin Cash, director of the Boyden Gallery. "Without such an outlet it is like being a musician and never being able to perform." Cash also spoke about the county's shortlist of opportunities for public showcases of youth art, noting that the only other occasion is the county's annual Youth Art Month.
Starting May 2015, "Young at Art" will be an annual event at the St. Mary's College Boyden Gallery and open for submissions from all St. Mary's County school students enrolled in art classes. Cash says the wide pool of submissions, which will go through a preliminary selection process by the schools' art teachers before being submitted to the college, will promote inclusivity and diversity. "It's going to be selective," Cash notes, "that's a part of the real-world process."
A pilot of the exhibition—on display now through May 30—is already proving successful. It opened to a well-attended reception held Monday, May 12, in the gallery. Artist and art educator Moriah Morgan of Leonardtown, Md., juried works by artists from Spring Ridge Middle School, Great Mills and St. Mary's Ryken High Schools. Selected pieces were divided into categories sixth through eighth, ninth through 10th, and 11th through 12th grades and judged on composition, contrast, technique and creativity.
The following students received the Juror's Award for Outstanding Work:
Sixth through eighth grades
First place: Anna Claire Shevchuck, artwork entitled "Charcoal Dog"
Second place: Jasmine Berry, artwork entitled "Acrylic Daises"
Ninth through 10th grades
First place: Sixao Chen, artwork entitled "Birdwoman"
Second place: Jess Mains, artwork entitled "Untitled Landscape"
11th through 12th grades
First place: Meghan Webster, artwork entitled "Listen"
Second place: Bradley Tremel, artwork entitled "Bicycle"
The special award for "Excellence in the Exhibition" went to Madison Ross whose artwork was entitled "Chef: The French Kind." Ross, who is already looking toward a career in an art-related field, said, "I really have fun with what I do. I was really excited that this was the first 'Young at Art' exhibition and that I was able to be a part of it."
Spring Ridge Middle School Art Teacher Lori Huff explained to her students that the exhibition is "a beginning step to being a serious artist." "It is important to know about setting up, photographing and displaying their artwork," she said.
The exhibition, says Cash, is also an outlet for students to share their work with the people they care about and the community. "The best part was watching the students come in the door and see their work and show their friends and family," she said.