Southern Maryland Women's League Supports Spring Dell Program with $1,000 grant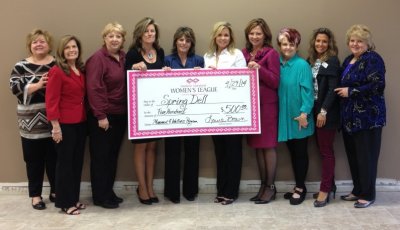 SOMD Women's League presents grant check to Spring Dell Center's Executive Director Donna Retzlaff. (Contributed photo)
The Southern Maryland Women's League donated $1,000 to Spring Dell Center. The contribution was separated into two $500 grants to assist programs for women with disabilities who want to live healthy lives. The grant will help provide the means to deliver physical, mental and health related benefits to women with disabilities throughout the Charles County area.
According to The Southern Maryland Women's League website, the organization is created by women for women, with the goal of promoting, strengthening and supporting women in the community through fellowship, education, service and mentoring programs.
Cooper's GDPinc. raises $5,000+ for SMYOrchestra
Southern Maryland Music Presenter, Go-DIVA! Productions, Inc. raised more than $5,000 for the Southern Maryland Youth Orchestra as a result of its first fundraising event, "Go-DIVA!" Act III: The Swan Takes Flight", held March 29-30 at Grace Lutheran Family Life Center in La Plata. The event, sponsored by Rotary Club of La Plata, Agape Auto, Lord George Robinson, Robert E. Plant of Blue Wind Gourmet, and several other private donors, featured performances by Jennifer Cooper, Abbe Levin, GrooveSpan, Kathy Keough, Cheri Monk, plus youth musicians, Jonah Yeh, Bethany Yeh, and members of SMYOrch, Samantha Naluai, Sophie Dittmar, and Mariah Peissner. Attendees enjoyed an extensive silent auction, sweets and savories by Blue Wind Gourmet, and a full length multi-genre, multi-media cabaret – from Opera to Ooh-La-La - poignantly scripted by Artistic Producer and playwright, LB Hamilton.