By Guy Leonard, The County Times, guyleonard @ countytimes.net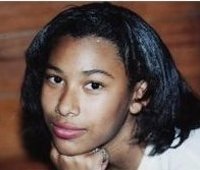 Claudia Antoinette Pickeral. (Photo via petition on Change.org)
HOLLYWOOD, Md.—Nearly 15 years ago Keith Allen Green was sentenced to three decades behind bars for killing 13-year-old Claudia Antoinette Pickeral in the Longview Beach community in St. Mary's County as she got off a school bus and headed for home.
Now Green is set to be eligible for parole in September, but an online petition is seeking to ensure he is not granted an early release.
The petition, found on Change.org
, has received 549 signatures as of noon on Saturday, May 17.
Tiffany Thompson, a Chaptico resident who lives just a few miles away from the Longview Beach community and cousin to the victim, said the killing had a major impact on the community. Thompson is responsible for the petition.
"Before this in Chaptico we didn't lock our doors," Thompson said. "She's always on my mind; I just wanted to make the community aware of what's happening."
According to Maryland law, a prisoner can get up to half of their sentence reduced to make them eligible for parole for every day of good behavior while incarcerated. This means a 30-year sentence can be reduced to just 15 years if a prisoner remains free of incidents.
Five years ago Green petititioned a U.S. District Court for a new trial but was refused; he claimed that he had ineffective counsel at trial.
The details of the crime for which Green was convicted are disturbing.
According to the evidence laid out in the denial of Green's appeal, Pickeral was found dead in Longview Beach Feb. 19, 1997, having been strangled to death. Medical reports showed that she had tried to fight her assailant; when found her clothes were disheveled, exposing some of her body parts and her boots were missing.
One witness at trial, which took place about a year later, testified they saw someone dragging "something or a person across the road." The suspect was a light brown-skinned person, according to court records, wearing red sweats and a white t-shirt at the time.
Green was said in court documents to have been wearing the same kind of clothing the day before the killing.
When the suspect realized they had been identified, they dropped the child on the ground. A neighbor later found Pickeral in a driveway and tried to perform CPR, but she later died.
A day after the killing police found some of Pickeral's personal belongings in a burn pile near Green's property, which was right next door to Pickeral's family's home. Police testified that on the day of the murder the items were not at the burn site. The items contained Pickeral's fingerprints and some others, but Green's prints were not found on them.
A witness told police that Green had told him that he was on drugs when he confronted Pickeral the day of the killing and that he wanted sex and that "she put up a fight when he made his move," but that particular witness later recanted his statement.
"At trial [the witness] recanted his written statement and testified that Green did not make any statements to him regarding Claudia's murder," the federal appeals ruling reads.
Green was convicted of second degree murder after his trial's venue was changed to Prince George's County, though he was acquitted of first-degree murder.
Green appealed his conviction to the Maryland Court of Special Appeals and in 2000 the court ruled that there was sufficient evidence to uphold his conviction.
For more local news from the County Times, visit ct.somd.com