Republican Election Judges Needed for 2014 Elections
Training dates available through Saturday, May 17
The Charles County Board of Elections is seeking citizens willing to serve as Republican election judges for the 2014 elections. Primary Election Day is Tuesday, June 24, and the General Election Day is Tuesday, Nov. 4.
Election judges are responsible for administering voting procedures in their precinct and ensuring a fair and accessible election for all eligible voters. Duties include setting up and breaking down a polling place before and after voting hours. Other duties may include checking in voters, assisting voters, and overseeing all election procedures throughout the polling place. Some positions require election judges to be able to lift boxes and other items weighing 10 to 25 lbs.
To be an election judge, you must be:
-- Age 17 years old or older*;
-- A registered voter in the State of Maryland;
-- Able to speak, read, and write English;
-- Physically and mentally able to work at least a 15-hour day;
-- Willing to work outside your home precinct; and
-- Able to sit and/or stand for an extended period.
*If you are 17 years old, you can serve if you demonstrate, to the satisfaction of the County Board of Elections, that you meet the requirements for an election judge and at least one parent or guardian gives permission.
Additionally, you cannot be an election judge and a:
-- candidate or currently hold a public or political office, including state and county political party central committees; or
-- chairman, campaign manager, or treasurer for a political or candidate committee.
No experience is required, and the local board of elections will provide comprehensive mandatory training. Knowledge of computers is preferred but not necessary. If you are interested in being an election judge for the 2014 elections, contact Ms. Claire Mower at 301-934-8972 or MowerC @ CharlesCountyMD.gov.
Show Your Patriotic Pride for the Benedict Community
15-star American flag will be presented to each eligible participant
In celebration of the War of 1812 historical anniversary, the Charles County Garden Club invites Benedict residents to demonstrate their patriotic pride by entering the Benedict Beautification Contest. The contest is designed to involve residents in the War of 1812 celebration by showing their community pride and patriotic creativity. Entries can include patriotic symbols such as flags and bunting decorations, as well as live plantings such as flowers and shrubs.
The contest is open to residents of Benedict, Md. Entries will be judged on creativity, originality, and appropriateness to the theme. First, second, and third place winners will be selected.
Registration forms and contest rules are available on
www.CharlesCountyMD.gov
. Only one entry per household will be accepted. To receive a 15-star American flag, a completed entry form must be postmarked by Sunday, June 7, 2014.
For more information, contact Sheila Geisert at 301-645-0682 or GeisertS @ CharlesCountyMD.gov. Citizens with special needs may contact the Maryland Relay Service at 711, or Relay Service TDD: 800-735-2258.
Commissioners Recognize May 4 – 10 as Correctional Officers' Week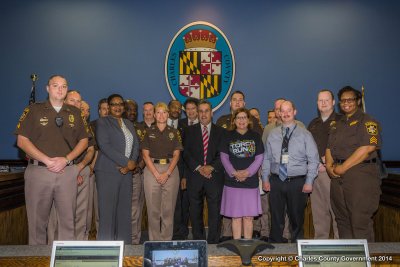 The Charles County Commissioners presenting the 2014 Correctional Officers' Week proclamation to employees of the Charles County Detention Center.
On Tuesday, May 6 the Charles County Commissioners recognized May 4–10 as Correctional Officers' Week. The Charles County Detention Center is privileged to have a group of men and women who are trained professionals and who serve on a daily basis, unarmed, in our correctional facility. These professionals serve valiantly to provide humane conditions of confinement while ensuring security and contributing to offender rehabilitation. During this nationally proclaimed Correctional Officers' Week, the Charles County Commissioners wish to give recognition and support to all corrections professionals for their contributions and work in our correctional facility.
Commissioners Support the 2014 Torch Run for Special Olympics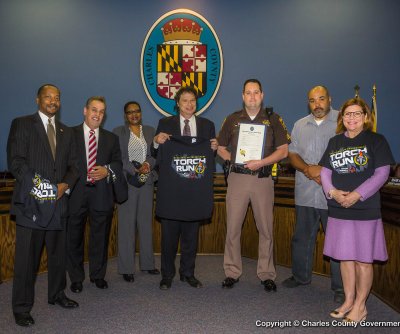 Commissioners present the 2014 Law Enforcement Torch Run proclamation to the Charles County Sheriff's Office. Pictured, left to right: Commissioner Vice President Reuben B. Collins, II (District 3); Commissioner Bobby Rucci (District 4); Commissioner Debra M. Davis, Esq. (District 2); Commissioner Ken Robinson (District 1); Sgt. Chris Schmidt (Charles County Sheriff's Office); Sgt. Agustus Proctor, Jr. (Charles County Sheriff's Office); Commissioner President Candice Quinn Kelly.
On Tuesday, May 6, the Charles County Commissioners showed their support of the 2014 Law Enforcement Torch Run for Special Olympics Maryland being held on Thursday, June 5. The County Commissioners encourage county employees to participate in the event and/or purchase and wear their t-shirts to support this meaningful fundraiser.
Torch Run shirts are $10 and available in sizes from small to XXXL. Dri-Fit shirts are also available for $15. Hats are $10. For more information contact Sgt. Proctor at proctora @ ccso.us.