By John Joyce, NSWC Dahlgren Division Corporate Communications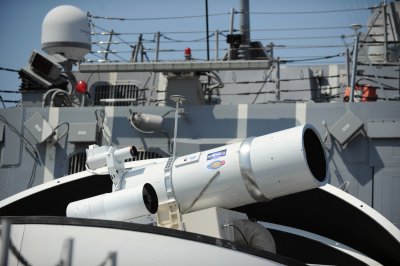 The Laser Weapon System (LaWS) temporarily installed aboard the guided-missile destroyer USS Dewey (DDG 105) in San Diego, Calif., is a technology demonstrator built by the Naval Sea Systems Command from commercial fiber solid state lasers, utilizing combination methods developed at the Naval Research Laboratory. LaWS can be directed onto targets from the radar track obtained from a MK 15 Phalanx Close-In Weapon system or other targeting source. The Office of Naval Research's Solid State Laser (SSL) portfolio includes LaWS development and upgrades providing a quick reaction capability for the fleet with an affordable SSL weapon prototype. This capability provides Navy ships a method for Sailors to easily defeat small boat threats and aerial targets without using bullets. (U.S. Navy photo by John F. Williams/Released)
DAHLGREN, Va. (May 7, 2014)—The scientist leading Navy Laser Weapon System efforts was commended at the Naval Surface Warfare Center Dahlgren Division (NSWCDD) annual honor awards ceremony here May 7.
NSWCDD Commander Capt. Brian Durant presented the Navy Meritorious Civilian Service Award to Theresa Gennaro for her leadership in the design, development and integration of the Navy Laser Weapon System - slated for deployment aboard USS Ponce later this summer.
"I'm honored to have the opportunity to lead and work alongside these brilliant, hard-working and dedicated scientists, engineers and technicians," said Gennaro. "This amazing Laser Weapon System Team designed and developed the initial prototype which has been demonstrated in repeated successes, including the Navy's first ever shoot downs of UAVs (unmanned aerial vehicles) from aboard a U.S. combatant -USS Dewey (DDG 105) - in 2012, making 12 for 12 total shoot downs in the testing series."
Durant presented the award to Gennaro as the audience - more than 220 civilian personnel and Sailors - listened to NSWCDD Asymmetric Systems Department Head John Lysher read the citation at the University of Mary Washington Dahlgren campus.
"Through her direct leadership and work, the Solid State Laser Quick Reaction Capability (QRC) has continued successful integration and deployment of the Navy's first high-energy laser system in an operational environment onboard a U.S. naval combatant," according to the citation.
The deployment on Ponce will prove crucial as the Navy continues its push to provide laser weapons to the fleet at large.
"I am extremely proud of our Laser Weapon System QRC team and their achievements to date," said Dale Sisson, NSWCDD Electromagnetic and Sensor Systems Department Head. "The team is truly world-class in every sense. Each and every member has gone above and beyond the call of duty, worked long hours, spent extended periods of time away from home, and pushed the envelope of technology to prepare the Navy's first deployable high energy laser weapon for deployment aboard Ponce."
Gennaro's team will install the prototype - an improved version of the Laser Weapon System - on Ponce for at-sea testing in the Persian Gulf, fulfilling plans announced by Chief of Naval Operations Adm. Jonathan Greenert at the 2013 Sea-Air-Space Expo.
"Our team has the experience, knowledge, and passionate drive to reach the goal of delivering a laser weapon system to protect our warfighters," said Gennaro. "It is a great advantage to build an integrated team and lead this effort at NSWC Dahlgren where experts in multiple areas ranging from laser weapons technology and laser lethality to E3 (electromagnetic environmental effects), ship integration, laser safety, and range testing are all available here on base - enabling us to continue to be the Navy's Directed Energy Center of Excellence."
The citation recognized Gennaro for establishing a strong project team across multiple integrated process teams and strengthening coordination with project sponsors, to include the Office of Naval Research and the Surface Navy's Directed Energy and Electric Weapons Systems Program Office, also known as Naval Sea Systems Command (NAVSEA) PMS 405.
"Eighteen months ago, the Laser Weapon System Team was challenged to do something that had never been done before, a task that many senior leaders stated was impossible," said Cmdr. Vincent Chernesky, NAVSEA PMS 405 Deputy Program Manager. "Theresa Gennaro led the technical team at NSWC Dahlgren through a breakneck development cycle, sacrificing personal time towards a common goal they all believed in - that naval laser weapons are a reality, and the future of naval weaponry."
Over the past several months, Gennaro's 65-member team - Navy engineers and scientists working with experts from industry and academia - significantly upgraded the Laser Weapon System.
"I cannot laud her and the Laser Weapon System Team enough for their heroic efforts," said Chernesky.
Now, they are busy making final adjustments to the first of its kind laser weapon prototype.
"This team has incredible perseverance and they are a pleasure to work with," said Gennaro. "The opportunity to take part in delivering such an advanced concept to protect our warfighter is a career highlight."
Using a video game-like controller, Sailors will be able to manage the laser's power to accomplish a range of effects against a threat, from disabling to complete destruction.
"It is especially rewarding to see our civilian team working hand-in-hand with our warfighters to develop, demonstrate, and deliver this game-changing capability," said Sisson. "This is yet another great example of NSWC Dahlgren Division's ability to design, develop, and deliver an innovative and integrated solution to the fight."
Navy leaders have made directed-energy weapons a top priority to counter what they call asymmetric threats, including unmanned and light aircraft and small attack boats that could be used to deny U.S. forces access to certain areas. High-energy lasers offer an affordable and safe way to target these threats at the speed of light with extreme precision and an unlimited magazine, experts say.
"I'm most appreciative of the opportunity to play a role in shaping the Navy's future weapon systems," said Sisson. "Without a doubt, I believe that time will prove our current period to be a major inflection point in Naval weapon system development. Simply put, we are making history."