Robotics Team competes Vex Robotics World Championship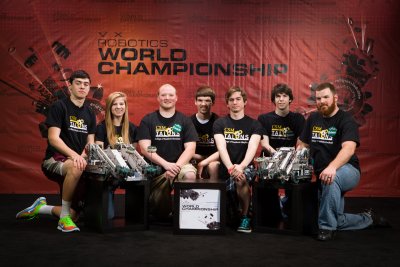 The CSM Robotis Team. (Photo courtesy of Ken Stanek Photography)
College of Southern Maryland's robotics team, the Talons, from left, Jacob Brezina of Swan Point, Emily Subocz of Waldorf, Jonathan Frank of Indian Head, John Hamel of Mechanicsville, David Farrell of La Plata, Cody Graham of Great Mills and Mark McClosky of Owings, competed in the Vex Robotics World Championship in Anaheim, Calif., April 23-26. The competition among 60 teams from the U.S., Mexico, United Kingdom, New Zealand, Puerto Rico, Saudi Arabia, China and Brazil, included seven teams representing community colleges. The Talons finished fourth in robot/driver skills, fifth in programming skills and 27th in tournament play, ahead of top U.S. engineering schools' teams from Purdue University, University of Florida and University of Illinois at Urbana-Champaign. "We are especially proud of this being the first year that the Talons have made it to the finals for both skills challenges," said Professor and team advisor Bernice Brezina.
CSM Purchases Property for Regional Campus
Planning for Fourth Campus Underway
The College of Southern Maryland has completed the purchase of 74 acres of land in Hughesville as the site for its new Regional Campus, which will include specialized offerings and programs to serve the region in a more cost-effective and convenient way.
We serve Southern Maryland with a full-service campus in each of our counties, and we try to deliver a full range of academic programs and services. However, there are some programs that are too expensive to replicate on more than one campus, such as our trades programs and nursing and allied health. It makes much more sense to centralize these programs so residents of all three counties can take full advantage of them. This will allow us to operate in a very cost-effective manner, while being more conveniently located," said CSM President Dr. Brad Gottfried.
In addition to campuses in La Plata, Leonardtown and Prince Frederick, CSM also runs the Center for Trades and Energy Training (CTET) in Waldorf, the Center for Transportation Training in La Plata, and partners with the University of Maryland, University College in operating the UMUC-CSM Waldorf Center for Higher Education.
The first building to be constructed on the new campus will be the CTET, which has outgrown its currently leased 18,000-square-foot facility in Waldorf. To meet the growing needs of students and these programs, the college is planning a 40,000-square-foot facility. A master plan for the new campus will be reviewed for approval by the college's Board of Trustees next month.
CSM Team Earns National Awards for 'Moby Dick,' 'Stop Kiss,' Summer Catalog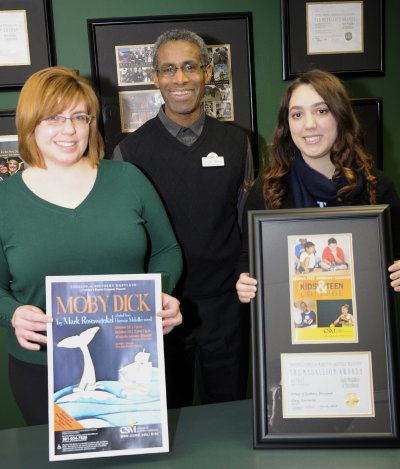 CSM's award-winning Creative Services team of Director Michael Shelton, center, Graphic Designer Lisa Jones with her design of "Moby Dick" and Junior Graphic Designer Katherine Reyes with her design of the 2013 Kids' and Teen College Catalog, earned Bronze Medallions of Excellence from the National Council for Marketing and Public Relations.
Captain Ahab never landed the elusive Moby Dick in Herman Melville's classic novel. That was not the case for the College of Southern Maryland's Creative Services Department whose rendering of a poster to promote the CSM Children's Theatre production of "Moby Dick" landed a Bronze Medallion of Excellence award and national recognition from the National Council for Marketing and Public Relations (NCMPR) in March.
In addition to Moby Dick, NCMPR presented bronze medallions to CSM for the theatrical poster for "Stop, Kiss" and the Summer 2013 Kids' and Teen College catalog of courses.
"It is always rewarding when peers recognize excellence and creativity at the national level. We are extremely honored to receive three awards for the efforts of our Marketing Department. The team works to ensure that the quality of their finished projects accurately reflect the high quality of CSM's programming—whether it is a theater production, academic course or event for children. Their artistry plays a huge role in bringing people to our campuses," said CSM Vice President of Advancement Michelle Goodwin.
The creative force behind "Moby Dick" and "Stop, Kiss" is CSM Graphic Designer Lisa Jones.
As a child, Jones loved to draw, and play softball, and play the clarinet. "I wanted to do it all, but I knew I had to do art—it was more than a hobby," Jones said. "My parents were supportive of my interest in art and encouraged me to be good and to keep working at it."
Jones earned a degree in animation and multimedia from the Art Institute of Washington and worked in magazine layout for The Salvation Army National Headquarters for six years before coming to CSM in 2012.
When Jones saw the schedule of theater performances for the 2012-13 academic year, she knew that she wanted the assignment for "Moby Dick."
She envisioned a three-dimensional piece that would give movement to the waves, and a depth of field between the whale and the boat. She moistened scrapbook paper to create wrinkles and used balsa wood between sheets to make gaps to simulate the space between the rolling waves of the ocean.
For "Stop, Kiss," Jones created a composite of three, black-and-white photos to depict the mood and site of a gentle first kiss and subsequent violent attack of the two female characters central to the play. Using Adobe Photoshop, Jones manipulated a photo of a New York City skyline, trees on a snowy evening and a solemn, snow-covered park bench illuminated by a streetlamp.
"Lisa has a wonderfully creative mind and an amazing gift for graphically interpreting just about any narrative. She works extremely hard to perfect and advance her craft and is open to exploring new ways to become an even better designer," said CSM Creative Director Michael Shelton. "Once Lisa understands the parameters and limits to consider for a project, I encourage her to maximize the possibilities in her design and to have fun along the way. Her work on the 'Moby Dick' poster is certainly an outstanding example of her fine work."
The catalog for Kids' and Teen College was designed by Junior Graphic Designer Katherine Reyes.
"I was always into art in high school," said Reyes, who was a member of the National Art Honor Society.
Reyes took her first graphic art class at CSM in the fall of 2009 and became a student assistant in the Marketing Department in the spring. She earned associate degrees in art and general studies in 2012 and is considering transfer to Towson University for a bachelor's degree.
"When I took my first graphic art class I wasn't sure it was what I wanted. I found out that I'm good at it and it makes me happy," she said.
When Reyes was given the assignment to design the 2013 Kids' and Teen College catalog Shelton told her to "have fun."
She chose graphic symbols to depict course areas such as cooking, sports, science, dance, arts and crafts and video gaming. The most time-consuming aspect of the project was culling through thousands of photos to locate ones with the emotion, action, color and size to fit her design concept.
"Katie's creative concept of the Kids' and Teen College catalog and Lisa's clever designs for 'Moby Dick' and 'Stop, Kiss,' were chosen from hundreds of entries by a national organization. On any given day, Lisa and Katie have a dozen projects they are working on—and even more that they are contemplating. I am thrilled their works were showcased and recognized among the best in the country," said CSM Senior Executive Marketing Director Theresa Johnson.
Images used in the Kids' and Teen College catalog and the "Moby Dick" poster were from CSM Lead Photographer Valerie Nyce, recipient of an NCMPR Gold Medallion of Excellence for original photography in 2012.
CSM Students Send Love to Locals Serving in Afghanistan, Abroad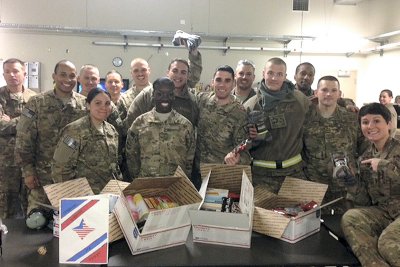 U.S. Air Force men and women serving at Bagram Airfield in Afghanistan pose with the care packages they received from CSM Phi Theta Kappa Honor Society.
When airmen assigned to Bagram Airfield in Afghanistan opened care packages with a postmark from Leonardtown, Md., they knew they were in for a treat. Along with service members from the Army, Navy, Marines and Coast Guard, the airmen received boxes filled with special request snacks, toiletries and games—and a photo expressing gratitude from College of Southern Maryland students.
The care packages were part of a Service-Learning project organized by CSM's Phi Theta Kappa (PTK) Honor Society with more than 130 packages sent to service members stationed in Afghanistan, Turkey, Kuwait, Italy, Spain, Pakistan, Kyrgyzstan and undisclosed locations around the world.
"It was really important to us to make this project impact our school and local community, so many of the [care packages] went to service members from Southern Maryland including loved ones of CSM faculty and students," said Chapter President and Project Organizer Kellee Johnson of Leonardtown.
Johnson said that planning for the project took six months and involved coordination with the Student Government Association, Student Associations from La Plata, Leonardtown and Prince Frederick campuses, CSM's chapter of the National Society of Leadership and Success as well as individual contributors. The group bested their goal of 100 care packages by sending 136.
"Our greatest collaborator was Professor Barbara Link and her Service-Learning class who worked with Chopticon High School to donate many items and help prepare the packages," Johnson said.
"Working with Kellee allowed me to combine two passions: Service-Learning and supporting our troops," said Link.
Care packages were mailed in November and December and over the course of several months Johnson received word of their success.
"We are simply humbled and grateful by your generosity. As you know, basic items are hard to come by, so we truly enjoy the treats. Thanks again for the care packages and your on-going support," wrote USAF Senior Master Sgt. Ana Zeinieh.
"As our troops are getting ready to redeploy back to our home stations, I would like to thank all of you for your support to the 557th Expeditionary RED HORSE Squadron during these past six months. Your packages and letters meant the world to us and made 'mail-call' always fun," said USAF Master Sgt. Daniel B. Luning.
Each box was filled with items that were specifically requested by a service member, and included a handwritten thank-you card and a group photo of those stateside who participated in the project.
"We wanted to assemble the care package so that when opened, the box would feel like a personal gift from home," Johnson said.
The project was structured to train students for future endeavors—how to find military addresses, what to include and how to fill out U.S. Customs Service forms.
"I know of at least five students who have adopted service members on their own after these events and I'm sure there are more," Johnson said.
Founded in 1918, PTK is the official community college honor society. Membership is based on academic achievement and is conferred only by invitation of the local chapter. The society provides opportunities for students to develop problem solving, project planning, team building, communication and other leadership skills, as well as offering scholarships for continued studies.
For information on Student Life programs and events, visit
www.csmd.edu/StudentLife
.