CSM 'Code Green' Summer Program Begins May 23
Memorial Day, Independence Day Closings Announced
The College of Southern Maryland will implement its "Code Green" program during the summer as part of its energy savings initiatives. From May 23 through Aug. 1, excluding July 4, CSM will close most buildings on Fridays at 1:30 p.m. The early closings will not affect CSM's St. Charles Children's Learning Center, Kids' and Teen College programs or the Waldorf Center. Public Safety and Preparedness personnel will also remain on campus.
Employees will work longer days the rest of the week to compensate for the early closing on Fridays.
CSM will close all campuses for the Memorial Day holiday weekend, May 24-26, and will close all campuses for the Independence Day holiday July 4.
Classes for the Summer I session are May 19 through June 30 and classes for Summer II session are July 7 through Aug. 15.
Matching Fund Links CSM Donors to Calvert Scholarship
Florence B. Trueman Scholarship Helps Students of Calvert County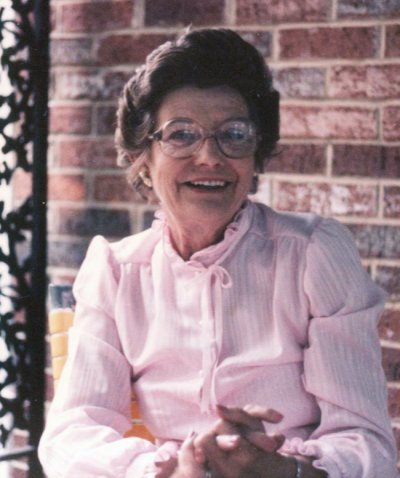 Florence Trueman, a court reporter and shown here in 1983, created an endowment for scholarships to Calvert County students which has been expanded to include a matching fund for CSM students. (Photo provided by Barbara Bates).
As a career court stenographer, Florence B. Trueman used shorthand to quickly and accurately capture every word of important proceedings. Self-taught in her craft, she knew there were no shortcuts to learning a new skill—just education and practice. Education was important to her throughout her life, so it was no surprise to her friends that in her final days it was on her mind.
"She loved Calvert County and wanted to do something for the people who lived there. She set up an endowment for scholarships for Calvert County students so that the fruits of her life's work would continue to help people," said Scott Whitney, Trueman's friend and administrator for her trust.
Now, through a matching fund agreement with the College of Southern Maryland Foundation, Trueman's scholarships will go twice as far.
"Our CSM Foundation Board is honored to be entrusted with the Trueman endowed scholarship fund. They love to see the impact of their efforts double by the number of students they can help afford college. Because our tuition is half the cost, scholarship funds at CSM can fund many more students," said CSM Vice President of Advancement Michelle Goodwin, who added that funds for one full-ride scholarship at an in-state, four-year college could assist eight students attend or complete college at CSM.
Trueman moved to Calvert County in 1952. She worked with former Maryland Comptroller Louis Goldstein and the Calvert County Hospital before she began as a court reporter in 1957. She covered the circuit courts for Calvert, Charles and St. Mary's counties for 25 years. Trueman was a member of the Maryland Shorthand Reporters Association, a life member of Sigma Phi Gamma, a member of the Eastern Star Chapter No. 104 at Prince Frederick and past president of the Soroptimist and Lioness clubs.
"Florence loved people and she loved to travel. She and her husband [former Calvert County Commissioner H. Gordon Trueman] owned a bus and would take groups of people to events outside the area," said Barbara Bates, a colleague and longtime friend. "She was active in the community, always trying new things and interested in having fun," said Bates.
Eligible scholarship recipients must be legal residents of Calvert County, graduates of a Calvert County high school and be enrolled as full-time students at CSM. Applicants must possess and maintain a 2.5 cumulative grade point average or higher, demonstrate financial need and write an essay to explain any hardship.
The initial amount of the scholarship fund is $30,000 and will be matched by the CSM Foundation with subsequent amounts to be added over time. "Planned gifts can create a lasting legacy for families. CSM welcomes gifts made through different planned giving arrangements," said Goodwin.
For information on planned giving, contact Goodwin at 301-934-7635 or michellg@csmd.edu.
To match funds for the Florence B. Trueman Scholarship Fund, visit
www.csmd.edu/Foundation/
or contact CSM Development Director Martina Arnold at 301-934-7649.
To apply for the Trueman scholarship, visit
www.csmd.edu/Financial/scholarships/
. Deadline for consideration for the 2014-15 academic year is May 15.
Students, Faculty Honored at Annual Juried Art Show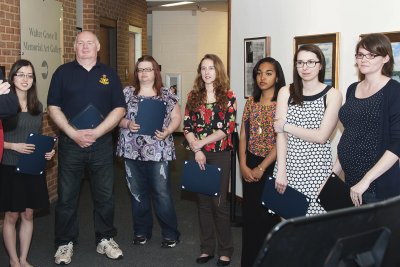 College of Southern Maryland Student Juried Art Show winners, from left, Mariko Sakemi of Lexington Park, Alan Frampton of Mechanicsville, Susan Grubaugh of La Plata, Jessica Lynch of Leonardtown, Candice Washington of Waldorf, Ashley Saldana of La Plata and Katharina Fleming of Hollywood hold their certificates at the show's Gallery Talk held in the Fine Arts (FA) Building at the La Plata campus on April 15.
The College of Southern Maryland honored six students for their works and retiring faculty for their service during the Annual Student Juried Art Show Gallery Talk held at the Tony Hungerford Memorial Art Gallery on the La Plata Campus April 15.
CSM Studio Art Coordinator and Associate Professor Andrew Wodzianski recognized Professor and Chair Ronald Brown for his 44 years of service. Professor and Photography, Graphic Design and Art History Coordinator George Bedell recognized Professor Susan Chappelear for her 30 years of service.
This year, 80 pieces from a variety of art medium, including ceramics, photography, painting and drawing, were selected to be displayed at the show. Excellence and artistic potential are considered by the jurors when selecting the winning pieces. Alan Frampton of Mechanicsville received the ceramics award for his stoneware piece, "Night Shining White." Mariko Sakemi of Lexington Park received the painting and drawing award for her acrylic piece, "Untitled." Susan Grubaugh of La Plata won the photography and graphic design award for her digital photography book, "Desolation."
Katharina Fleming, of Hollywood, was the recipient of the Faculty Purchase Prize for her photograph "untitled" which will become part of the college's permanent collection in the Walter Grove II Memorial Art Gallery at the end of the semester.
Constructing art requires a great deal of talent, patience and creativity. "My coil pot started out as an experiment and fortunately on that day I had good luck and it went well," Frampton said. "Sometimes good art is good luck." Frampton submitted two pieces to the art show, both of stoneware medium.
Sakemi's painting was the result of an assigned project in her art class. "I tried to have fun with it and make it a little different from the assignment," she said. Sakemi submitted multiple pieces as well, including a black-and-white film photograph and two additional paintings. Her winning painting, composed of acrylic paint, utilizes colors from the red color palette.
Grubaugh's winning photobook was the outcome of "a trip to an abandoned asylum," she said. The book consists of photos of furniture, appliances such as hair dryers and televisions, records and record players, and empty rooms with graffiti on the walls. "I had a lot of fun [taking pictures] there," she added.
Students winning honorable mentions include Jessica Lynch of Leonardtown, for her black-and-white photograph, "Shelter from the Storm," Ashley Saldana of Hollywood, for her stoneware coil pot and Candice Washington of Waldorf, for her photograph, "History's Echo."
The Student Juried Art Show is an opportunity for CSM art students to submit their finest works of visual art to be displayed at the Tony Hungerford Memorial Art Gallery. Paintings in broad brush strokes, photos in captivating focus and sculptures molded with playfulness are among the types of artwork showcased each spring as part of the gallery. For information on the Tony Hungerford Memorial Art Gallery, visit
www.csmd.edu/Arts/HungerfordGallery.html.