LA PLATA, Md. (May 2, 2014)—The Charles County Sheriff's Office today released the following incident and arrest reports.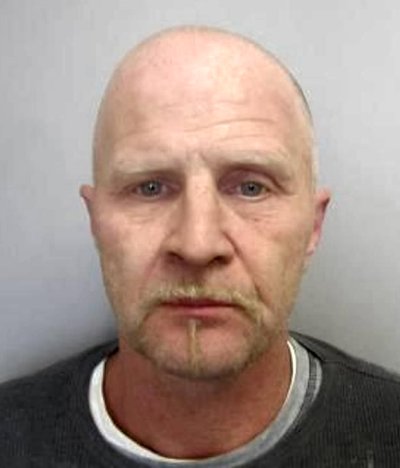 Frederick Charles Rupertis, III, 56, of Nanjemoy, Md. (CCSO Arrest photo)
CRIME SOLVERS CASE: Charles County Crime Solvers is offering a cash reward for information leading to the whereabouts of Frederick Charles Rupertis, III, 56, of Nanjemoy. Rupertis currently has an outstanding warrant charging him with failure to register as a sex offender/false information. He is 5'8", 185 lbs., and has blue eyes and may be bald.
Anyone with information about Frederick Charles Rupertis' whereabouts is asked not to approach him but rather call the CCSO Warrant Unit at (301) 932-2222. Charles County Crime Solvers is offering a cash reward of up to $1,000 for information leading to his arrest. Tipsters wishing to remain anonymous may contact Crime Solvers at 1-866-411-TIPS or Text CHARLES + your tip to CRIMES or visit
www.ccso.us
to submit a web tip. For additional information about Crime Solvers see
www.charlescountycrimesovlers.com
.
THEFT: On April 30 at 6 p.m., an unknown male entered an unlocked door of an apartment in the 2400 block of Lake Drive in Waldorf, grabbed a set of keys that were on the counter and fled across the street. The victim said he did not recognize the suspect who was described as a black male with dreadlocks and facial hair on his chin and wearing camouflage skinny jeans and a dark blue jacket. Cpl. J. Jones is investigating.
OFFICERS APPREHEND ARMED SHOPLIFTERS, RECOVER STOLEN MERCHANDISE: On April 30 at 2 p.m., officers responded to the St. Charles Town Center for a theft in progress at a department store. As Sgt. H. Smith and Sgt. J. Murphy approached, they observed a vehicle fleeing the area which matched the description of the suspects' car. Sgt. Smith attempted to stop the vehicle, but the driver fled, striking a car. The suspect continued south on Crain Highway and as he approached Billingsley Road, he struck a guardrail which propelled his vehicle into three cars at the intersection. The suspect, who appeared to be armed with a gun, then jumped out of the vehicle and attempted to carjack someone who was stopped at a stop sign. He was unable to get into the car and he fled on foot to a parking lot of a church. Sgt. Smith was able to utilize a TASER and successfully apprehend the driver. A gun was not located at that time. Investigation showed Jacob Jamal Sbeitan, 31, of Huntingtown, and a female accomplice, Christina Lynn Rivas, 40, of Hollywood, MD, went into the department store and grabbed bundles of men's clothing. An employee approached at which time Sbeitan implied he had a gun. Sbeitan fled and Rivas was apprehended by store security.
Sbeitan was charged with armed robbery, theft over $1000, possession of a controlled dangerous substance, possession of drug paraphernalia, attempted carjacking, destruction of property, fleeing and eluding, driving while impaired, reckless driving, driving while suspended, hit and run, and reckless endangerment. He also had three open warrants with the Calvert County Sheriff's Office. Rivas was charged with theft over $1000, second-degree assault, giving a false name, possession of narcotics, and possession of drug paraphernalia. She had four open warrants with Anne Arundel County Police Department. Two drivers of the cars struck near Billingsley Road were transported to a hospital with minor injuries. No one else was injured. Sgt. H. Smith investigated.
OFFICERS LOCATE CRITICAL MISSING WOMAN: On April 29 at 8 p.m., officers responded to the 9900 block of Clifton Drive in Newburg for a critical missing woman. A relative reported a 97-year-old woman with dementia wandered away from the house about 20 minutes earlier and left without her shoes, a coat and other personal belongings. Officers canvassed the area and soon heard a woman yelling for help. Officer C. Shaw and La Plata Town police officer Bagley went through a wooded area and located the woman on the side of a vacant house. She was not injured, but due to the heavy rain and lack of shoes and outerwear, the woman was suffering from hypothermia. She was transported to a nearby hospital where she was treated. Officer R. Kimble is investigating.
MOTOR VEHICLE CRASH INVOLVING BICYCLIST: On April 28 at 11:20 p.m., a Charles County Sheriff's officer was patrolling the area of Smallwood Drive near Mall Circle when a bicycle entered the path of his cruiser. The officer did not have enough time to react and struck the bicyclist. The bicyclist, a 33-year-old male from Waldorf, was transported to a hospital where he was admitted with serious injuries; the officer was not injured. Cpl. B. Saunders of the Traffic Operations Unit is investigating.
STOLEN MOTORCYCLE RECOVERED: On April 28 at 12:30 p.m., Cpl. B. Saunders observed a motorcycle being driven recklessly in the area of Route 228 and Crain Highway. He attempted to stop the motorcycle but the driver fled. Cpl Saunders broadcast a lookout for the vehicle and maintained a visual on it. The motorcycle stopped for a red light at which time Cpl. Saunders approached the operator on foot and ordered him off the bike. A computer check revealed the motorcycle had been stolen from Greenbelt. Justin Ricardo Daniels, 22, of Clinton, was arrested and charged with theft and several traffic violations.
BURGLARY REPORTED: On April 26 at 5:45 p.m., a man reported someone broke into his home in the 3000 block of Palmer Place in Waldorf and stole prescription opiate medications. Officers are pursuing leads. POII C. Garner is investigating.
TWO MEN CHARGED WITH ATTEMPTED MURDER OF ACQUAINTANCE: On April 26, Charles County Sheriff's detectives arrested DeAndre Campbell, 19, of Waldorf and Stephen Jordan, 18, of Indian Head in connection with assaulting a 21-year-old male who Campbell only knew as an acquaintance. The assault occurred on April 23 at 10:30 p.m. on a dirt road near the 3700 block of Linkins Road in Indian Head. The victim had agreed to meet with Campbell but was attacked by Campbell and two other men. The victim was assaulted then dragged into a wooded area where he was left for dead. Before fleeing, the suspects stole the victim's shoes. The victim was able to summon help and was flown to a hospital with severe facial wounds. At the onset, detectives had few leads; however, they were able to subsequently link Campbell and Jordan to the assault. Campbell and Jordan were charged with attempt murder, first-degree assault, second-degree assault, and robbery. Charges are pending against a juvenile suspect. Detectives Wimberly is investigating.
VANDALISM, RACE, RELIGIOUS, ETHNIC EVENT: On April 23 at 5:45 p.m., officers responded to the Nanjemoy Community Center at 4375 Port Tobacco Road for the report of vandalism. Investigation showed someone used chalk and drew offensive images and swastikas on a sidewalk and on the basketball court.
THEFT: An air conditioner was reported stolen from a house in the 10800 block of Demarr Road in White Plains sometime during the last few weeks. Officer P. Hood is investigating.
CALL FOR ALTERCATION LEADS TO DWI ARREST AND DISCOVERY OF ASSAULT: On April 23 at 1:42 a.m., officers responded to 2360 Old Washington Road in Waldorf for the report of a large fight in the parking lot of a bar. When officers arrived, many of the people had already left and officers dispersed the remaining crowd. At the same time, officers received a call about a possible drunk driver in Waldorf. The caller said a pick-up truck was north on Route 301 when the driver ran over the median, struck a few small trees, and continued on Crain Highway. Officers followed a trail of fluids that were leaking from the vehicle and located the truck at a nearby motel. Officers located the driver in one of the rooms and determined he was impaired. In addition, officers located another man in the room who had a small puncture wound to his neck. Both men said they had been at the bar when the fight occurred. The man said he was stabbed with an unknown object but he did not realize it until later. He was transported to a hospital where he was treated and released. The driver, Edward Welch, 18, of Waldorf, was arrested and charged with driving while impaired, driving under the influence, negligent driving and other traffic violations. Officer J. Clagget is investigating.
Disclaimer: In the U.S.A., all persons accused of a crime by the State are presumed to be innocent until proven guilty in a court of law. See: somd.me/presumed-innocence. Additionally, all of the information provided above is solely from the perspective of the respective law enforcement agency and does not provide any direct input from the accused or persons otherwise mentioned. You can find additional information about the case by searching the Maryland Judiciary Case Search Database using the accused's name and date of birth. The database is online at somd.me/mdcasesearch . Persons named who have been found innocent or not guilty of all charges in the respective case, and/or have had the case ordered expunged by the court can have their name, age, and city redacted by following the process defined at http://somd.me/expungeme .