Milton Somers' Kimberly King named Teacher of the Year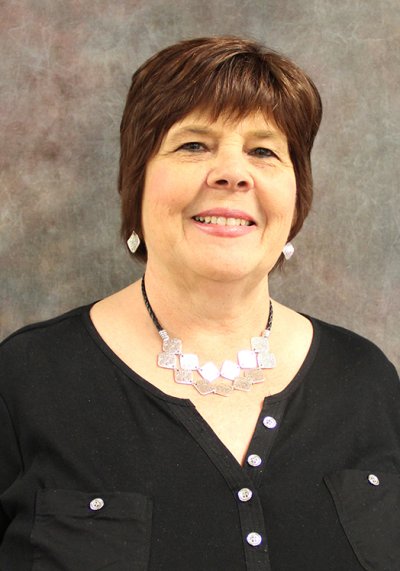 Kimberly King.
For many teachers, their passion and love for education comes from personal learning experiences. For Kimberly King, a mathematics teacher at Milton M. Somers Middle School, her desire to teach started at a young age when she began to maintain a makeshift classroom full of dolls, stuffed animals and a chalkboard. Throughout her childhood, King came across several influential educators who fueled her desire to teach, including her kindergarten teacher, Mrs. Tickell, and Mrs. Williams, one of her high school teachers.
King credits these two teachers, as well as her parents, with her desire to teach children to love math and to always do what is best for her students. "These influential people are embedded in me and are directly responsible for my contributions in education," she said. According to Somers staff, King's educational contributions range in modeling high standards and expectations for students to her nurturing and caring demeanor she displays in the classroom. She is known for her natural ability to instill her students with a love for math. For her outstanding abilities as a teacher, King was named the 2014 Charles County Public Schools Teacher of the Year.
King learned of her selection as Charles County's top teacher in a surprise announcement in her classroom. Somers Principal Stephanie Wesolowski came in her classroom one afternoon to bring her students snacks, and then a few school secretaries came in with cameras and an iPad. Unbeknownst to King, her daughter, who is a producer on the Rachel Ray Show, was video streaming live on the iPad for her mom's surprise announcement. "I was so excited to see her and thought perhaps we were going to meet a celebrity or Rachel Ray," King said.
King's classroom was then joined by Superintendent of Schools Kimberly Hill, who asked the class if they knew why she was visiting them. Hill began to ask students about King and what made her a great teacher. Several students replied with positive comments and one student in particular shared an emotional story about a time King helped her through the loss of a family member. The student said, "Mrs. King just doesn't teach us math – she truly cares about us." Hill then told King and the class that she was picked to represent the school system as the Teacher of the Year.
King said she was excited to learn of her selection for the award. "I was elated and extremely proud. Being in the presence of my students, my supportive principal, my office friends, and my daughter during this announcement was like being on stage accepting an Oscar," she added. In addition to her caring demeanor, King is known for her ability to positively shape students' self-esteem and enforces learning through challenging, yet exciting lessons and activities. King is committed to establishing positive relationships with students and colleagues, and believes the relationships are crucial to success in the classroom.
Her teaching philosophy highlights the importance of collaboration in order to build trust and confidence, and showing children she cares about them and their success. "I recently read a quote – 'Children learn best when they like their teacher and they think their teacher likes them.' I could not agree more. When my students give an answer or explanation, they must feel validated. It is my responsibility to make sure they feel that way and it is also my responsibility to instill the respect for other students," she said.
One of the ways King facilitates respect among her students is the use of compassion bags in the classroom. Each student has a compassion bag hanging in her room in which their peers fill the bags with compliments or kind words about their classmates. King also uses a happy thoughts board in which students can share happy posts. Both the compassion bags and happy thoughts board help King establish solid relationships with her students that she says are responsible for the respect and effort she sees daily. "They do this because I have established relationships with them. Their smiles, hand-made cards, notes, hugs and kind words are rewards that are immeasurable. More than anything, their effort they give to me on a daily basis is my reward. When a student posts on the board 'I love this class' – my day is made," King said.
King has been teaching sixth-grade mathematics at Somers since 2010 and strives to reach all levels of learners. She hosts morning math sessions to provide individual attention to students in need of additional assistance, and also coordinates Saturday sessions for students who need help with the current math concept of the week. As part of her daily lessons, King engages students in exciting warm-up routines that require them to use problem solving and reasoning skills. She consistently uses real-world applications in her lessons and provides students with skills necessary to achieve success in other subject matters. Additionally, King uses visual learning tools such as graphic organizers and Internet resources to make her lessons interactive for students.
Wesolowski said King exhibits admirable qualities and is an exemplary role model for her peers. "She is unquestionably one of the most respected and admired teachers on my staff. Her energy, leadership qualities and positive attitude are truly admired and emulated among my staff," Wesolowski wrote in a nomination letter. King, who began her teaching career in 1998, is also well known for supporting her students outside of the classroom. She organizes book studies with staff, serves on the minority achievement committee, assists with family nights at the school, sponsors the Future Educator Association (FEA) and mentors students. She also works with the Positive Behavioral Interventions and Supports (PBIS) program and attends several after school and weekend events to support students.
Ashin Shah, a former Charles County Public Schools student and student member to the Board of Education, had King as a teacher in elementary school and wrote a letter on behalf of her nomination. In his letter, Shah describes King as an "enduring teacher of life lessons" and said she goes above and beyond what it means to be a teacher. "What makes Mrs. King truly amazing is that she is always the loudest cheerleader for any of her students. For me, I won't forget that she came to my high school graduation, eight years after I first entered her fifth-grade class, to hear my valedictorian speech, a promise she made in my fifth-grade yearbook. She doesn't have to tell you, but once you enter her classroom, you become her student forever," Shah wrote in his letter.
As Charles County's Teacher of the Year, King is eligible for the Maryland Teacher of the Year award. The state winner is announced by the Maryland State Department of Education (MSDE) in the fall at a special ceremony held to honor all local recipients. The state winner is also considered for the National Teacher of the Year honor. The Board of Education will recognize King at their June 10 meeting.
Prior to teaching at Somers, King was an instructional specialist at John Hanson Middle School. She also served as an instructional specialist and administrative assistant at Somers. From 2001 to 2005, she taught sixth-grade math at Hanson and worked at the elementary school level as a first- and fifth-grade teacher at Dr. Samuel A. Mudd and Malcolm elementary schools for three years. King has been recognized by the Board of Education as an exemplary employee twice and was recognized in 2005 by the Maryland Council of Teachers of Mathematics as a Maryland Math Teacher of the Year.
She has a bachelor's degree in human growth and development, and elementary and middle school education, from St. Mary's College of Maryland. She has also taken graduate courses at McDaniel College. King is a member of the National Education Association (NEA), the Education Association of Charles County (EACC), the Associations for Supervision and Curriculum Development and Middle Level Education, the National Council of Teachers of Mathematics and the Maryland Assessment Group.
Gale-Bailey's Carol Eaton named Agnes Meyer Award winner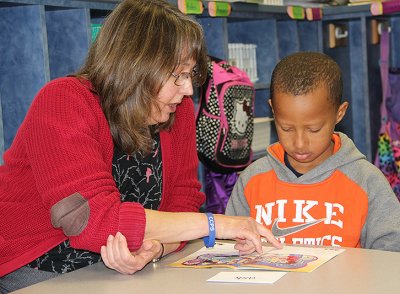 Gale-Bailey Elementary School teacher Carol Eaton works with a student on a guided-reading assignment. She was recently named the Charles County 2014 recipient of the Washington Post's Agnes Meyer Outstanding Teacher Award.
Gale-Bailey Elementary School first-grade teacher Carol Eaton was introduced to teaching when she was an elementary school student. A teacher at her school took a leave of absence and Eaton, who was a fourth grader at the time, was asked to assist the substitute during reading lessons for first graders. She said although she knew from a young age that she wanted to be a teacher, that experience solidified her desire to have a career in education. "That experience confirmed my love of teaching and I have never wanted to do anything else," Eaton said.
She strives to inspire children to love reading, make connections with mathematical concepts in their daily activities and become lifelong learners. Eaton's passion for teaching is evident in her classroom, and she is well known among her colleagues for bringing out the best qualities in her students. For these qualities, Eaton was selected for recognition among her colleagues and was chosen as this year's 2014 recipient of the Washington Post's Agnes Meyer Outstanding Teacher Award.
Eaton said she was honored just to be nominated by her colleagues. "To me, finding out that my colleagues at Gale-Bailey thought enough of my contributions to our team to nominate me was a great honor. It is amazing to be recognized and rewarded for something you love to do," she said. Her career with Charles County Public Schools began in 1985 at Mt. Hope/Nanjemoy Elementary School, where she taught first- and second-grade students for two years. Since then, Eaton has also served as a reading and math tutor and has been teaching first grade at Gale-Bailey for the past 11 years.
Gale-Bailey Principal Toni Melton-Trainor said Eaton is the perfect example of an exemplary teacher who takes great pride in her work. "Mrs. Eaton is highly regarded by our teachers. She is dedicated, thoughtful and a true professional. The quality of her instruction contributes to her students' success. Mrs. Eaton is most deserving of this honor," Melton-Trainor wrote in a nomination letter.
General Smallwood Middle School seventh grader Garrett Batchelor attended Gale-Bailey for elementary school and had Eaton as his first grade teacher. He submitted a letter in support of her nomination for the award and contributes his strong abilities in math to what he learned from Eaton. He said she encouraged him to challenge himself by using problem-solving skills, and taught him that hard work and dedication would help him reach his goals.
"Mrs. Eaton encouraged me to take my time and apply my unknown skills to those that were known. She did not allow me to give up, but always encouraged me to continue to work towards my goal. With the encouragement of Mrs. Eaton and my involvement in math enrichment teams, I know that I want to pursue a career that involves math," Batchelor wrote in a nomination letter.
Not only is Eaton dedicated to the success of her students, but to the success of all children and staff at Gale-Bailey. She is supportive of schoolwide programs and initiatives and served as the first-grade representative for the school's Positive Behavioral Interventions and Supports (PBIS) team. Eaton has taught in the extended-day and summer programs and is active in the Parent-Teacher Organization (PTO). Additionally, Eaton coordinated the creation of math fluency kits that include games, flash cards and books for all first graders. She also sends packets of books home with students who may not have access to learning materials to ensure they have access to success at home. Eaton also willingly shares materials with her colleagues and was chosen to be part of the first-grade math curriculum writing team.
Pamela Grzyb's son attended Gale-Bailey and had Eaton for first grade. She said her son enjoyed having Eaton as his teacher because she made learning fun and presented subject matters in ways that children would understand. "She is a wonderful teacher and is in tune with each student. She knows the subject matter and is able to present it to the kids in a way that doesn't seem like work," Grzyb wrote in a nomination letter.
Eaton credits her abilities as a teacher to the positive relationships she has with her colleagues, and her experiences in the classroom. Upon starting her career in education, Eaton said she was thrilled just to be able to live out her dream of being a teacher that she would have taught for free. "In my first year as a teacher, I never looked at my pay. It was just so thrilling to have the opportunity to live out what I dreamed of as a child, and what I worked so hard to achieve in college," she added.
The Washington Post each year honors outstanding teachers throughout the metropolitan area through its educational foundation. A committee reviews nominations throughout the school system and one teacher is chosen to represent Charles County in the program as its Agnes Meyer Outstanding Teacher Award recipient. The Washington Post Education Foundation in May will honor Eaton during a ceremony. She will be recognized by the Board of Education during their June 10 meeting.
Eaton has a bachelor's degree from the University of Maryland College Park and a master's degree in education and reading from Bowie State University, formerly known as Bowie State College. Prior to starting her career with Charles County Public Schools, Eaton taught at schools in Anne Arundel, Prince George's and Talbot counties.
Kristin Shields named 2014 Principal of the Year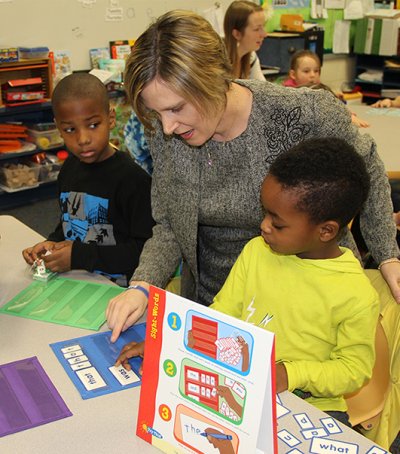 Mt. Hope/Nanjemoy Elementary School Principal Kristin Shields, pictured with a group of Mt. Hope/Nanjemoy students, is the 2014 Charles County Public Schools Principal of the Year and this year's county recipient of the Washington Post's Distinguished Educational Leadership Award.
School pride, hard work and the belief that all children can learn are key messages at Mt. Hope/Nanjemoy Elementary School. Each morning, Principal Kristin Shields welcomes her students and staff with a positive, upbeat morning announcement or is at the main school doors greeting those who enter with the school motto of "beavers are ready, responsible and respectful." Her passion for children is evident in all that she does, from helping with lunch duty or consoling an upset child to exploring creative and exciting ways for children to learn.
Shields' strong commitment to children and her ability to lead by example have earned her this year's title of Charles County Public Schools Principal of the Year and the Washington Post's Distinguished Educational Leadership award. According to Mt. Hope/Nanjemoy staff, Shields provides her staff with the tools and ideas to encourage students to do their best. She maintains an open-door policy and consistently acknowledges staff for their hard work. Shields said she is humbled with the recognition and credits the award to the partnership between parents, the school and community.
"I am honored to receive this award; it is not the effort of one individual. This award is a reflection of the partnership between the home, school and community. Mt. Hope/Nanjemoy Elementary is an outstanding school and I am so happy that this award recognizes our phenomenal students, staff, parents and community," Shields added.
As principal of Mt. Hope/Nanjemoy for the past three school years, and a former vice principal at the school for five years, Shields is familiar with the needs of her students and fosters a strong, collaborative relationship with the Nanjemoy community. Parent Teri Walker said Shields regularly expresses the importance of the school to home partnership, and credits her with helping students reach personal and academic goals. "Her commitment to students is over the top and she never fails to go above and beyond her call of duty. Her passion for the kids is amazing and I am convinced that because of her they are reaching their full potential and will forever be changed," Walker wrote in a nomination letter.
Building strong relationships with students, staff and parents was important to Shields from the start of her career in education. She credits her fourth-grade teacher, Mrs. Echard, for instilling her with a love of learning and for inspiring Shields to focus on relationship building. "She was way ahead of her time in implementing teaching strategies and building relationships with students. She was my inspiration for the type of teacher I wanted to be," Shields said.
Initiatives in place at Mt. Hope/Nanjemoy to foster open communication include a monthly parent newsletter and workshops, weekly bulletins for staff, volunteer nights for the community, an early childhood program called Breakfast with Books and several other special events for students and staff. The most notable event is an annual Thanksgiving dinner hosted at and by the school in which senior citizen residents are invited to enjoy a feast and performances by Mt. Hope/Nanjemoy students.
Shields' efforts to connect with the community extend outside of the school building. Mt. Hope/Nanjemoy is one of 21 elementary schools in Charles County, but has the smallest population of students with enrollment levels totaling nearly 360 students. The Nanjemoy area is one of the more rural areas in Charles County, and organizations in the community strive to work together for support. Meg Romero is the coordinator of the Nanjemoy Community Center and said Shields often brings community figures together to discuss areas of concern and strategies to address them. She also encourages teacher involvement in community events so they can experience life in the Nanjemoy community.
In addition to her roles as principal, community leader and role model, Shields is also known as a cheerleader for staff. She knows her staff well and recognizes them for their talents, which are then used to help build new ideas for achieving gains within the school. She meets with teachers weekly to plan for instruction and provides regular professional development opportunities. She also implemented the Kidtalk program in which she and other members of the instructional leadership team meet with teachers to provide immediate support to struggling students.
Holly Walsh, a first-grade teacher at Mt. Hope/Nanjemoy, said Shields also encourages staff with e-mails and announcements, and hosts upbeat staff meetings. "She is always accessible, and is not one who likes to keep her door closed. When there are problems, she is the first to come up with a solution. She is a great leader in our school and has made many positive changes in the community," Walsh wrote in a nomination letter.
Shields is a first generation college student in her family and credits her growth as an educator to the work ethic she learned from her parents, who often worked long hours to send she and her siblings to college. She also credits her growth to the support of those she has worked with during her 23-year career. "I am proud to work in Charles County Public Schools and have been fortunate to work in three schools with so many dedicated and talented professionals. I have grown as a leader because of the tremendous support from central office staff, my faculty and the school community," Shields said.
The Washington Post each year honors outstanding principals throughout the metropolitan area through its educational foundation. A committee reviews nominations throughout the school system and one principal is chosen to represent Charles County in the program as its Principal of the Year. The Washington Post Education Foundation on May 6 will honor Shields during a ceremony and reception for the recipients of the Distinguished Educational Leadership Awards. She will be recognized by the Board of Education during their May 13 meeting.
Shields began her career with CCPS in 2000 as a vice principal at J.C. Parks Elementary School. She has also served as a principal at Parks and William A. Diggs Elementary School, as well as at Latrobe Elementary School in Pa. Prior to joining CCPS, Shields also held teaching and specialist positions with Prince George's County Public Schools. She has a bachelor's degree in elementary education from Indiana University of Pennsylvania and a master's degree in administration and supervision from Bowie State University.