Knights of Columbus Honors CCSO Employee with Citizen of the Year
Teen Court Coordinator, Sarah Vaughan, Recognized for Outstanding Service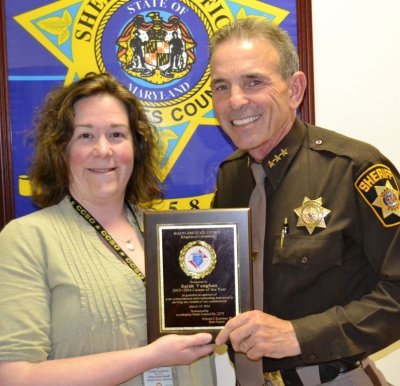 Sarah Vaughan and Sheriff Coffey.
Charles County Sheriff Rex W. Coffey announced that Sarah Vaughan, coordinator of the CCSO's Teen Court program, was recently named Citizen of the Year by the Knights of Columbus at a ceremony held on March 23. Ms. Vaughan was nominated for this prestigious award by Mark Shutters, Grand Knight, Archbishop Neale Council, who attends church with her and who has a son who volunteered in the Teen Court program. "Her work in this program is phenomenal and impressive. I thought she would make an excellent candidate for this award," said Shutters.
Vaughan, a ten year employee of the CCSO, has been the coordinator of Teen Court for seven years. "Sarah is a compassionate advocate for young people and has built Teen Court into one of the best programs in the state. She has an incredible ability to connect with everyone and there is no doubt in my mind she has made a difference in the lives of many teens," said Sheriff Coffey.
Charles County Teen Court is a juvenile justice diversion program in which first-time offenders between the ages of 12 and 17 are judged by a jury of their peers and offered the opportunity to accept accountability for their minor crimes without having to incur a permanent record. The program was designed to reduce the number of youthful offenders, ease the burden on the taxpayers with an already overcrowded criminal justice system, and educate the youthful offenders in a realistic court environment.
Teen Court volunteer judge, Wayne Magoon, said Vaughan is superb at her job. "Sarah is the most dedicated, caring individual when it comes to Teen Court. She treats all of the teens as if they were her children. She has been instrumental in helping turn many of them around and pointing them back to doing the right things. I am proud to work with her," Magoon said.
Over the past five years, Vaughan has managed approximately 900 Teen Court cases. In addition, she coordinates guest lectures, field trips, and community outreach missions. In 2009, Sheriff Coffey nominated Vaughan for Working Woman of the Year. "Clearly, Sarah earned this distinction and we are just proud to have her working with us," said Sheriff Coffey. To read the award nomination for Ms. Vaughan, visit the CCSO website at
www.ccso.us/.../Vaughan-Nomination.pdf
April 26 Marks Opening of Disc Golf Course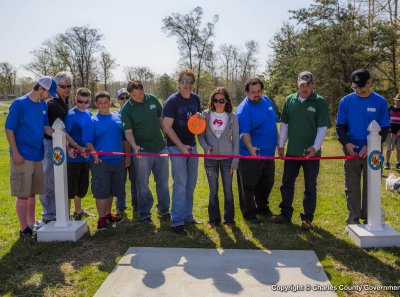 Commissioner Ken Robinson (District 1) (center, holding disc) and Chief of Parks Tom Roland (second from left) help to cut the ribbon officially opening the new Turkey Hill Disc Golf Course in La Plata.
On Saturday, April 26, the Charles County Commissioners and the Southern Maryland Disc Golf Club (SMDGC) celebrated the opening of the Turkey Hill Disc Golf Course (Turkey Hill Road, La Plata) at a ribbon cutting ceremony. This 18-hole course is open to all-ages. Turkey Hill Park is open daily from 8 a.m. to dusk. For additional information, call (301) 932-3470 or visit
www.CharlesCountyParks.com
.
Waldorf Beautification Project Spring 2014 Kickoff Set for May 17
The Charles County Commissioners invite citizens to attend the Waldorf Beautification Project Spring 2014 Kickoff event on Saturday, May 17, at 1 p.m. at the VanGO Park-and-Ride lot (intersection of U.S. Route 301 Crain Highway and Smallwood Drive West near the St. Charles Towne Center mall). Commissioner Vice President Reuben B. Collins, II (District 3), who is leading this effort, will announce details about the 2014 Waldorf Beautification Project's plans which are ongoing. These plans include the area-focused litter prevention campaign, recycling expansion, update on the construction at the intersection of Route 5 (Leonardtown Road) and Old Washington Road and an update on the Waldorf Urban Redevelopment Corridor.
Brief remarks will be made by partners in the Project, Dr. Kim Hill, Superintendent of Schools; State Senator Thomas Mac Middleton; Sheriff Rex Coffey; Mr. Craig Renner, Vice-President, The St. Charles Companies; and Ms. Ylanda Ford, President, Greater Malcolm Community, Inc.
Find out how you can help our community and show your Waldorf pride at the Waldorf Beautification Project Spring 2014 Kickoff event, which will include special presentations on litter enforcement and the Waldorf Urban Redevelopment Corridor. The Charles County Government hybrid Ford Escape will be filled with giveaways, including seedlings and vehicle litter bags. The event is open to the public.
The Waldorf Beautification Project gives businesses, homeowners associations, neighborhood representatives, civic and charitable organizations, students, elected officials, and interested citizens an opportunity to join together to make a difference. The project began in 2013 with several successful community improvement initiatives, including a student poster contest, the Autumn Colors of Waldorf Photo Contest, and placement of signs reminding citizens of the project's slogan, "With Pride, We Prosper!"
For more information, contact the Public Information Office at 301-645-0580 or 301-885-2779. Citizens with special needs may contact the Maryland Relay Service at 711, or Relay Service TDD: 866-269-9006.
Commissioners Proclaim April as Child Abuse Prevention Month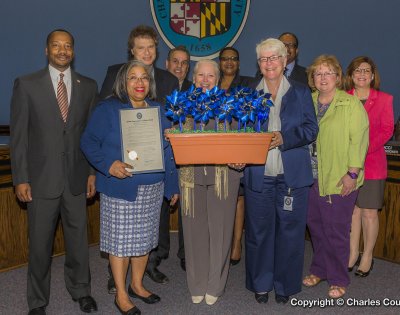 The Charles County Board of Commissioners present Child Abuse Prevention Month proclamation. Pictured, left to right: Commissioner Vice President Reuben B. Collins, II (District 3); Dianna E. Abney, M.D. (health officer, Charles County Department of Health); Commissioner Ken Robinson (District 1); Commissioner Bobby Rucci (District 4); Cathy Myers (Center for Children); Commissioner Debra M. Davis, Esq. (District 2); Therese Wolf (director, Charles County Social Services); James Bridgers (deputy health officer, Charles County Department of Health) ; Tina O'Neil (nurse, Charles County Department of Health); Commissioner President Candice Quinn Kelly.
On Tuesday, April 22 the Charles County Commissioners proclaimed April as Child Abuse Prevention Month in Charles County. Every child should have every chance in life, every chance at happiness, and every chance at success. In 2013, Charles County reported 1,582 child abuse and neglect calls. Parents, guardians, educators, community leaders, doctors, law enforcement, neighbors, and faith-based practitioners play a role in preventing child abuse and neglect and in helping young victims recover. The Commissioners urge all citizens to work together to help reduce child abuse and neglect significantly in years to come.
Nearly 80 Pounds of Unwanted and Unused Medicines Turned In National Take-Back Medications Day a Success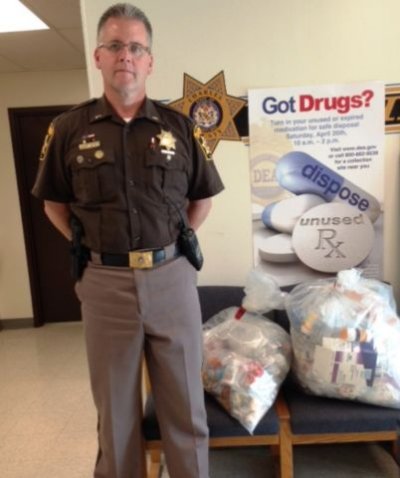 Lt. R. J. Williams, commander of the La Plata district, helps collect unused medications during national take-back medication day.
Charles County Sheriff Rex W. Coffey said nearly 80 pounds of unwanted, unused and expired medications were collected on Saturday, April 26 as part of the National Take-Back Medications Day sponsored by local law enforcement agencies and the DEA. "Unused medicines left inside medicine cabinets can be dangerous because they can get into the hands of people who might abuse them and prescription drug abusers often commit other crimes such as theft and burglary. Getting rid of unused medicines can be tricky because they can be toxic to the environment if they are flushed down the toilet or thrown in the trash," said Sheriff Coffey. "We have large, secure metal boxes at our Waldorf and La Plata stations in which people can bring the medicines in at anytime and throw them away safely," Sheriff Coffey said.
Since 2010, the CCSO has disposed of more than 200 pounds of unused prescriptions and other medicines. For more information about the CCSO medication disposal program, visit
www.ccso.us
. For additional information about the DEA drug take back initiative, visit
www.deadiversion.usdoj.gov/drug_disposal/takeback/
.
Tri-County Council for Southern Maryland and Maryland Broadband Cooperative Announce Broadband Utilization Assessment
Broadband Assessment Initiative Aims to Grow State's Digital Economy
The Tri-County Council for Southern Maryland and the Maryland Broadband Cooperative invite all Calvert, Charles and St. Mary's County businesses to participate in a broadband business assessment. The Maryland Broadband Cooperative is launching a pilot project in Southern Maryland affording 500 businesses the opportunity to participate in an online assessment and scorecard project to help gauge and improve their economic vitality by better understanding their utilizing broadband technologies.
Organizations will be asked to complete an online assessment of their Internet usage. The assessment results will provide valuable information on broadband usage by Southern Maryland commercial and nonprofit organizations, and will allow for a comparison of broadband usage and economic impacts with peer organizations nationwide.
To benefit Southern Maryland businesses, each business completing the assessment will receive a scorecard based on their assessment responses that will summarize the financial impacts that broadband currently has on their business. The scorecard will also compare individual businesses with industry peers around the country and will suggest broadband-enabled tools that could increase competitiveness, efficiencies and revenues.
Broadband technology is a foundation for economic development and innovation. The Maryland Broadband Cooperative works with national, state and local partners towards solutions for increased broadband availability. As the needs for ubiquitous access, higher speeds and capacity continue to grow quickly, Maryland Broadband Cooperative works to leverage Maryland's broadband infrastructure and utilization through public/private partnerships. With strong private sector broadband providers, unique middle-mile assets, State and local partners, and a focus on economic competitiveness, Maryland is well positioned to continue to move forward in the broadband arena. You can learn more about the survey at
mdbroadbandmap.org
.
For more information, please contact John Hartline, Tri-County Council for Southern Maryland at 301-274-1922 or jhartline @ tccsmd.org.