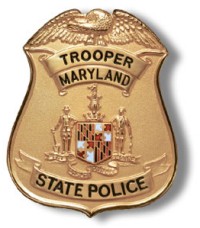 LEONARDTOWN, Md. (April 28, 2014)—The Leonardtown Barrack of the Maryland State Police (MSP) released the following incident and arrest reports.
LUSBY MAN TAKES POLICE ON EXTENDED VEHICLE PURSUIT: On Friday, April 25, at 2:23 am, a lookout was given for a vehicle traveling southbound on Route 235, in the area of Rue Purchase Road in Lexington Park, which was running without a front tire. Troopers from the Leonardtown Barrack located the vehicle and attempted a traffic stop on a white Chevrolet Impala. The vehicle failed to stop and continued traveling southbound. The vehicle continued and turned on Route 246 in Lexington Park. Troopers were joined by St. Mary's County deputies at Route 246 and Route 5 in Great Mills. The vehicle began to travel northbound on Route 5 where stop sticks were deployed at Whirlwind Road in Redgate. After deflating the other front tire, the vehicle continued northbound Route 5. The vehicle was driving on the rims on Route 5 when it came up to the Route 235 split in Mechanicsville. The vehicle made a right turn and began traveling southbound on Route 235. Additional stop sticks were deployed at Route 235 and Route 245 in Hollywood. Again the vehicle continued to travel southbound on Route 235, riding on the front frame of the vehicle. The vehicle finally came to a stop at Route 235, in the area of Valley Drive, Lexington Park.
The sole occupant of the vehicle fled the vehicle on foot and was apprehended by K-9 from the Sheriff's Office. The suspect began to kick the K-9 and was bitten. The suspect continued resisting arrest and assaulted a trooper while being placed under arrest. The suspect was identified as Dominick Mackall, 25, of Lusby. A search incident to arrest revealed suspected Crack Cocaine on Mr. Mackall. Mr. Mackall was taken to St. Mary's MedStar Hospital for treatment and was released to Troopers where he was taken to the St. Mary's County Detention Center.
Mr. Mackall was charged with Possession of CDS-Crack Cocaine, Possession of CDS with Intent to Distribute, Second Degree Assault on a Law Enforcement Officer, Assault on Law Enforcement Animal, DUI, Fleeing & Eluding along with other traffic violations. As a result of this pursuit two Maryland State Police cruisers were damaged. There were no injuries to law enforcement officers. This incident involved four Maryland State Troopers, several St. Mary's County deputies, including a K-9 unit. The Maryland State Police Aviation Division was also utilized during this pursuit.
THEFT: On Tuesday, April 15 at 3:50 pm, TFC S. Ditoto responded to the Belk Department Store located in California for a reported theft. Mianna Chardon Gray, 18, of Sunderland; Nicole Denise Wedge, 19, of St. Leonard; and a juvenile were arrested for Theft Less than $1000. All suspects were transported to the Maryland State Police Leonardtown Barrack for processing and later released.
Warrant Services
Keith Jerrell Brown, 36, of Beaufort, SC, served on 4/22/2014 at 8:33 pm for Failure to Appear in Court.
Tamathea Carol Hayward, 54, of Great Mills, served on 4/24/2014 at 9:46 am for Assault Second Degree and Fail to Stop After Accident.
Dylan Andrew Sedgewick, 20, of Lexington Park served on 4/24/2014 at 1:30 pm for Failure to Appear in Court.
DUI Arrests
Christopher Albert Vanerp, 49, of Mechanicsville, arrested on 4/18/2014 by Tpr. B. M. Weber
[REDACTED, State dropped charges on 30-APR-2014], arrested on 4/18/2014 by Tpr. A. R. Oyler
Jasmine Taylor Ashley, 18, of Lusby, arrested on 4/19/2014 by TFC M. J. Pitcher
Carson Renee Smith, 21, of Great Mills, arrested on 4/20/2014 by TFC M. J. Pitcher
Kimberly Annette Taylor, 45, of Mechanicsville, arrested on 4/23/2014 by Tpr. A. R. Oyler
Disclaimer: In the U.S.A., all persons accused of a crime by the State are presumed to be innocent until proven guilty in a court of law. See: http://somd.me/presumed-innocence. Additionally, all of the information provided above is solely from the perspective of the respective law enforcement agency and does not provide any direct input from the accused or persons otherwise mentioned. You can find additional information about the case by searching the Maryland Judiciary Case Search Database using the accused's name and date of birth. The database is online at http://somd.me/mdcasesearch . Persons named who have been found innocent or not guilty of all charges in the respective case, and/or have had the case ordered expunged by the court can have their name, age, and city redacted by following the process defined at http://somd.me/expungeme .