Political Commentary by Barry Rascovar, for MarylandReporter.com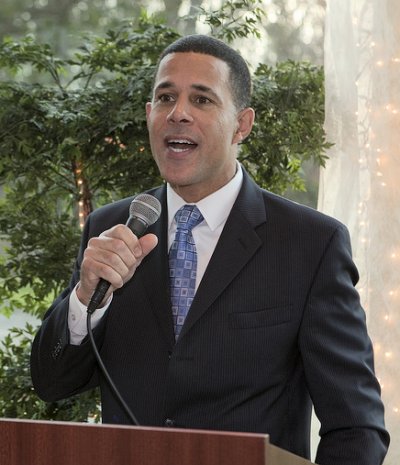 Lt. Gov. Anthony Brown. (Photo: MarylandReporter.com)
Let's get this out of the way up front: The answer to the headlined question is "no." Lt. Gov. Anthony Brown didn't graduate cum laude from Harvard and later from Harvard Law without having substantial intellectual chops.
Yet that inelegant question – does Brown have what it takes to be governor? – could become a defining issue as Maryland's aimless gubernatorial campaign enters the stage where voters start paying attention.
Attorney General Doug Gansler keeps fumbling the rhetorical ball whenever he tries to raise the subject of Brown's readiness to run the state of Maryland. He must be onto something, though. because the Brown camp is ultra-sensitive to charges of "empty suit-ism."
Not that his handlers will allow Brown to escape from his self-imposed cocoon to rebut Gansler's charges. They let
surrogates
and
campaign officials
go on the counter-attack instead.
Front-runner tactics
Brown is following the Rose Garden strategy favored by front-runners, appearing at events where his handlers can control the candidate's every move and keep him on script.
After all, Brown is very good at reading a scripted speech. It's when unscripted, detailed questions start flying that Brown hastily looks for the exit.
Gansler sought to stir things up by questioning the notion that Brown's year in Iraq as a military lawyer qualifies him to be governor.
He was trying to point out that being chauffeured in an armored caravan to Iraqi government buildings to educate Iraqi officials on American jurisprudence isn't the same as taking on the Taliban in gun fights. Counseling Iraqi officials does not teach you much about running the state of Maryland.
But Gansler stepped in deep doo-doo when he blurted out that this wasn't "a real job" – as though service in the military doesn't count.
Counter-attacking Gansler
Brown and his
veterans supporters
pounced on Gansler for that faux pas. Why he's insulted the military! He's a loose cannon! He's out of control!
That's a great way to divert attention from the central point Gansler was trying to make – Brown's good-sounding resume gets a bit thin when examined in detail.
His decades of military service are not only admirable but courageous. He's led men on missions. He's got lots of service ribbons.
But his year in Iraq, while a difficult personal sacrifice, was quite secondary and far from the battles waged by Gen. David Petraeus that made an American exit possible.
Brown's service as lieutenant governor also looks better at a glance than it does under a microscope.
That's not as much his fault as a quirk of the office.
No fun being No. 2
Nearly every lieutenant governor winds up outside the governor's inner circle. He's not included when key questions are decided. He isn't given substantial duties to run parts of government.
So Maryland's elected No. 2 spends his time touring the state, giving speeches that mimic what the governor has already said. The lieutenant governor isn't an executive decision-maker. He's just there in case the governor drops dead.
No wonder Brown's predecessors – all seven of them – failed to become governor. It's a jinxed office. As comedian Rodney Dangerfield used to say, "I can't get no respect."
So Brown, despite being the early front-runner, has his work cut out.
Questions for Brown
Can he handle ad lib queries from reporters on a wide array of topics?
Can he show where he has been an effective policymaker?
Can he rebut charges that he botched oversight of the state's much-maligned health care exchange rollout?
The spotlight is turning toward Anthony Brown, who must persuade voters he has not only the resume but more importantly the substantive accomplishments and breadth of knowledge that merit election as governor.
We're eight weeks from the June 24 primary that almost definitely will determine Maryland's next governor. At this point, the job is Brown's to win – or lose.

Barry Rascovar is an independent journalist who's been covering Maryland politics for over 40 years, first with the Baltimore Sun and then the Gazette of Politics and Business. His personal blogsite is marylandpolitics.com. He can be reached at brascovar @ hotmail.com.