By SARAH TINCHER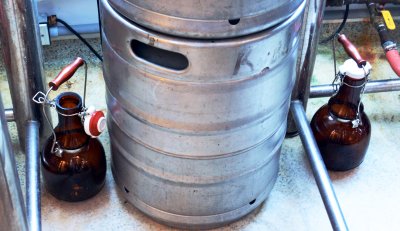 Two growlers surrounding a keg, which current law allows brewpubs to refill and sell for consumption off their premises, in the Ruddy Duck Brewery and Grill in Dowell. (Photo: Sarah Tincher)
ANNAPOLIS—What's better than going to your favorite brewpub to drink a cold glass of craft beer?
Taking it home with you in a bottle.
And thanks to legislation awaiting Gov. Martin O'Malley's approval, this dream might finally become a reality for Maryland microbrewery regulars.
Under the current law, the 21 licensed brewpubs across Maryland are allowed to serve customers their own crafted beer to gulp down in the restaurant, or even give it to them in a refillable growler or a keg to take home.
But brewers, who spend can between three weeks and three months brewing a batch of beer from start to finish, can't send a six-pack of their product home with a thirsty consumer — at least not yet.
Although legislation passed last year gave some microbreweries the opportunity to self-distribute their product, they were stopped short by the inability to sell it in a to-go bottle, prompting bill sponsor Delegate Kelly Schulz, R-Frederick, to propose
House Bill 464
.
The bill, which was passed by the Maryland General Assembly at the end of March, would allow these brewpubs to bottle their beer and sell it to consumers to take home — a proposal that J.T. Smith, executive director of the Maryland Brewer's Association, called "a bit of a no-brainer."
"It allows more fair access to the marketplace for Maryland brewers," Smith said.
To make matters more nonsensical, some counties allow these brewpubs to sell six-packs of other companies' beer, but not their own.
"Frederick County has a liquor license that allows [brewpubs] to sell prepackaged beer for off-premise consumption — like at Barley and Hops, they could sell a six-pack of Coors Light from their establishment but they couldn't sell a pack of their own product to go," Schulz said. "It just didn't make sense."
Gary Brooks, operations manager of Barley and Hops Grill and Microbrewery in Frederick, couldn't agree more, calling the hindrance "very" frustrating.
This particular brewpub doesn't bottle beer yet, but with the law slated to change, Brooks said they plan on taking advantage of the new opportunity.
Supporters of the legislation say it will undoubtedly be a help to those who either currently bottle beer or plan to start.
"We certainly believe and know it will have a positive impact on Maryland brewpubs," Smith said.
Across the board, bill advocates and microbrewery owners generally agree that the promotional value of the legislative measure will far exceed the monetary value.
"When you open that refrigerator up and there's a six-pack of Barley and Hops beer, it kind of stimulates the mind," Brooks said, adding that it will probably cost the brewpub $80,000 to put a bottler in place and get the supplies required bottle beer.
Mike Franklin, owner of Franklin's Restaurant, Brewery and General Store in Hyattsville, also said he sees it as a beneficial marketing tool.
"Every time a bottle of our beer goes out the door with somebody … not only is a sale that we make a little bit of money on, but it's also advertising," Franklins said. "We win in both ways."
Although Franklin continued to say the beer sold in the restaurant will be more profitable for them than the beer that leaves, he added, "in terms of promotional value, it's a tremendous help."
On the other hand, Michael Kelley, co-owner of Ruddy Duck Brewery and Grill in Dowell, said the legislation won't have an immediate impact on their brewery.
"For a smaller brewpub like ours, the legislation doesn't change a lot if we're self-distributing, but it means a great deal if we decide to work with a distributor at some point in the future," Kelley said.
However, he, too, agreed that the new law would be a big help in marketing their product.
"One of the real advantages of packaging for us is to expand our brand recognition for the brewpubs," Kelley said. "We feel like we've got a great following down here, and once we start packaging, we think it's going to take off."