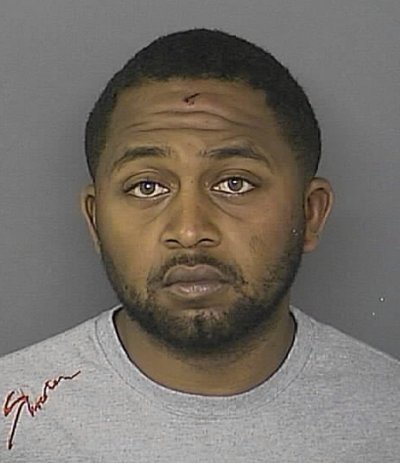 CALLAWAY, Md. (April 23, 2014)—
Calverio Terrill Somerville
, also known as "Forty," age 25, of Lexington Park, has been arrested in St. Mary's County and charged with distribution of cocaine, according to the sheriff's office Vice Narcotics Division. Somerville has a history of drug-related arrests dating back to 2008 and he has a good record of beating the charges, according to court records.
Police obtained a search and seizure warrant for two residences; one in Great Mills and one in Lexington Park along with two vehicles. The St. Mary's County Sheriff's Office Emergency Services Team, Sheriff's Office K-9 deputies, Vice/Narcotics Support Team Members and the Calvert County Special Operations Team executed the warrants.
Police say that as they approached one residence, Somerville fled and in the process threw 14 individual baggies of cocaine from the vehicle. He was apprehended and a search of his home revealed more than 52 grams of crack cocaine (valued at $5,200), marijuana, two cell phones, a digital scale and nearly $7,300 in cash. Two vehicles were also seized, a 2002 Chevrolet Tahoe and a 2010 Toyota Camry.
Somerville was arrested. Police say additional charges against him and other suspect(s) are pending a review with the State's Attorney.
Somerville has a drug-related arrest history dating back to 2008 when he was 18 years of age.
He was indicted on 02/06/2008 (Case 18K08000082) and charged with CDS: Possession-Marijuana and CDS Possession With Intent To Distribute relative to an arrest on
12/20/2007
. The first charge was dropped and he pled guilty to the second and was sentenced to 2 years in jail.
Around the time of the arrest, police issued the following statement:
"Detectives executed a search and seizure warrant on the home of Calverio Terrill Somerville (aka "Forty") (Age 18 of Lexington Park). Several hundred dollars worth of marijuana was seized as well as nearly $1,000.00 in currency. Somerville was arrested and charged as was a second occupant of the residence, Brittany Janee Mackall (Age 18 of Lexington Park). Both were charged with misdemeanor Possession of Marijuana. Somerville will be facing additional charges after a State's Attorney's Office and Grand Jury review. A third suspect, George Patrick Holt (Age 41 of Lexington Park) was charged with Possession of Cocaine and a related smoking device."
Somerville was indicted again approximately 2 months later on 04/30/2008 (Case 18K08000247) and again charged with CDS: Possession-Marijuana and CDS Possession With Intent To Distribute.
On or around 11/10/2008, the Maryland State Police, Leonardtown Barrack released the following statement regarding Somerville:
"On Thursday, November 6, 2008 at 10:10 am, Calverio Terrill Somerville, 19, of Lexington Park was arrested by Cpl. A. Malaspina on an outstanding circuit court warrant (T3-13623) for failing to appear in circuit court on September 19, 2008. The original charge was for possession of marijuana. Mr. Somerville was taken to the St. Mary's County Detention Center where he was held pending a bond review."
Both charges in the indictment were dropped on 12/10/2008.
Somerville was next indicted on 04/03/2013 (Cases 18K13000117, 18K13000118) and charged with CDS: Possession-Not Marijuana and CDS Distribution-Narcotic. In a press release at the time, police said, "Vice Narcotics detectives made several undercover purchases of cocaine from Suspect Somerville and he was subsequently indicated and arrested." Again, both charges were later dropped on 12/06/2013.