PRINCE FREDERICK, Md. (April 21, 2014)—The Calvert County Sheriff's Office today released the following incident and arrest reports.
WEEKLY SUMMARY: During the week of April 14 through April 20, deputies responded to 1,335 calls for service throughout the community.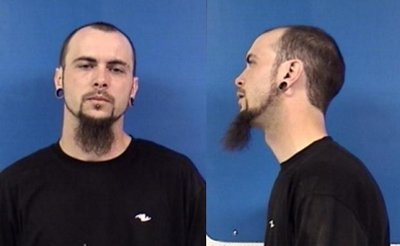 Kyle Clark Shurtleff, 22 of Leonardtown. (Arrest photo)
CDS VIOLATION CASE #14-20843: On April 14 at 9:00 p.m. Dep. B. Schaefer conducted a traffic stop on a vehicle on Calvert Beach Road in St. Leonard. Both the passenger and driver were found to be in possession of suspected drugs. Ashley Nichole Pitcher, 21 of St. Leonard was cited for possession with intent to use drug paraphernalia; a cut up straw with a small residue of suspected Oxycodone. The driver, Kyle Clark Shurtleff, 22 of Leonardtown, was arrested and charged with possession of marijuana less than 10 grams and possession with intent to use drug paraphernalia; a plastic container used to store marijuana.
THEFT CASE #14-21230: DFC A. Locke responded to the Office Depot in Prince Frederick for a theft that had just occurred on April 16 at 8:10 p.m. A woman, described by witnesses as white, about five feet three inches tall, 140-150 pounds, with dark, frizzy hair pulled into a ponytail, fled the store with a Dell Inspiron laptop valued at $550. A store employee advised that the woman had come into the store and wanted to buy a laptop. While the employee was conducting the sale transaction at the register, the woman suddenly grabbed the box and fled the store. Witnesses outside the store stated they saw the woman run from the store with the box containing the laptop and get into an older model gray or green four door Honda. The Honda was driven by a white male which then left the parking lot. The woman was believed to be between the ages of thirty to forty and was wearing a black hoody and dark blue jeans. Anyone with information is asked to contact the Sheriff's Office at 410-535-2800.
DESTRUCTION OF PROPERTY CASE #14-21243: A victim on Alameda Drive in Huntingtown advised DFC J. Lord that sometime between April 15 at 4:00 p.m. and April 16 at 9:00 p.m. someone did $1,000 worth of damage to his vehicle that had been parked in the driveway of the home. Two indentations on both quarter panels of the truck were evident. The investigation is continuing.
BURGLARY CASE #14-21463: Unknown suspect(s) burglarized a home in the 200 block of Skinners Turn Road in Owings sometime on April 17. Over $4,000 in property was stolen to include a safe, cash, and DeWalt tools. Cpl. S. Parrish is investigating.
THEFT CASE #14-21591: Two fifteen-year-old females from Lothian were charged with theft on April 18 at 2:30 p.m. after a loss prevention officer at the Dunkirk Walmart observed them put cosmetic merchandise into a backpack and leave the store without paying. One of the girls was also charged with possession of marijuana after a search was conducted and it was found on her. They were each charged on a youth report and released to a parent.
BURGLARY CASE #14-22005: A home in the 11500 block of Ropeknot Road in Lusby was burglarized during the daytime hours on April 20. Nothing appears to have been stolen but $800 in damage was done gaining entry into the home. Dep. T. Holt is investigating.
BURGLARY CASE #14-22023: Dep. D. Naughton is investigating a burglary to a home in the 700 block of Rattlesnake Road in Lusby that occurred during the day on April 20. At this time, nothing appears to be missing. The investigation continues.
Citizens with information on any of the reported crimes above, or any criminal activity in Calvert County, who wish to report it anonymously can now access the Calvert County Crime Solvers website via http://somd.me/calvertcrimesolvers. Information leading to the arrest and conviction of a suspect could result in a $1,000 reward.
Disclaimer: In the U.S.A., all persons accused of a crime by the State are presumed to be innocent until proven guilty in a court of law. See: http://somd.me/presumed-innocence. Additionally, all of the information provided above is solely from the perspective of the respective law enforcement agency and does not provide any direct input from the accused or persons otherwise mentioned. You can find additional information about the case by searching the Maryland Judiciary Case Search Database using the accused's name and date of birth. The database is online at http://somd.me/mdcasesearch . Persons named who have been found innocent or not guilty of all charges in the respective case, and/or have had the case ordered expunged by the court can have their name, age, and city redacted by following the process defined at http://somd.me/expungeme .