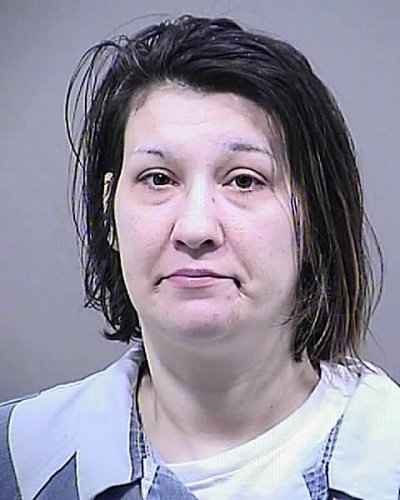 Kathleen Marie Conroy has been reported missing.
MISSING PERSON: On April 14 at approximately 3:00 p.m. the Calvert County Sheriff's Office was contacted regarding a missing person, thirty-five year old, a white female, 5 feet three inches tall, weighing 140 pounds of Prince Frederick. Initial investigation revealed Conroy was last seen at the Burger King in Dunkirk on March 31 of this year getting into a green Honda Civic with unknown Virginia registration. Family and friends have not had any contact with her since.
Anyone having contact with Kathleen Marie Conroy is asked to call Det. W. Wells of the Criminal Investigations Bureau at 410-535-1600 extension 2595 or the Sheriff's Office at 410-535-2800.
TIKI BAR DESIGNATED DRIVER PROGRAM: Bob Hall, LLC and Anheuser Busch, working together with the Calvert County Sheriff's Office, Maryland State Police, the Calvert Alliance Against Substance Abuse and the Calvert and St. Mary's Counties Community Traffic Safety Programs are sponsoring a Designated Driver program to be held during the annual opening of the Tiki Bar. The program will run Friday, April 25th and Saturday, April 26th from noon to 10:00 p.m.
The first 150 designated drivers who register will receive a free Tiki Bar T-shirt. Every designated driver will win an instant prize from a long list that includes Major League Baseball (Orioles and Nationals) tickets, Tiki Bar and Grill SGT BBQ gift certificates, can coolies, sunglasses, coolers, beach tables, and folding chairs. Designated drivers will sign a pledge card, which will be entered into a drawing for four grand prizes. This year's first prize package is valued at $500 and consists of cash, gift cards and a one night stay at Holiday Inn Solomons. Prizes two, three and four range from $350 to $50 in cash and gift cards. The registration booth is located near the Tiki Bar entrance.
Sheriff Mike Evans will draw the grand prize tickets during a ceremony at the Sheriff's Office on Monday, April 28th at 1:00 in the afternoon. The public is invited to attend.
The Calvert County Sheriff's Office and Maryland State Police, as well as law enforcement from neighboring jurisdictions, will be conducting DUI saturation patrols throughout the weekend as part of Maryland's "Checkpoint Strikeforce - Over the Limit, Under Arrest" campaign. These enforcement efforts are funded through the State Highway Administration's Maryland Highway Safety Office and will continue throughout the spring and summer months. Areas where a high number of DUI arrests or crashes have occurred in the past will be targeted for enforcement efforts.
CALVERT COUNTY CRIME SOLVERS CASE OF THE WEEK: Calvert County Crime Solvers and the Calvert County Sheriff's Office are seeking the public's assistance in identifying the person or persons responsible for the recent series of thefts from automobiles that occurred in the Lusby area in the early morning hours of April 13. Electronic equipment and cash was stolen out of numerous vehicles on Sitting Bull Circle, Durango Lane and Stirrup Lane. None of the vehicles had been secured by their owners.
Citizens with information on these crimes or any criminal activity in Calvert County who wish to report it anonymously can now access the Calvert County Crime Solvers link at
www.CalvertCountySheriff.us
or by calling 410-535-2880. If the information leads to an arrest and conviction, the caller may be eligible for a cash reward up to $1,000.
DISTRACTED DRIVER INITIATIVE: The Calvert County Sheriff's Office has partnered with the Maryland Highway Safety Office to combat distracted driving violations on the roads of Calvert County. The Distracted Driver Campaign has kicked off for the month of April. In Calvert County, distracted driving accounts for 69% of the county's serious injury accidents and 50% of its' fatal crashes. The month of April is one of Calvert County's peak months for distracted driving crashes.
The Calvert County Sheriff's Office applied for and received additional grant funding to combat this problem. During the month of April, deputies will be targeting multiple areas at different times of the day to address this serious problem.
The Sheriff's Office conducted the first of several planned initiatives on April 4, 2014. Deputies from the Community Action Team and Patrol Bureau stopped a total of 42 vehicles during a four hour period. A total of 38 citations were issued, 15 warnings, 2 Safety Equipment Repair Orders and one DUI arrest was made. Fifteen of the citations issued were for violations of texting or failing to use a hands free device while operating a motor vehicle.
The Calvert County Sheriff's Office has several other initiatives aimed at reducing distracted driving crashes in April. We ask that you please "Park the phone before you drive!"