Commissioners Celebrate Jameson's Milestone Wedding Anniversary
On Tuesday, April 8, The Charles County Commissioners recognized Mr. and Mrs. Edward Lee Jameson who celebrated 70 years of marriage on March 19, 2014. Edward Lee & Anna Mary were married March 19, 1944, and reside currently in La Plata.
Faulcon Named Waldorf Urban Redevelopment Corridor Manager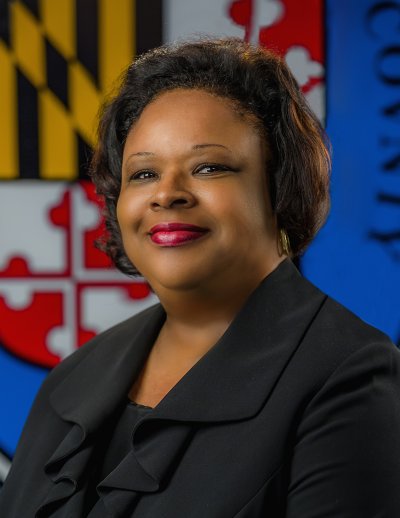 Dr. Landis D. Faulcon.
The Charles County Commissioners announced the hiring of Dr. Landis D. Faulcon as the Waldorf Urban Redevelopment Corridor (WURC) manager. Dr. Faulcon began her employment with Charles County Government on Monday, March 31. As the WURC manager, Dr. Faulcon is responsible for managing the county's redevelopment efforts in the Waldorf urban corridor and working with county, state, and federal agencies to promote redevelopment and transit services for Charles County.
Dr. Faulcon has more than 25 years of leadership experience in local government administration. Her work experience includes serving as a revitalization consultant for the City of Savannah, Ga. In this role, she developed comprehensive revitalization strategies for one of the city's oldest commercial corridors. Also, she consulted with elected officials, department heads, and community partners on issues relating to housing, zoning, code enforcement, financial strategies, and development opportunities.
"The WURC project has been one of our priorities since taking office. The project's vision focuses on transportation initiatives that will improve the quality of life for our citizens, many of whom commute long distances each day. I am confident that Dr. Faulcon will help us continue to move this project forward so the benefits for our citizens are realized," said Commissioner President Candice Quinn Kelly.
Prior to her work in Savannah, Dr. Faulcon managed an organization created by the cities of Norfolk and Portsmouth, Va., administering a $100 million federal empowerment zone grant. This position afforded her the opportunity to lead revitalization and economic development initiatives in the most distressed areas of these cities.
Dr. Faulcon earned a doctorate in urban services/management, certificate of accomplishment as Professional Public Manager, and master's degree in urban studies from Old Dominion University in Norfolk, Va. Additionally, she holds a bachelor's degree in broadcast journalism from Howard University in Washington, D.C.
2014 Annual Spring "Fishin' Buddies" Derby at Gilbert Run Park
The Charles County Department of Public Works, Parks Division, will sponsor the 2014 annual Spring Fishin' Buddies Derby at Gilbert Run Park in Dentsville, on Saturday, May 3, from 7 a.m. – 12:30 p.m.
Anglers will compete by teams, which must include one adult at least 21 years of age and one child between the ages of 6 and 15. Each team must supply their own rods and bait. Trophies will be awarded in the two age divisions. Bank anglers will compete separately from those who fish from a boat. Local businesses have donated numerous fishing-related door prizes. All teams are eligible for the door prize drawings.
The entry fee is $7 per team. Pre-registration is required since participation is limited.
Entry forms are available at Gilbert Run Park or the main office of the Department of Public Works on Radio Station Road in La Plata, Maryland.
Registration forms are due in the Department of Public Works' main office by noon on Wednesday, April 30.
For more information or to receive an entry form, call the Department of Public Works, Parks Division, at 301-932-3470 or 301-870-2778 weekdays between 7:30 a.m. and 4 p.m. Citizens with special needs may contact the Maryland Relay Service at 711, or Relay Service TDD: 800-735-2258.
Commissioners Proclaim April as Fair Housing Month
On Tuesday, April 8 the Charles County Commissioners proclaimed April as Fair Housing Month in Charles County. The 1968 Fair Housing Act guarantees the right of all Americans to dwell in the neighborhood of their choice. Even though this non-discriminatory policy is the law of the land, its proper enforcement requires the continued cooperation of all levels of government, the real estate and home building industries, and private citizens. Promoting equal housing opportunities is essential to our larger mission of promoting justice in all areas of life and for all citizens. Equal housing opportunity has a dramatic impact on school integration and the acceptance and understanding of ethnic and racial diversity.
In attendance were Commissioner Debra M. Davis, Esq. (District 2); Lemuel Carpenter, Department of Community Services; Rita Wood, Department of Community Services; Eileen Minnick, Department of Community Services; Mary Robinson, Housing Authority Board Member; Commissioner Bobby Rucci (District 4); Commissioner President Candice Quinn Kelly, and Commissioner Ken Robinson (District 1).
Live Music Returns to the Blue Crabs Stadium on May 24
Billboard chart toppers to take the stage for Guitars & Stripes Country Fest
The Blue Crabs will kick off the summer season with the Guitars & Stripes Country Fest on Saturday, May 24, when they welcome four chart-topping artists that burst recently onto the country music scene: Frankie Ballard, Eric Paslay, Josh Thompson, and special guest, The Sam Grow Band.
Commissioner President Candice Quinn Kelly said, "What a fun event, being held at a great location. It is exciting to see concerts coming back to Regency Furniture Stadium."
After winning Kenny Chesney's Next Big Star competition in 2008, Frankie Ballard signed to Reprise Records Nashville in 2010 and released his debut single "Tell Me You Get Lonely."
In 2011, Eric Paslay signed to EMI Records Nashville. He released three singles for the label, his third being "Friday Night" which just hit #1 on the Mediabase 24/7 country chart in January 2014.
Country artist Josh Thompson kicked off his career in 2009, when the songwriter released his first single, "Beer on the Table," and co-authored a song for John Michael Carroll's Top Ten album Growing Up Is Getting Old.
Southern Maryland is familiar with special guest, The Sam Grow Band, who burst onto the music scene in 2008. The band's most recent CD, "Reveal," hit No. 11 on the iTunes Singer/Songwriter charts, with the first four singles charting in the top 15.
Tickets are on sale now and can be purchased by calling the Blue Crabs Box Office at 301-638-9788, by visiting www.SoMdBlueCrabs.com, or by stopping by the stadium in person. Tickets are $30 and include a general admission ticket to the entire evening spanning from when gates open at 3 p.m. until the conclusion of the show around 10:30 p.m.
Charles County Earns National Budget Award for 18th Consecutive Year
On Tuesday, April 1, the Charles County Commissioners recognized the Department of Fiscal and Administrative Services for their eighteenth consecutive year earning a national budget award. The Government Finance Officers Association of the United States and Canada (GFOA) selected Charles County, Md., to receive the Distinguished Budget Presentation Award for the Fiscal Year 2013 budget.
The award represents a significant achievement for Charles County. It reflects the commitment of the governing body and staff to meeting the highest principles of governmental budgeting. In order to receive the budget award, Charles County Government had to satisfy nationally recognized guidelines for effective budget presentation.
The guidelines are designed to access how well an entity's budget serves as a policy document, financial plan, operations guide, and communications device. Budget documents must be rated "proficient" in all four categories and the 14 mandatory criteria within those categories to receive the award.