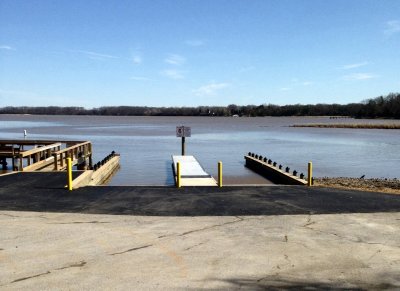 Friendship Farm Park facility before (top) and after. (Photos: Md. DNR)
The Maryland Department of Natural Resources and partners have completed renovations to the Friendship Farm Park boating access facility, completely rehabilitating the 40-year-old launch site. Now open to the public, the significant facility improvements provide safe and easy boating access to Nanjemoy Creek and the lower Potomac River.
"Boaters in southern Maryland have been eagerly awaiting the completion of the Friendship Landing boating access facility renovation," said Mark O'Malley, DNR's Director of Boating Services.
Owned and operated by Charles County, the Friendship Farm Park boating project involved the construction of two timber flank walls, a two lane concrete boat ramp, and an American with Disabilities Act (ADA) accessible aluminum floating boarding pier. The project was made possible through a partnership between DNR's Boating Services, Charles County Department of Public Works Division of Parks and Grounds and the U.S. Fish & Wildlife Service Sport Fish Restoration Program.
"The recent reconstruction of the Friendship Landing boat launch facility will provide our local and regional boaters with much improved access to Nanjemoy Creek and Charles County's portion of the Potomac River," remarked Candice Quinn Kelly, President of the County Board of Commissioners. "This is yet another fine example of a collaboration that allows federal, state, and local government to meet important public water access goals."
The total cost of the project including engineering and construction was $280,565. Of that total, a federal Sport Fish Restoration Boating Access grant provided $210,424 (75 percent) which was matched by $70,141 (25 percent) in Maryland Waterway Improvement Funds.
Administered by U.S. Fish and Wildlife Service, the Sport Fish Restoration Fund is derived from federal excise taxes on fishing equipment and motorboat fuels. A portion of this user-pay, user-benefit program assists in funding public recreational motorboat access projects. Since its inception in 1966, the State Waterway Improvement Fund – derived from the 5 percent vessel excise tax paid when a boat is purchased and titled in Maryland – has funded more than 4,500 grant projects, valued in excess of $300 million, in the development of more than 300 public boating access sites.
Source: Maryland Department of Natural Resources