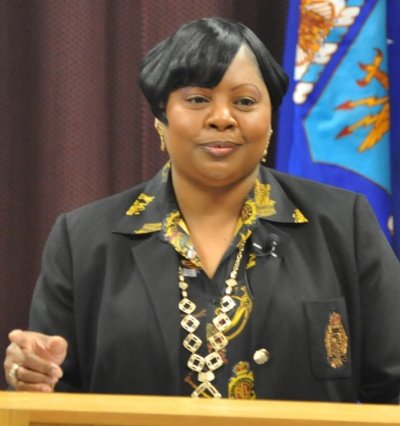 Michelle Crockett, the Federally Employed Women program's national president, reviews her "10 Principles for Brilliant Women" at Naval Surface Warfare Center Dahlgren Division's National Women's History Month Observance in March. (U.S. Navy photo by Jimmy Waits/Released)
DAHLGREN, Va. - Clara Barton, Madeline Albright and Allie Latimer.
Recalling each woman by name, Michelle Crockett - Naval Surface Warfare Center Dahlgren Division's (NSWCDD) National Women's History Month Celebration 2014 keynote speaker - reminisced over their impact on the nation.
"American history would not be complete without the recognition of women - they earned this right," Crockett, National President of Federally Employed Women (FEW), told the military and civilian audience celebrating the contributions women made throughout history while working toward full equality in the United States.
Barton founded the American Red Cross Society in 1881, an organization still helping people in need today. Serving as its first president, she directed relief work for the victims of disasters.
Albright served as the first female U.S. Secretary of State. Nominated by President Bill Clinton and unanimously confirmed by the U.S. Senate, she was sworn in as the 64th Secretary of State on Jan. 23, 1997. Albright also served as the United States Permanent Representative to the United Nations and as a member of the President's Cabinet and National Security Council.
Latimer was the founder and a president of the Federally Employed Women - a private organization that works as an advocacy group to improve the status of women employed by the federal government. This includes contact with Congress to encourage progressive legislation.
In his opening remarks at the March 20 event, NSWCDD Commander Capt. Brian Durant recounted the actions of Navy women, including those serving under his command.
He also recalled each Navy uniformed and civilian woman by name - Adm. Michelle Howard, Capt. Stephanie Douglas, Michelle Bailey and Houra Rais.
As a father of three daughters, Durant said the event's recognition of women is very important to him and many who want their daughters to have good women role models in the areas of science, technology, engineering and mathematics (STEM). Over his 21-year career, the NSWCDD commander saw women overcome obstacles preventing service aboard a combatant ship, submarine, and as a pilot.
He recounted that Rais, an NSWCDDD scientist, was nationally recognized by the National Women's History Project for her efforts in Improvised Explosive Device (IED) detection research, benefitting warfighters and the nation.
Durant spoke about Adm. Howard - currently the Deputy Chief of Naval Operations for Operations, Plans and Strategy and the highest ranking woman in the history of the U.S. Navy - as a positive role model who opened doors and removed barriers for women.
Howard became the first African American woman to command a ship in the U.S. Navy in 1999 when she assumed command of USS Rushmore (LSD 47). In 2009, she commanded Task Force 151, Multinational Counter-Piracy Operations and Task Force 51, Expeditionary Forces.
Douglas and Bailey are among the women leaders Durant worked for and admired.
Douglas was the first female executive officer of the U.S. Naval Ship Repair Facility in Yokosuka and Sasebo, Japan. She became the first female commanding officer of the U.S. Naval Ship Repair Facility and the Japan Regional Maintenance Center in Yokosuka and Sasebo, Japan.
Bailey started out as a clerk-typist and became a member of the senior executive service as a Space and Naval Warfare Systems Command deputy chief engineer.
Durant challenged all in the Aegis Training and Readiness Center auditorium to get involved in their communities or schools to inspire young women and become a mentor.
Crocket reviewed her "10 Principles for Brilliant Women".
Brilliant women will make a pact; imagine it; know when to keep your opinion to yourself; get a thick skin and take risk; know your role and develop a game plan; question that voice inside that says, 'I'm not ready,' and be prepared; don't wait for your 'Oscar,' praise, and recognition; filter advice; claim your career independence and challenge yourself; and let other women know how brilliant they are.
"You should always be aware that there are obstacles on the road to success," said Crocket, adding that as Federally Employed Women's national president, she is able to nurture her passion for employee rights in federal service.