A News Brief by the MarylandReporter.com Staff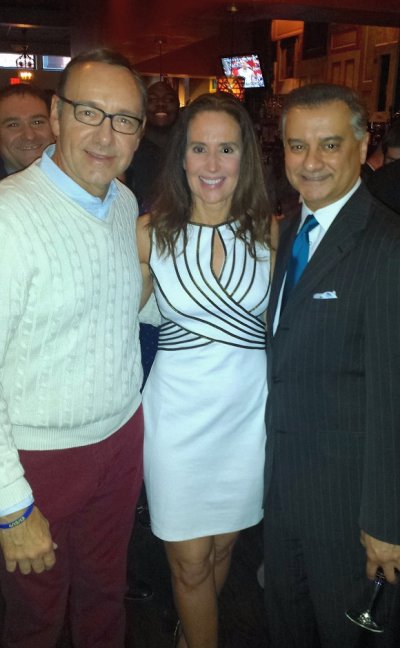 Kevin Spacey, Maureen Quinn, and House Majority Leader Kumar Barve. (Photo: MarylandReporter.com)
(March 23, 2014) What could guarantee better media coverage than a reception with a major celebrity closed to reporters, who gathered outside the Red Red Wine Bar in Annapolis as actor Kevin Spacey was ushered in the back door?
Maryland legislators and friends couldn't resist posting pictures of themselves with Spacey on Facebook. He stars as Frank Underwood, now president and lead of the dark political drama "
House of Cards
" on Netflix.
Want to hear what Spacey told the crowd in support of a expanded tax credits for film production in Maryland? Thanks to Melanie Miller of Comcast for posting the
five-minute video on Facebook
.
Here's what WBAL radio's Rob Lang
posted about the event with audio
from folks outside. Jenna Johnson and John Wagner of the Washington Post
have full blown details, including quotes from Space's five-minute pep talk
drawn from Melanie Miller's video.
And for those who think rich producers should not be paid off with tax credits for filming in Maryland — instead of being paid off by some other state — here is the take on the event from Red Maryland's Mark Newgent, "
Light, cameras, corporate welfare
."