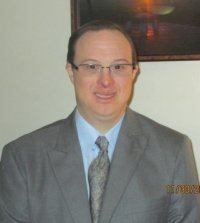 Ian Fairclough. (Submitted photo)
LEXINGTON PARK, Md.—Ian Fairclough of St. Mary's County has been appointed to the Bay Community Support Services, Inc. (BAY-CSS) Board of Directors effective March 5. Fairclough will be participating on the Governmental Affairs Committee where he will represent BAY-CSS throughout the state.
Fairclough understands the issues and challenges relating to people with disabilities from a personal perspective, having received services from BAY-CSS for many years. He is a long-time employee at the Navy Inn on Naval Air Station Patuxent River and is an accomplished athlete—he has won many trophies and awards for competitive swimming and Taekwondo, and he is the current state champ for Special Olympics in the field of bocce.
"We're thrilled to have Ian on our Board of Directors and look forward to hearing his unique message representing both BAY-CSS and people with disabilities," said Executive Director Mitzi Bernard. Ian said he is honored to be named to the Board and he will try to advocate for those who need it.
Bay Community Support Services, Inc. has been providing services to people with disabilities in the southern and central areas of Maryland since 1986. For further information about BAY-CSS, visit
www.baycss.org.