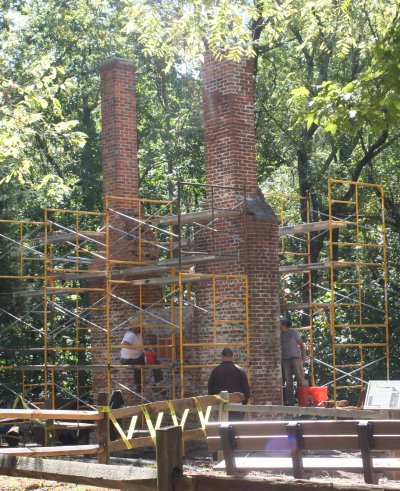 Masons work on restoring chimneys at Chiles Homesite in Nanjemoy. (Photo: Bureau of Land Management)
LORTON, Va. - The Bureau of Land Management (BLM), Douglas Point Special Recreation Management Area (SRMA) in Nanjemoy, Charles County, may hold an undiscovered treasure for visitors. The Chiles Homesite, with only its historic chimneys left, invites a little imagination to fuel a wonderfully, true story about the mid-19th century people who lived in this area.
In addition to the Reverend William J. Chiles family, historical accounts relate evidence of native populations who settled in Douglas Point centuries prior to the 1600's. They were followed by English planters around 1653 or earlier. There was even a Maryland governor, John Hoskins Stone, a descendant of Thomas Stone, who owned the property at one time and whose signature was among those on the Declaration of Independence.
Realizing the archaeological significance of the double-chimney structure, the BLM worked together with the National Park Service (NPS) Historic Preservation Training Center and began the Chiles Homesite Chimney Restoration project in early September 2013, and work lasted about a month.
As a result, the following renovations were completed:
-- Brickwork repaired on chimney bases, breast wall, fireboxes, flues and Jack arches over the three fire boxes and breast wall opening. Brick matching units were used where repairs were visible.
-- Similar to a plastered wall finish, interior surfaces of soft low fired brick were parged with a render to protect from exposure to elements.
-- Open mortar joints repointed throughout with a compatible NHL natural hydraulic lime mortar.
-- Caps placed on open flues to prevent water infiltration into interior brick surfaces.
-- The surface of the brick was "white washed" which provides an extra barrier to protect against the weather-sun exposure and rain.
-- The chimneys are now stabilized and there is no longer a safety concern about their structural integrity.
The project was completed by National Park Service (NPS) Historic Preservation Training Center, Frederick, Maryland. NPS staff were assisted by Jon Beck and John Reffit from BLM Lower Potomac Field Station; John Sullivan, Office Deputy Preservation Officer and Cultural Resource Program Lead, BLM Southeastern States Field Offices; Jarrod Kellogg, Archaeologist, BLM Northeastern States Field Office; BLM Washington Office staff from Cultural, Paleontological Resources and Tribal Consultation and BLM volunteers Tim Cox and Jim Getzewich.
John Reffit, Acting Lower Potomac Field Station Manager, said, "With this restoration project complete, it is our hope that these Chimneys are ready to stand for another 215 years (ca. 1798)."
Since 2001 when the BLM and the State of Maryland jointly purchased Douglas Point's 1,270 acres of land lying along the Potomac River in Charles County, visitors today can enjoy the BLM's first designated Potomac Heritage National Scenic Trail segment in the east which loops through 548 acres of Douglas Point property and is open to all non-motorized travel.
There is more to the story. In addition to the Chiles Homesite, flora and fauna abound throughout hardwood forests and diversity of wildflowers. The Douglas Point/Nanjemoy Creek area is also home to one of the largest great blue heron rookeries on the east coast. Check out the spur trail to a small beach designated as a water stop for the State of Maryland water trail, a component of the Potomac Heritage National Scenic Trail.
A universally accessible trail leads the public to what was once the Chiles Homesite at Douglas Point SRMA, compete with interpretive panels in the areas of particular interest. Take a virtual tour of the site to view the scenery and panels at the stops along the trail (see William & Mary website below).
Don't miss this opportunity to investigate a public land treasure in Maryland and visit nearby points of interest while you're there like the shipwrecks found just down the road in Mallows Bay.
More information can be found on Douglas Point by visiting the following web sites:
http://www.blm.gov/es/st/en/fo/lpfo_html/douglas_point_history.html
or
http://www.wm.edu/about/search/index.php?q=chiles+homesite.