By John Joyce, NSWC Dahlgren Division Corporate Communications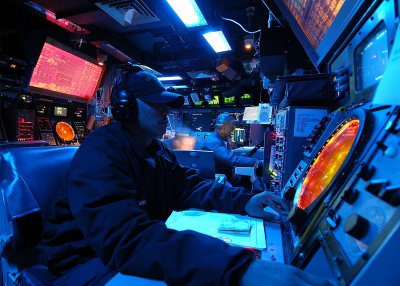 PHILIPPINE SEA - A Sailor stands watch in the Combat Information Center aboard the Ticonderoga-class guided missile cruiser USS Mobile Bay (CG 53). USS SECURE Project Lead Adam Simonoff received the Department of the Navy Information Management/Information Technology (IM/IT) Excellence Award Feb. 11 for his work with USS SECURE - a standalone cybersecurity test bed that determines the best combination of cyberdefense technologies to secure a naval combatant such as the Mobile Bay, without impacting real time deadline scheduled performance requirements. Simonoff - a Naval Surface Warfare Center Dahlgren Division cybersecurity engineer - anticipates that USS SECURE's successful cyberdefense technologies will transition into the fleet and will be offered throughout DoD and the Department of Homeland Security to protect and defend the nation's critical infrastructure. U.S. Navy photo by Photographer's Mate Airman James R. Evans (Released)
SAN DIEGO, Calif. - A Naval Surface Warfare Center Dahlgren Division (NSWCDD) cybersecurity engineer received the Department of the Navy (DoN) Information Management/Information Technology (IM/IT) Excellence Award here Feb. 11.
DoN Chief Information Officer Terry Halvorsen presented the award to USS SECURE Project Lead Adam Simonoff for his work with USS SECURE - a standalone cybersecurity test bed - during the Armed Forces Communications and Electronics Association awards ceremony.
"I am extremely pleased and proud that Adam has won this award as it demonstrates his commitment and enthusiasm to cybersecurity engineering excellence and to ensuring Navy combat and weapon systems can protect, detect, characterize, mitigate, and recover from unauthorized activity, vulnerabilities, and cyberattacks," said Chris Nerney, NSWCDD Cyber Lead.
The annual DoN IM/IT Excellence Awards recognize IM/IT projects, teams and individuals that have helped to transform the Navy and Marine Corps through information technology.
"I feel honored to be a part of NSWC and to receive this award on behalf of all the organizations that collaborate on the USS SECURE project to defend and respond in the event of a cyberattack against our fleet," said Simonoff. "Our men and women in uniform will be able to execute their mission trusting their automated systems to communicate reliable information and return home to their families and loved ones."
USS SECURE's test bed determines the best combination of cyberdefense technologies to secure a naval combatant without impacting real time deadline scheduled performance requirements.
"This test bed enables us to develop, evaluate and test cybersecurity concepts and technologies to defend mission critical systems at sea and ashore," said Simonoff.
The USS SECURE cybersecurity test bed is a collaboration between the National Security Agency, DoD Information Assurance Range Quantico, Combat Systems Direction Activity Dam Neck, NSWCDD, NSWC Carderock/Philadelphia, Office of Naval Research, Johns Hopkins University Applied Physics Lab, and Real Time Innovations Inc.
"The USS SECURE has led a series of cybersecurity and cyberengineering 'firsts' for NSWCDD and has helped position the command as a leader and innovator for cybersecurity solutions that will benefit not only our Navy but the Department of Defense community at large," said Nerney.
USS SECURE's objective is to immunize a warfare system against the effects of a cyberattack and to rapidly recover when the system is impacted.
"The success of USS SECURE is a direct outcome of Mr. Simonoff's leadership, dedication and diligence," according to the award nomination, adding that the project, "was conceived and continues to develop through Simonoff's inspiration, technical vision and depth of understanding."
This USS SECURE development enables engineers to address cybersecurity holistically across the entire platform so that cybersecurity in the combat system extends to the hull, mechanical and engineering enclaves.
Simonoff anticipates that USS SECURE's successful cyberdefense technologies will transition into the fleet and will be offered throughout DoD and the Department of Homeland Security to protect and defend the nation's critical infrastructure.
"For Dahlgren (NSWCDD), the award means that we continue our tradition of delivering reliable warfare systems to win the fight," said Simonoff. "For the Navy, it means increasing maneuverability in cyberspace to execute the assigned mission undeterred by a cyberattack. For DoD, the nation is well served because America's Navy stands available 24/7, even in the face of a cyberattack."
The USS SECURE research was completed utilizing Naval Innovation for Science and Engineering (NISE) funds. The NISE program provides the DoD science and engineering organizations the capability to develop and transition technology as well as develop the workforce and enhance laboratory facilities and equipment.
The DoN IM/IT and Cyberspace mission is to provide effective, efficient, trusted and shared Information Management/Information Technology cyberspace and IRM capabilities to support the Navy, Marines, Sailors, and their mission partners conducting global military and business operations.