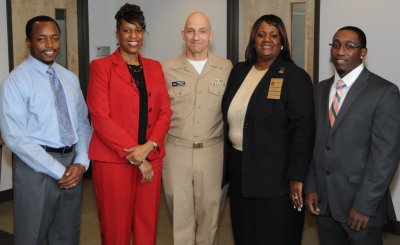 The Naval Surface Warfare Center Dahlgren Division (NSWCDD) commander and employees are pictured during the African American/Black History Month celebration held at the University of Mary Washington Dahlgren campus Feb. 19. Standing left to right are: NSWCDD Black Employment Program Manager Michael Hobson; NSWCDD Disability Program Manager and Special Emphasis Program Coordinator Marcella Bushrod; NSWCDD Commander Capt. Brian Durant; NSWCDD Blacks in Government Chapter President Elma Williams-Coleman; and National Society of Black Engineers Potomac River Alumni Chapter President Dwayne Nelson. (U.S. Navy photo by Jimmy Waits/Released)
By John Joyce, NSWC Dahlgren Division Corporate Communications
DAHLGREN, Va. (Feb. 26, 2014)—Enlightening. Inspirational. Empowering. Touching.
That's how Naval Surface Warfare Center Dahlgren Division (NSWCDD) weapon systems test engineer Janaf Wyche described the keynote speech that took place at the command's African American/Black History Month Celebration Feb. 19.
In other words, the speech - "Physics: Yesterday, Today and Tomorrow" - perfectly touched the hearts and minds of military personnel, government civilians and contractors gathered at the University of Mary Washington Dahlgren Campus for one reason: the speaker.
It wasn't the first time that Dr. Arlene Maclin's words of wisdom, knowledge and insight impacted Wyche and four of her colleagues.
The NSWCDD (science, technology, engineering, mathematics) STEM professionals are among Maclin's accomplished former students.
Ironically, Maclin - the Executive Director of the Mid-Atlantic Consortium's Center for Academic Excellence at Morgan State University - also received the right touch of inspiration, empowerment and enlightenment.
"One never knows how and whom one is influencing in the business of education but I was really touched by the outpouring of all of the people that I met last Thursday at Dahlgren," said Maclin who said she enjoyed the reunion with her former students.
Clearly, Maclin is more than a professor to her current and former students. She is an advisor, mentor and at times - a recruiter.
"Dr. Maclin was my professor for Quantum Mechanics and Materials Science," said Wyche who has studied the Chinese language in the United States and in Nanjing, China. "Most importantly, she was my advisor and started me on my way to becoming a debt-free scholar and lifelong learner of foreign language. She recruited me from my high school in Prince George's County, Md., and gave me the confidence that I could obtain a full scholarship at Norfolk State University if I just applied."
National Society of Black Engineers Potomac River Professional Chapter Vice President Angela Nunnally reflected on her "personal connection with Dr. Maclin" after the event.
"She was my mentor and professor at Norfolk State University," said Nunnally, a fiber optics engineer at the NSWCDD Warfare Systems Department. "I credit her for many experiences in undergrad that helped me get to where I am today - internships, conferences, grants, you name it. There are also several other people in attendance that she influenced. We are all very grateful for having her as a part of our lives."
Maclin likewise expressed the same gratefulness for the mentors in her career. The professor recounted how the mentoring of eminent scientists inspired her to look for ways to increase the numbers of students who receive degrees in STEM fields.
"My college physics professor and lifelong mentor, Dr. Alexander Gardner was the first black person to receive a Ph.D. degree in physics from the University of North Carolina at Chapel Hill," said Maclin. "Most of my mentors were among the first (African Americans) to receive doctoral degrees in their fields at major research universities."
Maclin's mentors included Dr. J. Ernest Wilkins, who received his doctorate from the University of Chicago at age 19, and Herman Branson, a physicist and college president who worked with Nobel Prize-winning chemist Linus Pauling. Wilkins and Branson were faculty members at Howard University, where Maclin received her doctorate in Theoretical Condensed Matter Physics - the third African American woman to receive this degree.
"I believed what my professors told me and I acted on much of that," said Maclin, adding that she was the first member of her family to go to college. "I had spent the summer before going to college reading all of the 40 or so books that were recommended, including the great books such as Tolstoy's 'War and Peace', Dostoevsky's 'Crime and Punishment', and Richard Wright's 'The Invisible Man'."
At that point, Maclin answered two questions related to training 21st Century scientists and engineers.
The first question - what must historically black colleges and universities (HBCUs) do to survive?
"Develop an institutional niche," said Maclin, adding the following recommendations for the colleges: "Have bold leadership with brave sensibilities; make decisions based on data; presidents must speak out on national higher education issues; look at retention and graduation rates and if there is no change, they must make immediate change; learn to 'manage up' with their funders; diversify their student body; respect faculty and their input - happy faculty equals happy students; improve student (customer) services; choose leaders with diverse experiences and perspectives; take alumni giving seriously and cultivate it; and reach out to the communities that we serve."
The second question - what must federal agencies do to increase numbers of minorities in STEM Fields?
"Federal agencies must develop meaningful partnerships with STEM faculty at minority serving institutions and provide student support through internships and student-based scholarships," said Maclin. "Federal grants should include minority serving institutions in a meaningful way and a committee of experts developed to provide advice on human resource requirements for the next 50 years."
NSWCDD Commander Capt. Brian Durant emphasized this point in his opening remarks, reminding the audience of NSWCDD's commitment to upholding the Chief of Naval Operations' vision to develop a diverse workforce.
"We will continue to ensure that every new Sailor and civilian has an equal chance of developing his or her talents to their fullest potential in an environment free of discrimination, preferential treatment, or any manner of exclusion or intolerance," the CNO affirms in his diversity vision. "Each Sailor and civilian will be inspired and empowered to contribute and to attain the highest levels of leadership based upon his or her sustained level of performance."
At NSWCDD, the best and brightest professionals from a broad spectrum of backgrounds and cultures are addressing today's challenges to ensure the Navy's readiness for its future mission needs across the globe.
"Our success depends upon the talents and hard work of a diverse workforce - men and women of all ethnic backgrounds who share a desire to meet the challenges of our mission, working side-by-side to develop innovative solutions for our warfighters and the Fleet," said Durant.