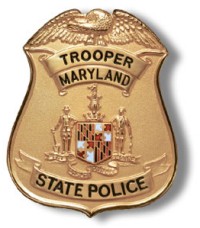 PRINCE FREDERICK, Md. (Feb. 24, 2014)—The Prince Frederick Barrack of the Maryland State Police (MSP) today released the following incident and arrest reports.
POSSESSION OF MARIJUANA AND DRUG PARAPHERNALIA: On 2/20/2014 at 7:43 pm, Trooper First Class Costello responded to the Super 8 Motel in Prince Frederick regarding a drug complaint. Investigation revealed that Sean Woods, 40 from Alexandria, VA, was in possession of Marijuana. He was arrested and processed at the Prince Frederick Barrack.
DESTRUCTION OF PROPERTY: On 2/22/2014 at 8:08 am, Trooper First Class Lewis responded to the 3100 block of Drawfield Lane in Huntingtown for a reported destruction of property. Numerous mailboxes, post boxes, fencing, and benches were vandalized and tossed into a nearby pond. Investigation continues.
OPEN WARRANTS, SUSPENDED LICENSE, FALSE STATEMENT TO POLICE OFFICER: On 2/23/2014 at 3:58 pm, Trooper First Class Esnes stopped a vehicle for traffic violations on Rt. 4 at Sixes Road in Prince Frederick. The driver, Joshua P. Porter, 38 of North Beach, initially gave TFC Esnes false information regarding his identity. Investigation revealed his true identity and it was learned that he had two open warrants for his arrest through the Anne Arundel County Sheriff's Office. He was arrested and incarcerated at the Calvert County Detention Center.
DUI ARRESTS:
Daniel R. Miller, 38, of Prince Frederick, arrested on 2/22/2014 @ 12:07 am by TPR. J. Warrick
Brian J. Heying, 24, of Chesapeake Beach, arrested on 2/22/2014 @ 01:43 am by TPR. J. Warrick
Seth B. Minkler, 25, of California, arrested on 2/22/2014 @ 08:48 am by TPR. J. Palumbo
Todd L. Denton, 48, of Prince Frederick, arrested on 2/22/2014 @ 10:25 pm by TFC W. Costello
Disclaimer: In the U.S.A., all persons accused of a crime by the State are presumed to be innocent until proven guilty in a court of law. See: http://somd.me/presumed-innocence. Additionally, all of the information provided above is solely from the perspective of the respective law enforcement agency and does not provide any direct input from the accused or persons otherwise mentioned. You can find additional information about the case by searching the Maryland Judiciary Case Search Database using the accused's name and date of birth. The database is online at http://somd.me/mdcasesearch . Persons named who have been found innocent or not guilty of all charges in the respective case, and/or have had the case ordered expunged by the court can have their name, age, and city redacted by following the process defined at http://somd.me/expungeme .