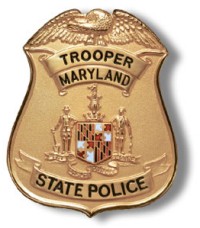 PRINCE FREDERICK, Md. (Feb. 19, 2014)—The Prince Frederick Barrack of the Maryland State Police (MSP) released the following incident and arrest reports.
DESTRUCTION OF PROPERTY: On 2/12/14 at 2:18 am, Trooper First Class Lewis responded to the 6400 block of Brookeside Court in Chesapeake Beach for a reported destruction of property. While a tow company was in the process of repossessing a vehicle, the vehicle owner responded and entered the vehicle, which was already attached to the tow truck and partially lifted off the ground. The owner attempted to drive the vehicle away, damaging the tow truck and related equipment. Charges are pending against Russell B. Blackwell, 36 of Chesapeake Beach.
BURGLARY: On 2/13/14 at 7:35 pm, Trooper First Class Casarella responded to the 1200 block of Calvert Beach Rd. in St. Leonard for a reported disturbance. Belinda J. Windsor, 55 of Prince Frederick, entered the residence without permission and removed a cell phone. Investigation continues and charges are pending.
POSSESSION OF MARIJUANA, DRUG PARAPHERNALIA: On 2/16/14 at 1:56 am, Trooper Rowe stopped a vehicle on Rt. 4 near Cover Point Rd. in Lusby for traffic violations. The odor of marijuana was emitting from inside the vehicle. A search revealed that the driver, Domaine T. Wallace, 33 of St. Leonard, was in possession of marijuana. He was transported to the MSP Barrack in Prince Frederick for processing.
DUI ARRESTS:
Sheldon N. Spriggs, 26, of Owings, arrested on 2/10/2014 @ 10:45 pm by TFC D. Saucerman
Clyde Forbes, 53, of Washington, DC, arrested on 2/12/2014 @ 10:51 am by TFC W. Costello
Ernest R. Hostetter Jr., 23, of Sunderland, arrested on 2/15/2014 @ 12:01 am by TFC W. Smith
Margaret W. Campanella, 66, of Chesapeake Beach, arrested on 2/15/2014 @ 12:42 am by TFC S. Lewis
Kenneth D. Milhoan, 59, of Lusby, arrested on 2/15/2014 @ 01:07 am by TPR. S. Barlow
Christopher B. Keely, 22, of Prince Frederick, arrested on 2/15/2014 @ 01:36 am by TFC B. Wiesemann
Lindsay M. Goodwin, 30, of Solomons, arrested on 2/16/2014 @ 12:18 am by TFC D. Saucerman
Nicole M. Dzieka, 35, of Owings, arrested on 2/16/2014 @ 02:17 am by TFC A. Merkelson
Juvenile, 16, of Sunderland, arrested on 2/17/2014 @ 02:20 am by TFC A. Merkelson
Disclaimer: In the U.S.A., all persons accused of a crime by the State are presumed to be innocent until proven guilty in a court of law. See: http://somd.me/presumed-innocence. Additionally, all of the information provided above is solely from the perspective of the respective law enforcement agency and does not provide any direct input from the accused or persons otherwise mentioned. You can find additional information about the case by searching the Maryland Judiciary Case Search Database using the accused's name and date of birth. The database is online at http://somd.me/mdcasesearch . Persons named who have been found innocent or not guilty of all charges in the respective case, and/or have had the case ordered expunged by the court can have their name, age, and city redacted by following the process defined at http://somd.me/expungeme .