By somd.com Staff Writers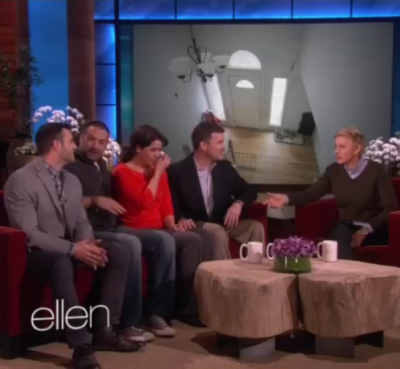 Alex and Heather Stephenson of Chesapeake Beach, center, Anthony Carrino and John Colaneri of HGTV's Cousins on Call, on left, and Ellen DeGeneres on a segment which premiered Friday afternoon.
CALLAWAY, Md. (Feb. 7, 2014)—Alex Stephenson and his wife Heather, of Chesapeake Beach, appeared on an episode of the Ellen DeGeneres Show today as part of a military appreciation segment. Alex was identified as a Purple Heart recipient. Heather noted that she had also served in the military approximately ten years ago. She is a stay-at-home mom now. Alex said that he has deployed overseas 6 times, including Iraq once and Afghanistan twice.
The family related their story of Alex's return from Afghanistan in the summer of 2010. Two weeks after arriving home, Heather was involved in a serious motorcycle accident where she ended up face down on the pavement. She subsequently underwent 12 surgeries, many for facial reconstruction.
The medical expenses drained the family's savings. They had hoped to use the money to fix up their home which Alex described as a "work in progress."
Ellen presented the couple with a $2000 gift certificate from Home Depot and put out a call to people in our area to help the family.
After returning from a commercial break, Ellen popped the real surprise. Anthony Carrino and John Colaneri of HGTV's Cousins on Call were brought out on stage. The duo, with whom the Stevensons were familiar, revealed that they currently had a team at the family's home assessing the work to be done. They promised that as a minimum, they would repaint the inside and replace all of the kitchen appliances.
Ellen concluded by telling the audience to tune in next Friday for the reveal of the work done on the couple's home.
See the entire video segment at
http://www.ellentv.com/2014/02/07/big-news-for-a-purple-heart-recipient/