By MOLLY GEARY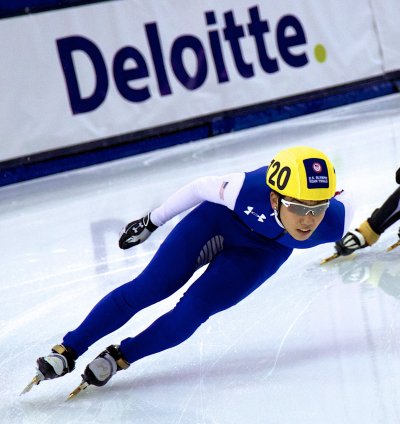 Thomas Hong at the 2014 U.S. Olympic trials for short track speedskating. Photo by Mark Chapman. Used with permission.
COLLEGE PARK, Md. (Jan. 31, 2014)—When the 230-member roster for the 2014 U.S. Winter Olympic Team was officially announced on Monday, not a single athlete was listed as living in Maryland.
That may change in 2018.
Maryland—specifically Montgomery County—has emerged as a hotbed of talent for the sport of short track speedskating. And two of its most promising athletes, local high school students 16-year-old Thomas Hong and 17-year-old Shaner LeBauer, could end up as members of Team USA at the 2018 Olympics in South Korea.
The pair were two of just 27 men to compete at the U.S. Olympic Trials for short track speedskating in early January. And while neither made the team this time around, Hong had an impressive showing, placing 11th overall. Both teens said the experience was invaluable.
"I was hoping to make the Top 16, but realistically I didn't think that would happen," said LeBauer, adding that his main goal for the trials was to prepare for the U.S. Junior National Championships, which are being held this weekend in Milwaukee.
"I just wanted to stay competitive," Hong said. "A lot of those guys are much older and I look up to them. I was totally happy with my results."
Both LeBauer and Hong are hoping to place in the top four at Junior Nationals, which would send them to the Junior World Championships in Turkey in March.
Hong is looking to return after competing in the Junior World Championships last year in Poland, while LeBauer is seeking his first appearance.
LeBauer got his start in speedskating like a lot of other kids do, said Alison Mittelstadt, vice president of the Potomac Speedskating Club, the club the teens train with.
"Every four years, we get an influx of new skaters," she said, referring to the period after the Winter Olympics when the sport becomes a national story.
LeBauer took up the sport about eight years ago, after watching the 2006 games. The club trains skaters who range from age five to age 60 or higher, including people with zero experience.
Hong, meanwhile, has been skating since he was four years old.
"He used to be carried into the rink by his grandmother and mother," Mittelstadt said, adding that his grandmother has been the driving force in his speedskating career.
"Thomas has really already got quite an amazing reputation," she said. "He goes back to Korea every summer and trains all summer there."
The speedskating scene in Maryland has exploded since the mid-1990s, when the first wave of South Korean coaches moved to the area. More and more coaches followed from South Korea – which is generally regarded as the top short track speedskating country in the world.
"It's made for a very successful combination," Mittelstadt said. "There are five speedskating clubs in the DMV area, which is very unusual. Most metropolitan areas only have one."
Hong and LeBauer are the two most prominent skaters who train with the Potomac Speedskating Club. Mittelstadt described both as gifted academically and on the ice. LeBauer, who is currently a senior at Winston Churchill High School in Potomac, is taking his college search very seriously.
"It's been very difficult," LeBauer said of juggling school and speedskating. "It puts me at a disadvantage, because most of my competitors do school minimally or not at all. Managing time is an important skill to have and I do a good job of it."
He wants to go to a school where he can "skate and study finance," while continuing towards his ultimate goal of making the U.S. Olympic team.
He was just accepted to the University of Maryland, and is also considering Georgetown, Dartmouth, Calgary and Montreal – all schools that would logistically allow him to keep training.
Meanwhile, after his strong finish at this year's Olympic trials, Mittelstadt says the young Hong is in great shape going into the next winter games.
"Nothing's a sure thing, but Thomas definitely has high, high potential for the 2018 Olympic team."