Fines up to $1,000 can only be initiated by a "citizen complaint," according to County Attorney George Sparling
By Guy Leonard, The County Times
HOLLYWOOD, Md.—After a short but contentious debate Tuesday morning a majority of the Board of County Commissioners voted to approve a new ordinance that strengthens local government's ability to deal with abandoned and blighted properties.
But two commissioners who voted against it, Larry Jarboe and Dan Morris, were troubled by changes to the ordinance package that extended its reach across the entire county and not just to the two development districts as originally planned and also that home owners would be pushed to spend money and make repairs to their homes that they did not want to do.
Both felt that the new ordinance opened property owners up to more government control or abuse of the system by neighbors with whom they had property disputes.
Morris floated an amendment that would ensure property owners who were living in a dwelling that ran afoul of the ordinance could be notified of the property's condition but could not actually be fined.
It failed.
"I don't think it's the government's job to say you must paint your house." --Commissioner Dan Morris
"Unless it's directed to abandoned or vacant homes it [fines] shouldn't apply," Morris said. "I don't think it's the government's job to say you must paint your house."
Commissioner Cindy Jones said that the ordinance offered a number of remedies for such issues and ensured that anyone who was the object of a complaint from a citizen or who was subject to a fine could go before the citizens Board of Appeals to have their case heard.
She said many of the concerns seemed to be based on "worst case scenarios" and that there were checks and balances in the ordinance to prevent abuse.
County Attorney George Sparling said the ordinance was not designed to have "an army of inspectors" reviewing properties; instead the process would only start from a citizen complaint. The ordinance also does not apply to farms or any land that was assessed as agricultural in nature, Sparling said.
Also if a property owner has been duly warned of a violation on their property but is making a good faith effort to remedy the problem, the county would not move ahead with any enforcement under the ordinance's provisions, Sparling said.
Jarboe said that while some farm related buildings were protected he worried that old tenant homes on farmland that had no habitants were in danger of being targeted.
He called such old homes were "part of who we are" in the scheme of county history.
He also called the change in the ordinance to take affect county wide a "bait and switch."
"This [ordinance] is the most obtuse and potentially abusive I've ever seen." --Commissioner Larry Jarboe
"I'm pretty upset about the changes that are taking place," Jarboe said. "This [ordinance] is the most obtuse and potentially abusive I've ever seen."
Sparling said the ordinance sought to not only deal with blighted properties but also to protect the property rights of other residents or seek to "find a balance between fairness and compassion."
The ordinance defines blight as structures with "objectively determinable exterior signs of substantial deterioration, dilapidation or lack of maintenance and which may be reasonably concluded to significantly depreciate the economic value of the properties in the neighborhood."
Signs of deterioration can include anything from excessive amounts of peeling paint, rust corrosion or graffiti to portions of the structure due to fire damage.
The ordinance offers a litany of other definitions including sagging roofs, excessive plant growth and the open storage of refuse or even cars or household appliances.
Sparling said however that the ordinance would not force property owners to cut grass but only in the circumstance that it interferes with the public right of way.
"This does not apply to anyone's yard," Sparling said.
Structures that accumulate vagrants and infestations of vermin or rodents would also be forbidden under the ordinance.
Citations would be issued by the Department of Land Use and Growth Management but only 30 days after the property owner had been notified of the alleged violation.
Fines are not to exceed $1,000, the ordinance reads.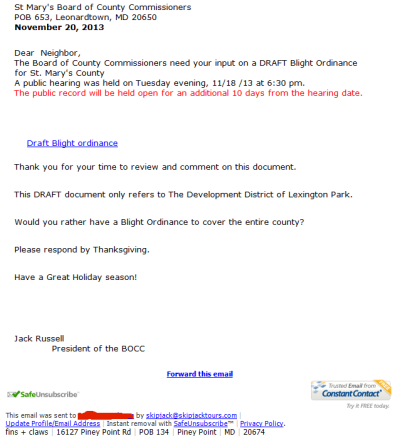 A screen capture of an email sent out by Commissioner president Jack Russell on Nov. 22, 2013 to an undisclosed mailing list soliciting input to expand the "Blight Ordinance" from the Development District of Lexington Park--as it was originally intended--to all of St. Mary's County. The email was sent from Russell's personal email account, skipjack @ skipjacktours.com. The email appears to include an email originally sent out by the BOCC on Nov. 20 soliciting input on the
Draft Blight Ordinance
. The recipient of Russell's email did not receive the former BOCC email. Click on the image for a larger rendition.
--somd.com Editor