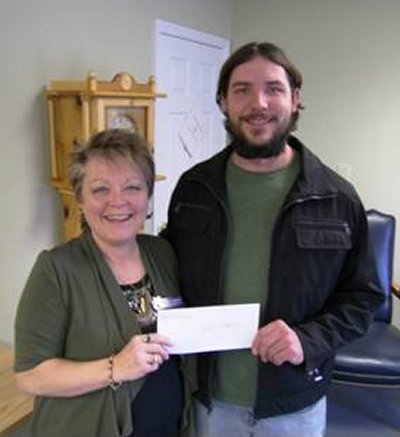 Brenda Laughhunn, Executive Director of Calvert Hospice accepts a donation from William Kreamer of Chesapeake's Bounty.
PRINCE FREDERICK, Md. – A few years ago, William Kreamer, owner of Chesapeake's Bounty, was looking for a way to support Calvert Hospice. He decided to donate a dollar from each Christmas tree sold that holiday season. Thankfully, William and his family have continued this generous endeavor and recently delivered a $1200 contribution comprised of tree sales and donations from his patrons during the 2013 holiday season.
Founded in 1994 by William's grandfather, the late Greg Ciesielski, Chesapeake's Bounty has grown immensely over the years thanks to local and regional support from consumers who appreciate the benefits of buying quality, local food products.
"We are so grateful for the ongoing support of William Kreamer, his family and the patrons of Chesapeake's Bounty," said Brenda Laughhunn, Calvert Hospice Executive Director. "As a community-based nonprofit, we rely on the generosity of local businesses to carry out our mission," concluded Laughhunn.
For more information about Calvert Hospice programs and services call: 410.535.0892 or visit
www.calverthospice.org.