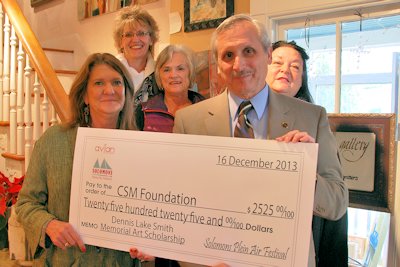 Avian Solomons Plein Air Festival Chair Carmen l.n. Gambrill, front left, presented $2,525 in festival proceeds to benefit the Dennis Lake Smith Memorial Art Scholarship at the College of Southern Maryland to CSM President Dr. Brad Gottfried, right. Festival committee members included, rear from left, CSM Community Relations Senior Executive Director Karen Smith Hupp, Paula Moeller and Solomons Business Association Board Member and BlueShift Marketing's Vandy Young. (Submitted photo)
LA PLATA, Md. (Dec. 18, 2013)—With inspiration from the land and sea, visiting and local artists captured Southern Maryland scenes on canvas during this fall's Avian Solomons Plein Air Festival, and proceeds raised supported scholarships at the College of Southern Maryland. The festival featured 25 plein air artists painting throughout Solomons, culminating in a Star Spangled Quick Draw competition and an Affaire of the Arts to showcase their resulting canvases.
"The support from our community and sponsors was remarkable, with an even more remarkable outcome," said Festival Chair Carmen l.n. Gambrill, owner of carmen's gallery which hosted the culminating event. "The artists bombarded us with accolades. Most mentioned that Solomons was so welcoming and nurturing to them. The community was friendly and the sponsors were supportive and engaged in the event. It definitely was an event that showcased the beauty of our town as well as the generosity of our community."
Winners in this year's festival were Ray Ewing of Swan Point with Avian "Best of Show," Paul Romano of Lewisburg, Pa. with second place, Wesley James Drake of Chicago, Ill. with third place and Ann Crostic of Baltimore with Artists' Choice. Honorable mentions were awarded to Ewing, Crostic, Lynn Mehta of Alexandria, Va., Greg Johannesen of Port Republic and Luc Herbots of Port Republic.
Quick draw winners were Johannesen with first place, Herbots with second place and Lissa Abrams of Baltimore with third place. Honorable mentions were awarded to Drake, Alison Mehnke, Kevin Beck of North Carolina and Debra Howard.
Proceeds from the festival provided $2,525 for the Dennis Lake Smith Memorial Art Scholarship at CSM as well as $2,525 to benefit signature events of the Solomons Business Association, including the Fourth of July fireworks, Taste of Solomons, and the Solomons Christmas Walk and Boat Parade.
"Community partnerships help advance and promote CSM and the CSM Foundation in the community. Supporting this creative event while raising student scholarships is such a win for everyone in our community, especially our students," said CSM Vice President of Advancement Michelle Goodwin.
The term "plein air" comes from the French term "en plein air" which translates as "in the open air," said Gambrill, who also serves as a director on the CSM Foundation. She explained that well-known artists, including Claude Monet and Pierre-August Renoir, created some of their best and most famous works in this style.
During the Solomons event, festival artists had the opportunity on one day to paint picturesque locations around Calvert County, with the remainder of the week intent on painting only on Solomons. In addition other events included a Blessing of the Brushes and artists, offered by Solomons United Methodist Church Assistant Pastor Phil Logan, an evening sail on the French schooner "Heron" and a cruise on the "William B. Tennison."
The Avian Solomons Plein Air Festival was made possible in part by the support of title sponsor Avian Engineering, LLC, as well as Ruddy Duck & Canard's Catering, SMECO, Solomons Business Association, Bill Chambers, Calvert Marina, Asbury Solomons, Back Creek Bistro, Barefoot Graphics, BlueShift Marketing, Beautiful Kitchens, Calvert County Government Department of Economic Development, Calvert Marine Museum, Carmen's Gallery, College of Southern Maryland, Community Bank of Tri-County, Holiday Inn, Kingfisher's Restaurant, the McNelis Group, One Pixel Short Graphics, PNC Bank, Schooner Heron Charters, Southern Maryland This is Living, State Farm Insurance/Michael Paxson, Striped Rock Restaurant, Solomons Veterinary Medical Center, Town Crier, WM Davis Inc. and Wesley James Drake.
For information on the festival visit
www.solomonspleinair.com
. For information on scholarships at CSM, visit
www.csmd.edu/Foundation.