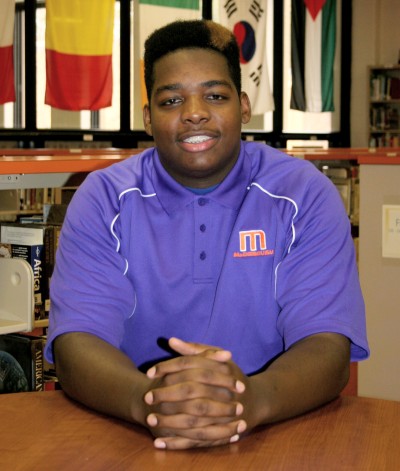 Na'Ty Rodgers, senior at Maurice J. McDonough High School.
LA PLATA, Md.—Na'Ty Rodgers, a senior at Maurice J. McDonough High School, was recently selected to participate in the sixth annual Under Armour All-America football game next month. Rodgers, who has played the position of offensive tackle for the past four years at McDonough, is one of only 90 student athletes nationwide selected to participate in the game, scheduled for Jan. 4.
Invited to participate in the game are the top senior high school football players from across the United States. Rodgers was formally notified of his selection to play in the game last month when The American Family Insurance Selection Tour visited McDonough to deliver the news. "I am excited to be considered to play with a group of top players from across the United States. It is an honor to represent Charles County and Maurice J. McDonough High School," he said.
Rodgers is ranked 27 out of the top 100 nationwide football players by ESPN and was part of the 2010 team that won the 2A division Maryland football state championship. The game is scheduled to take place at Tropicana Field in St. Petersburg, Fla., and is presented by American Family Insurance. Rodgers will travel to Florida with his parents and McDonough Head Football Coach Luke Ethington will also accompany him on the trip.
Rodgers said he looks forward to playing among top athletes, and also to visiting Disney World. "To be among the best of the best; I was shocked and excited to be selected for this experience," Rodgers added. The experience will also help prepare Rodgers for his future career in college football. Several major colleges have sought out Rodgers for recruitment, including the University of Washington, the University of Maryland, College Park, and the University of South Carolina.
Rodgers wants to study architectural design and plans to announce which college he will attend next year at the game. In addition to playing football for McDonough, Rodgers plays center for the Rams boys' varsity basketball team.
The national Selection Tour sponsored by American Family Insurance is an expansion of the Under Armour All-America Game. As part of American Family Insurance's involvement, the events will raise awareness of teen driving safety and recognize the student athletes, as well as the coaches, families and communities who have helped make these players' dreams a reality.
Source: Charles County Public Schools