Staff recognized for impact on laser weapons, CBR defense savings and joint process improvement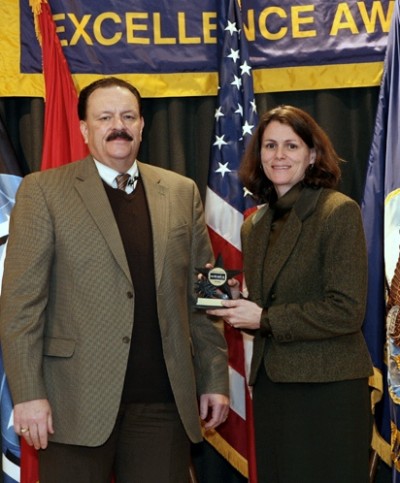 Naval Sea Systems Command Executive Director Brian Persons presents the NAVSEA Excellence Award to Nancy Haymes, an Acquisition Engineering Agent from Naval Surface Warfare Center Dahlgren Division (NSWCDD) at a ceremony held in Washington D.C. Dec. 11. Haymes was one of 37 NSWCDD employees serving on teams honored for excellence in their contributions to the Navy. (Photo: U.S. Navy)
WASHINGTON—Naval Sea Systems Command Executive Director Brian Persons presented the 2012 NAVSEA excellence award to Naval Surface Warfare Center Dahlgren Division (NSWCDD) employees for their outstanding achievements at an award ceremony held at the Navy Yard in Washington D.C. Dec. 11.
The 37 NSWCDD employees—members of three teams—were among individuals and teams from across the NAVSEA organization who received awards for their excellent contributions to the United States Navy and the employees' commands.
"NSWC Dahlgren Division awardees delivered outstanding technology solutions crucial to supporting our homeland and national defense," said NSWCDD Commander Capt. Michael Smith. "Their teamwork across the Navy, industry and academia to meet our mission goals reflects their dedication to the warfighter and inspires excellence throughout NAVSEA."
The NSWCDD scientists and engineers achieving excellence on the Acquisition and In-Service Engineering Leadership Team, the Naval Warfare Systems Certification Policy Team, and the Laser Weapon System Team included employees from the Division's Virginia Beach, Va., location - Combat Direction Systems Activity Dam Neck.
"We are pleased and proud to have two recipients of this award, especially since it is a team honor," said Capt. Stephen Kelley, Combat Direction Systems Activity Dam Neck Commanding Officer. "Our success in teamwork projects like these demonstrates the command's ability to positively contribute to a wide range of research, development, test and evaluation priorities for the Navy."
The NAVSEA excellence award program commends military and civilian individuals, teams, and activities across the NAVSEA community for their contributions in innovation and improvement in the areas of product quality, technical innovation, cost control, schedule acceleration, organizational efficiency and process improvement.
"Our scientists and engineers are honored for achievements that epitomize NSWC Dahlgren Division's mission - meet current warfighter operational needs and reshape how the Navy will fight and defend our nation in the future," explained NSWCDD Technical Manager Stuart Koch. "The awardees collaborated among a myriad of stakeholders to reduce Navy CBR detection readiness costs. They helped cut the cost of building and sustaining a safe and effective Fleet with technical innovations and process improvements. In addition, our Laser Weapon System Team overcame a multitude of technical and design, ship integration, and logistics challenges to demonstrate the potential capability of a ship based laser weapon system."
The entire Acquisition and In-Service Engineering Leadership team consisted of two NSWCDD Chemical, Biological and Radiological (CBR) Defense Division engineers - Nancy Haymes and Jeffrey Smith - who were recognized for their leadership that enabled the CBR Detection Systems Branch to provide cost avoidance and savings to the Navy.
Together, Haymes and Smith saved more than $880,000 in costs while meeting legal and regulatory radioactive source tracking requirements for chemical and biological detectors across the Future Year Defense Program. They were recognized for working closely with customers over the last two years to reduce the costs of maintaining detector readiness by identifying and implementing cost reduction initiatives.
The Laser Weapon System Team was honored for successfully completing an extremely challenging development and test program, culminating in August 2012 with several successful unmanned aerial vehicle shootdowns from a Navy destroyer with a laser weapon - a Navy first.
According to the nomination, the 43 member team - comprised of 31 NSWCDD employees - was recognized for, "selfless devotion to duty, irrepressible work ethic, and unwavering commitment to the NAVSEA goal of building the future Fleet," adding that the team, "successfully proved the military utility of lasers on the battlefield, and provided the benchmark for future laser weapon systems."
The Naval Warfare System Certification Policy (NWSCP) Team, made up of members from joint commands, included four NSWCDD employees honored with the NAVSEA excellence team award.
The team was cited, "for exhibiting outstanding teamwork across organizational boundaries while dealing with the challenge of a reduced budget and staff." The nomination pointed out that the team's efforts resulted in, "process improvements and technical innovations in organizational effectiveness, product quality, commonality, transparency, cost improvements, schedule improvements, and customer satisfaction achieved with the implementation of the new NWSCP - fostering NAVSEA goals of building and sustaining an affordable, safe, effective Fleet."
The NWSCP Team's NSWCDD awardees are Roger Carr, Carol Galloway, Dennis White, and Jody Michael.
The Laser Weapons System Team's NSWCDD awardees are Ronald Flatley, Michael Richardson, Theresa Gennaro, Robert Pawlak, Christopher Behre, Melissa Olson, John DeRiggi, Scott Phipps, Joseph Barrasse, Carl Sisemore, Philip Dodson, Jose Roman, Peter Wick, Emily Martin, David Carter, Barton Billard, Eric Wheater, David Czako, Gunendran Sivapragasam, Tara Aboyoun, Nga Pham, William Murdaugh, Paul O'Campo, Scot French, Ken Morris, Joe Mowery, Gerry Dallara, Dennis Askew, Shannon Layton, Patricia Loving, and James Puffinburger.